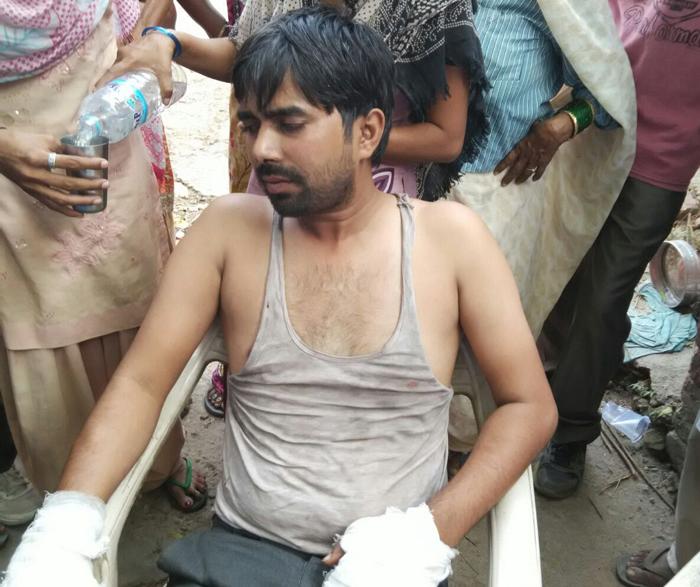 In a shocking revelation in the Ballabgarh Dalit killings case, the forensic experts who inspected the crime scene in Sunpedh, Haryana have concluded that the origin and source of the fire was from inside the house and not from the outside.
The revelations come after the Central Bureau of Investigation took over the case on 29 October in which two Dalit children were burnt alive in an alleged attack by upper caste Rajputs.
The forensic experts also found a half-burnt kerosene oil plastic bottle under the partially burnt bed along with a burnt matchstick lying on a slab next to the window of the room.
The forensic team, comprising Director, Forensic Science Laboratory (FSL) and Assistant Directors of the Physics and Chemistry divisions of the FSL, Karnal, are of the opinion that the fire originated from within the room and not from outside. The team is likely to submit its report to the CBI by this weekend.
The forensic team's findings have raised the suspicion on the involvement of complainant Jitender whose children were burnt alive. His wife Rekha is admitted at Safdarjung Hospital in New Delhi with over 30 per cent burns.
Jitender in his complaint had alleged that his family was attacked by Rajputs while they were asleep. So far seven of the 11 accused have been arrested. The Indian Express reported that the forensic experts also mentioned no traces of outside entry into the house when the alleged attack took place.
The experts also concluded that the pattern of pouring of inflammable substance was vertical which isn't possible if the woman, Rekha, was lying on the bed. Also, the splatter's pattern on the crime scene was circular, which indicates that it wasn't thrown from a distance, instead it was poured from the place where it was later put on fire.
Jitender had also told the police that he took out his children from a hole that connects one room with another, however, forensic experts have rejected this claim, saying the diameter of the hole is not adequate for a person to cross through.
The forensic experts have also mentioned that the door was bolted from inside after studying the pattern off smoke-ash traces on the bolt to reach this conclusion.
The team also found that the window from which Jitender alleged inflammable substance was thrown inside the room was shut, although not bolted.
According to Jitender 11 people had allegedly gained entry into the premises by scaling the walls for attacking him and his family.
However the forensic experts have pointed out that there were plants next to the wall and if anybody would scale the wall, there would be some disturbance in that area. There was no such disturbance witnessed in that area.
The fresh revelations of the forensic experts have given a new twist in the entire case, and this report will now assist the CBI in finding out how the incident occurred which claimed lives to two toddlers.