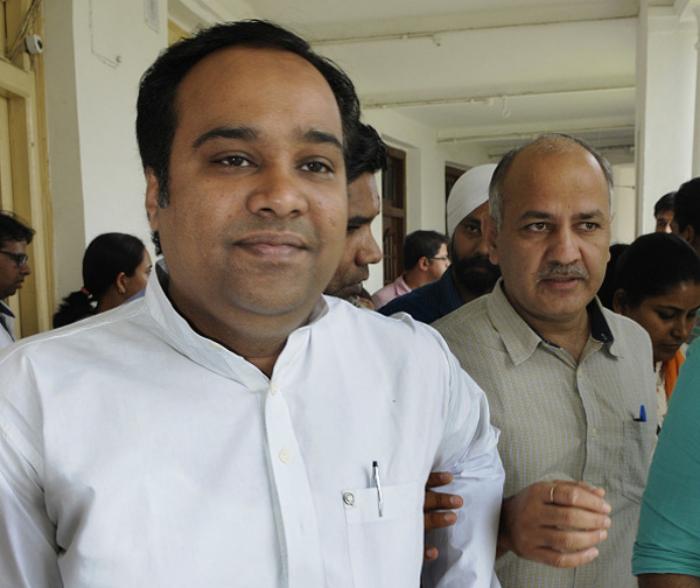 Delhi Food and Civil Supplies Minister Asim Ahmed Khan was sacked by the State government on Friday 9 October, after charges of corruption were levied against him. Addressing a press conference, Chief Minister Arvind Kejriwal said that a complaint was received against the minister, on the basis of which he was sacked.
"We've received a serious complaint of corruption against our cabinet minister Asim Ahmed Khan. The complainant has sent us a 1-hour audio clip. Manish and I listened to the audio clip. We did preliminary assessment and it seems to be a serious matter," Kejriwal said.
Khan is accused of taking Rs 6 lakh from the complainant for the construction of a building in his constituency. Kejriwal asserted that the complainant feared threat to his life and that it was a serious case of corruption.
Talking to the media, Khan rubbished all the allegations against him and claimed that there was a bigger conspiracy involved. He said that he would expose the entire plot, or saazish, very soon.
Stating that the government was considering the matter with utmost concern, the chief minister also added that the complaint is being referred to the CBI. Imran Hussain, an MLA from Ballimaran, will now replace Asim Ahmed Khan as the Food and Civil Supplies Minister.
Talking to Catch, former AAP member and national convener of Swaraj Abhiyan, Professor Anand Kumar said that it has been a foregone conclusion that this team of AAP MLAs and ministers is going to be a mixed blessing since AAP had to compromise on their principles while selecting at least 20 of them. Kumar added that some of these MLAs made an entry into cabinet despite the repeated warnings of Prashant Bhushan and Yogendra Yadav.
Blaming Kejriwal, Kumar said, "The resignations and sackings are just to make him look innocent. He has had a roadmap for it. He did not keep a cabinet portfolio for himself so that he can put the blame on certain ministers in case of expected failures".
According to Kumar, people of Delhi are caught in a difficult situation because there is no radical change in their situation and problems like dengue deaths and price rise continue to trouble them.
BJP member Shazia Imli said that while AAP has taken swift action against Khan, there are other tainted ministers like Naresh Baliyan who are still a part of the party and no action has been taken against them yet.
When asked about Kejriwal's attack on the BJP for inaction against MP Chief Minister Shivraj Singh Chauhan in the Vyapam case, Ilmi replied, "As far as the Modi government is concerned, I can say that it is highly dedicated to its campaign against corruption. The Vyapam scam has been there for a long time and the probe is still on in the case. However, if AAP has taken action against its cabinet member then this step should be welcomed."
Another AAP member and JNU professor Kamal A Mitra Chinoy said, "This has been the policy of our party since the beginning and our MLAs were instructed about it. Somnath Bharti was also sacked in the same manner but if the minister is found not guilty after investigation, he will be reinstated in the party."
Launching an attack on other parties for calling this a political gimmick, Chinoy said that Congress never took action against Sheila Dixit in the CWG scam and that the BJP had also protected Shivraj Singh Chauhan in Vyapam case even though there was concrete evidence against him.