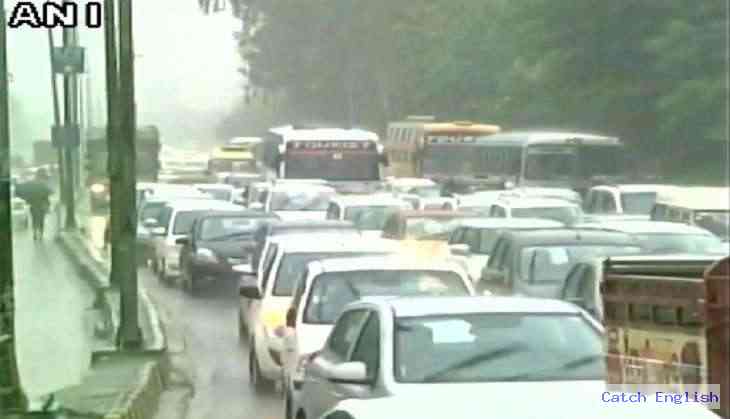 Heavy rainfall yet again brought several parts of Delhi and Gurugram to a standstill on 31 August. Intense water-logging left roads leading to the Millennium City submerged, and choked up traffic in various parts of Delhi.
In the wake of the chaotic situation in Gurugram, the Gurgaon police took to Twitter and requested commuters to be patient.
Heavy rains in Gurgaon, please be advised. Be patient and maintain lane discipline, we are on the job to facilitate your movements m

— Gurugram Police (@gurgaonpolice) August 31, 2016
Visibility is poor due to heavy rains.

— Gurugram Police (@gurgaonpolice) August 31, 2016
Flights - including those of Air India and Indigo airlines - are expected to be delayed.
#AIUpdate:Pax flying from @Delhi_Airport & @RGIAHyd are advised to check flight status before leaving.Flts may be delayed due to heavy rain.

— Air India (@airindiain) August 31, 2016
Due to bad weather in Delhi to & fro flights are affected. As a result, consequential delays are expected.Kindly check your flight>>

— IndiGo (@IndiGo6E) August 31, 2016
Severe Waterlogging has been reported at Aurobindo Marg, Bharthal Chowk on Dwarka Link Road, Wazirabad Road, Apsara roundabout, Mandoli and Rajokri flyover.
Honda chowk on NH8, Rajeev Chowk in Gurugram and NH 24 are reportedly at the centre of the traffic storm.
Hundreds of commuters have been stuck in traffic that has shown no signs of clearing out since a while now. The highway is reportedly submerged, with water levels rising to over four feet in certain areas. Massive waterlogging was also reported in Sarogini Nagar area of Delhi.
US Secretary of State John Kerry's visit to religious sites in Delhi has also reportedly been cancelled due to heavy rain.
Heavy rain disrupts traffic movement in several parts of Delhi, pictures of traffic jam at Rajeev Chowk in Gurugram pic.twitter.com/kpfozYpqAE

— ANI (@ANI_news) August 31, 2016
Heavy rainfall throws traffic out of gear in several parts of Delhi,pictures of water logging in Sarojini Nagar area pic.twitter.com/wgbV8QnlE6

— ANI (@ANI_news) August 31, 2016
It's 9 AM in the morning in Delhi. #DelhiRains pic.twitter.com/kNayGJynvk

— Gaurav Varmani (@gauravvarmani) August 31, 2016
Sir @ArvindKejriwal , thank you for bringing Goa in delhi ! Love you ! #DelhiRains pic.twitter.com/j18OrVWeZF

— sumit (@sumitsaurabh) August 31, 2016
#DelhiRains Difficult and dangerous to drive in when drivers switch on parking lights and still change lanes. pic.twitter.com/DThIk9DrJW

— Vimal Sumbly (@Vimalsumbly) August 31, 2016
Plz avoid #AurobindoMarg , it's terrible #DelhiRains @ndtv pic.twitter.com/Cw2nMu2DzL

— shashi kant sharma (@ShashiK_Sharma) August 31, 2016