They didn't win, but every book on this Man Booker shortlist is worth your time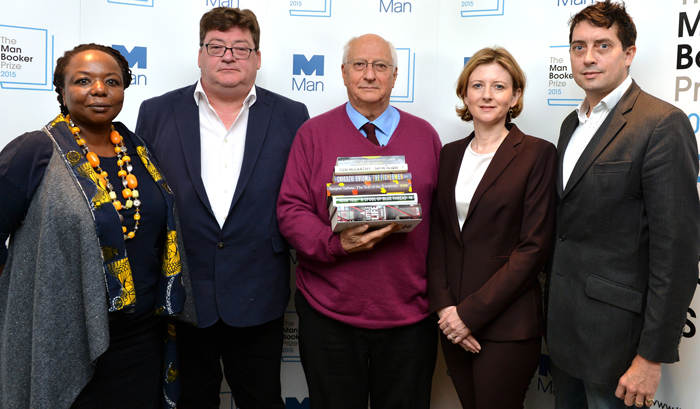 Update: Last night Marlon James, author of A Brief History of Seven Killings, won the 2015 Man Booker award in a first for a Jamaican author.
Five authors, two from the United States, two from the United Kingdom and one Nigerian, received a specially-bound copy of their book and 2,500 pounds.
The real prize, however, went to Marlon James last night for his fictional account of an assassination plot to kill Bob Marley.
A record-breaking four of the six authors were people of colour, another small victory for what was once a largely labeled an 'Anglophile's prize'.
While the books and their authors come from diverse contexts and countries, what they have in common is a tendency to 'grimness'.
Here, a quick cheat-sheet on the six authors, the books that got them here, and why you should read every single one.
01
Anne Tyler (US), A Spool of Blue Thread
At 73, she's the oldest author on the shortlist, with over twenty titles to her name. She's been nominated for the Pulitzer Prize for Fiction on two occasions, and been a winner on one, for Breathing Lessons (1989).
The recent opening up of the Man Booker for novelists outside the Commonwealth means that she is the first writer to feature on both Pulitzer and Man Booker shortlists.
A Spool of Blue Thread is a family saga. 'Like most families,' she writes of the Whitshanks, 'they imagined they were special.' She writes with tenderness, and a curious combination of satire and admiration. The Telegraph review of the book said that 'Tyler gives the simple fact, that we grow old, an almost mythic feel.'
02
Tom McCarthy (UK), Satin Island
McCarthy has been, for years, labelled an experimental novelist. His previous novel, C, released in 2010, was longtlisted for the Man Booker but this is his first time on the shortlist.
Satin Island is narrated by a protagonist who, choosing brevity over all else, goes by the name U. This brevity finds itself in the book as well: at 176 pages, it's a short read. But reviewers have insisted that the book doesn't feel as short as it would appear. The Guardian reported that 'there's barely a page where you don't find yourself coming up for air - sometimes to admire McCarthy's swashbuckling prose or to digest some startling cerebral insight, but often just to wonder what he's talking about.'
The Telegraph review, added, quite simply, that Satin Island 'induces mania.'
03
Chigozie Obioma (Nigeria), The Fishermen
Obiama, aged twenty-eight, is the youngest author on the shortlist.
Ever.
This is also his first novel. It's fair to establish, then, that the man's some kind of prodigy.
The Fishermen starts out with a fairly simple plot.
Four brothers, playing truant to their mother's instructions, decide to go fishing. They run into a robed man and discover a prophecy - and their lives begin to unravel.
Thus begins Obiama's Aristotleian tragedy, a Biblical parable, richly spun with both the Nigerian traditions of oral storytelling and with the form of the English novel.
The reviews raved. The New York Times announced that "Chigozie Obioma truly is the heir to Chinua Achebe."
In retrospect, that compliment may appear to have been grossly understated.
04
Hanya Yanagihara (US), A Little Life
Yanagihara's first book, The People in the Trees, published in 2013, was shortlisted for the PEN/Robert W Bingham Prize for Debut Fiction.
Her second, A Little Life appears to be the favorite to win the Man Booker, with 2:1 odds. It's a long read - 700 pages that take the reader to the heart of the interminable damage of abuse.
Jude St Francis is an emotionally and physically distraught man, and his friends try to protect him from the demons left behind by, it would appear, years of unresolved trauma.
Perhaps the grimmest of all the books on the list, A Little Life 'asks serious questions about humanism and euthanasia and psychiatry and any number of the partis pris of modern western life.'
The theme isn't new to the writer.
Her writing has been acknowledged to be 'chillingly relentless' and she has been known to give pain an 'intimate, visceral voice'.
It isn't a read for the faint of heart, perhaps, but an important one for the large of heart.
05
Sunjeev Sahota (UK), The Year of the Runaways
British born Sanjeev Shahota read his first novel at the age of 18. It was Salman Rushdie's Midnight Children.
Twelve years later, he wrote one of his own.
And another one, three years after that, in 2014. Now he stands to join Rushdie's own ilk, with potentially a Booker to call his own.
The Year of the Runaways catalogues the human impact of draconian immigration policies. 13 labourers, most of whom are illegal migrants from India, live together in a home that should accommodate 5.
This, Sahota weaves into a heartbreaking narrative that travels back in time to each migrant's homeland and then onward again - as they dodge the British authorities and dubious employers - to the painfully wretched lives they lead in Britain.
It's a heartbreaking plot - add to it the fact that Sahota knows how to 'turn a phrase, how to light up a scene, how to make you stay up late at night to learn what happens next,' and you have a recipe for heart-wrenching brilliance. And in the light of recent global crises of migration and immigration, and it's hard to imagine a more timely literary intervention.
06
Marlon James (Jamaica), A Brief History of Seven Killings
A Jamaican professor of English who teaches at Macalaster University in the US, James has written three novels: in 2009, The Book of Night Women; in 2010, John Crow's Devil; and in 2014, A Brief History of Seven Killings.
He was a finalist for the National Book Critics Circle Award, won the Dayton Literary Peace Prize in 2010 (both for The Book of Night Women), and was once again a finalist for the National Book Critics Circle Award in 2014 for his third.
A Brief History of Seven Killings provides a fictionalised account of Bob Marley's murder in Jamaica in 1970. The book then picks up again in New York City and Miami in the 80s, where the gang wars over crack are wreaking havoc, and finally, to the altered Jamaican landscape of the 90s.
The New York Times described the book as being 'comic, surreal, nightmarish, parodic.'
It's padded with an increasing sense of absurdity (though rooted in history) with an abundance of pop culture references and a startling range of tones.
Which is spectacular, because it's really only dealing with the rather morbid motivations of international criminals.