Why razing Hall of Nations and Nehru Pavilion will be a cultural disaster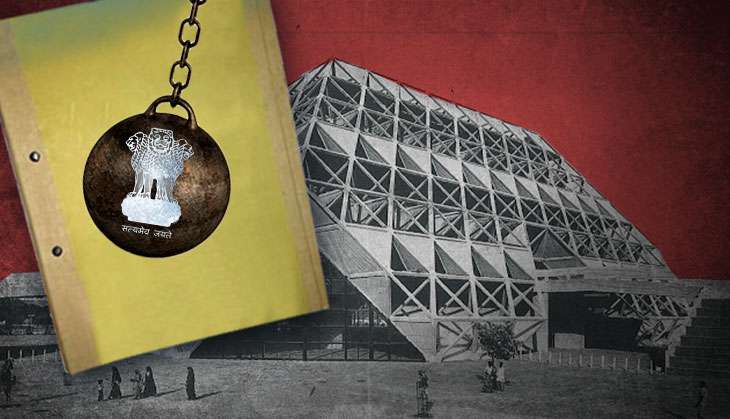 Nothing is more fragile, nothing easier to destroy than cultural heritage that is at the mercy of historical oblivion. When a nation has the consciousness to remember its immediate or distant history, it also has the courage to ask questions about its past and to respect its national heritage. If this is the case, then the first question would be: is respecting a cultural heritage an endpoint or is it the beginning of a real national reconciliation?
Some people might think like James Joyce and point out that "history is a nightmare from which we are trying to awake". Yet, to have this awakening one needs neither to love the past nor to hate it, but to understand and master it. The only way to do that is through the protection of the cultural heritage of a nation in times of intolerance, irresponsibility and meaninglessness. As such, looking backwards into a nation's past is the recognition of something that is owed by that nation to history, not merely as a courtesy, but because it is necessary to its cultural survival. Thus a nation's quest for shared identity is motivated by a permanent need for the preservation and continuity of the concept of heritage.
Also Read:
Tampering with Nehru Museum draws scholars' ire
Raj Rewal is well known in India, and globally, as an architect who has tried, over the past half a century, to revisit India's architectural history in order to shape the urban identity of modern India. Rewal is among the first generation of architects that includes Charles Correa, BV Doshi, Achyut Kanvinde, Habib Rahman and Joseph Allen Stein, yet he was only 36 years old when he created the Hall of Nations and Nehru Pavilion at Pragati Maidan, Delhi, in 1972. This small work was highly acclaimed by curators of the Museum of Modern Art in New York and the Pompidou Centre in Paris.
The Nehru Pavilion was to permanently house the panels and artefacts which had already been designed by the American designer Charles Eames and told the story of Nehru's life and times in a sensitive manner and had been exhibited earlier in America and England.
As for the Hall of Nations, it is known in Europe, as in the United States, as the first largescale structure in concrete in the world.
The structure is in good condition as it is essentially composed of concrete space frame. Only a few months ago, it housed a major exhibition which attracted more than two lakh people. It can surely last another 200 years if it is properly preserved.
Also Read:
How we lost a slice of our natural history
Like any other large span structure, the 256 feet building built nearly 45 years ago requires repairs, specifically a few non-structural triangular plates. It can be air-conditioned and renovated with current facilities to meet new requirements. Let us not forget that the total area of the Hall of Nations complex, including the Nehru Pavilion, is hardly 7% of the 120 acre site of Pragati Maidan. In fact, the Hall of Nations structure occupies only 2% of the site. Any new development can, therefore, be amalgamated with these two structures and the magnificent trees around them.
Cultural vandalism?
Still, a plan is afoot to demolish the two structures. Disturbed by the news, the International Union of Architects and The Asian Institute of Architects, along with prominent Indian architects as well as curators of modern art museums in Paris and New York, have written a letter to Prime Minister Narendra Modi, appraising him of the significance of these heritage buildings and protesting their proposed destruction.
The Delhi Urban Arts Commission and the Heritage Committee have expressed similar sentiments. Let us hope these protests do not fall on deaf ears and, if all else fails, the judiciary steps in to ensure such heritage is preserved.
The plan to destroy Raj Rewal's buildings at Pragati Maidan is far from being just a simple matter of modern urbanisation. What we are dealing with here is a form of hostility to historical memory that puts into question the very idea of modern Indian civilisation. The rise and decline of civilisations reminds us that there are consequences to the destruction of memory.
Speaking of heritage is, therefore, an act of witnessing the past despite the sadness of violence towards historical memory. As such, a heritage building is not just a physical space, it is also the common moral horizon of humanity and a landscape of historical memory. Moreover, when heritage is destroyed, it marks the victory of ignorance over the aesthetic dimension of historical memory and is the strongest evidence of the failure of peaceful dialogue between the past and the present. The continuity of this dialogue in the sequence of generations in India guarantees the veracity and authenticity of Indian culture in today's world.
As long as Indians are conscious of this civilisational task of recognising and defending their heritage (in whatever form it is represented), while not being mute spectators to the destruction of sites of historical memory, buildings such as the Hall of Nations and Nehru Pavilion will remain safe and out of reach of the assassins of memory.
Also Read:
What can be undone: helping Modi reclaim India from the
Nehru-Gandhi family