Why does 'awards season' always disappoint? A TV junkie's rant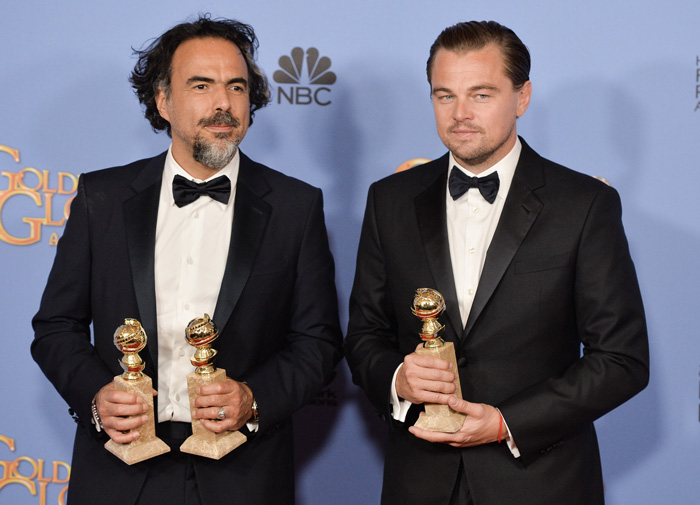 Each year, my excitement for awards season gets chipped away a little more - and I say this as a film and TV junkie.
Why? Well, growing older has definitely de-prioritised the glam factor - there's only that many red carpets, year on year, that you can get buzzed by. Which is why I've now begun to care about some of the underlying themes.
And each year brings its own series of disappointments, with just enough cheers to keep me coming back, even if unhappily.
Also read - Golden Globes 2016 red carpet: Lady Gaga, Jennifer Lawrence, Sam Smith, Kate Hudson dazzle
That's because, for all their 'unexpected', both the Hollywood Foreign Press Association and the Academy love four clear 'categories': first-timers, buzzy shows, repeat winners and celebrities.
That fact is all but plain to see.
Let's take this year's awards.
Was Cate Blanchett brilliant in Carol? Yes. Was Leonardo DiCaprio fantastic in The Revenant? Definitely - but is this the movie he should have won for? Seeing his performances in Blood Diamond and What's Eating Gilbert Grape?, I'm not so sure.
It's hard to grudge Leo the award but one has to recognise there were plenty of other amazing performances that deserve attention this year.
A good example of the sway of celebrity is this: as fabulous as Mother Monster - Lady Gaga - was in American Horror Story: Hotel, the fact that she won in a category full of heavyweights like Kirsten Dunst (Fargo) and Felicity Huffman (American Crime) is a little astounding.
This is the first time Lady Gaga has been involved in a scripted show (there have been a few voiceover bits here and there). The role was tailor-made for her by Ryan Murphy and some of the best scenes in the season involve her.
But to win best performance on her first go? That's clearly the HFPA being swayed by the glam factor.
Who doesn't want a free drink?
Pretty much any Hollywood awards show can be called a self-aggrandising display of narcissism, but nothing lives up to that description quite like the Globes.
The HFPA, which according to its own PR is made up of international entertainment writers that live in Los Angeles, was concocted out of thin air by a bunch of writers back in 1943.
And then they immediately started handing out awards.
The HFPA today comprise 90 people who have little to "no journalistic or critical credibility (seriously, take a look at this list)". It require new members to provide just four written pieces of work to apply.
That Lady Gaga won in her first proper TV appearance shows the sway of celebrity on award shows
So in their very essence, these are just some made-up awards that are being presented by a made-up group.
And really, who wouldn't want a free drink at some point during three hours of pretending to care about a made-up award being presented by a made-up group that exists primarily to collect licensing fees from NBC?
And then we come to the black and white of it
Major awards shows for film and TV don't really have a great track record when it comes to diversity. The majority of nominees (and therefore winners) are white.
And because the 2016 Golden Globes nominations particularly lacked diversity, one of the most satisfying momentz was Taraji P Henson's Best Actress in a TV Drama win for her portrayal of Cookie Lyon on Empire.
It's hard to grudge Leonardo DiCaprio his Golden Globe - but is this the film he should have won for?
Henson is ferocious in that role and her success in playing Cookie is also testimony to the growing diversity in television - as well as, perhaps, the lack of roles for black women in the movie business. On television Henson, How to Get Away With Murder's Viola Davis, and Scandal's Kerry Washington have not only thrived, they've been blessed with regular watchers and won suffiecient awards otherwise.
And yet, they're staggeringly few.
As actress Viola Davis said in her passionate acceptance speech at last year's Emmy awards, "You cannot win an Emmy for roles that are simply not there."
One can argue that the awards merely reflect, not shape who gets the roles - but they certainly serve to highlight the problem.
The Oscars last year, for instance, didn't nominate a single person of colour in the top four acting categories - a serious issue I can only hope the forthcoming 2016 Oscar nominations will correct.
Also read -It's like breaking up: these 11 cult TV shows won't make it into 2016
The good, the bad and the ugly
It's these factors that turn what should be buzzing into a buzzkill.
That's not to say Ricky Gervais wasn't a good host. After a three-year rule by comedy queens Amy Poehler and Tina Fey, his drunken, raucous humour was a good punch in the 'nads for most A-listers.
"Shush! Shut up, you disgusting, pill-popping, sexual-deviant scum. Let me do my opening monologue so I can go into hiding somewhere even Sean Penn won't be able to find me."
That's how Gervais opened the 73rd Golden Globes before making good on his promise to stick it to Hollywood's elite. And no one was safe: not Caitlyn Jenner, Ben Affleck, Donald Trump, Jennifer Lawrence or Mel Gibson. And many more.
The upsets that upset me
The biggest fail has to be the lack of awards for Mad Max: Fury Road. I thought best drama was a sure thing, but Alejandro Gonzalez Inarritu's The Revenant picked up that award along with two more - Innaritu for direction and DiCaprio for best actor in a drama. (This could, at the very least, signal Leo's triumphant march toward the Dolby Theatre on 28 February.)
Innaritu was last year's award-season darling for Birdman. As great as The Revenant looks (hasn't released in India yet), wouldn't a solitary directing award have been enough to note its presence? Mad Max was unexpected and glorious: a B-movie that was just A-plus. The action was so visceral and vivid that it comes almost as a revelation.
It is one of the greatest action films ever made and certainly the greatest action film ever made by a 70-year-old director - George Miller.
So why the snub?
And The Martian wins as a comedy? Matt Damon for best comedy actor? The film was fantastic and funny, but I'm sorry Ridley Scott - it isn't a comedy or a musical.
Also read -Bringing science back to sci-fi: why you should watch The Martian
Matt Damon's charismatic character may have been amusing in his efforts to survive on Mars. But this is a sci-fi adventure drama, people, not a comedy.
What's worse is that even in the room, everybody knows categorisation tricks like this are transparent at best, shameful at worst.
More in Catch -Problem of plenty: keep calm, there's officially too much TV
The Oscars Best Foreign Films shortlist doesn't have Court - but it's still a winner
Is Ryan Murphy's Scream Queens trolling us? Sometimes it's hard to tell