Walkover alert: you don't have to wait for the Oscars to know who will win in these 7 categories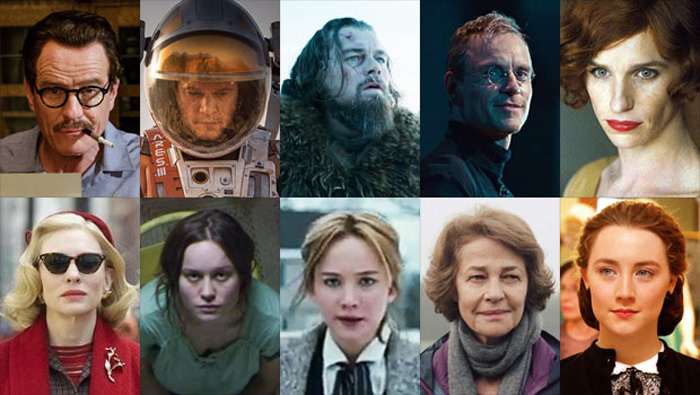 Mr Jaitley has a hard act to follow - at 5.30 am on Monday, 29 Feb, the Oscars kick off with all the buzz, hype, A-list overload and ancitipation that they generate annually.
But while who will win is the biggest question on everyone's minds - and pundits, bookies, critics, and put their money where their predictions are - there are always categories where you can predict the outcome well before the red-carpet is rolled out.
These are the ones we're putting our money on - the ones that are a virtually sealed deal even before the prestigious red envelopes are opened.
Frontrunner: Leonardo DiCaprio for The Revenant
Dark horse: Is there really anyone?
Seriously, can ANYONE beat Leonardo DiCaprio this year? CAN ANYONE? Literally everyone expects DiCaprio to walk away with the statue - and the undertone of the affair is, "finally". DiCaprio is the classic 'always the nominee, never the winner'. And the feeling is that it's time for the Academy to make good on his right to win.
If there is an upset in sight, no one can see it - not that there's a shortage of talent among fellow nominees. Bryan Cranston in Trumbo. Michael Fassbender in and as Steve Jobs. Eddie Redmayne for The Danish Girl and Matt Damon for The Martian.
Ironically, while most are agreed DiCaprio deserves to win an Oscar, ask whether he deserves to win it for this film, against this lineup, and you'll get a mixed bag of responses.
But the bottomline is clear: DiCaprio's Oscar is an idea whose time has come.
Also read - Can't say if he'll win - but here's what DiCaprio will eat at the Oscars
Frontrunner: Brie Larson for Room
Dark horse: Saoirse Ronan for Brooklyn
Again, like for Best Actor, is there really a choice? As Vulture put it three days ago, "Can Anyone Beat Brie and Leo at the Oscars?"
The overwhelming answer seems no - but if there is even a contender in sight, it's Saoirse Ronan for her role in Brooklyn. Alicia Vikander and Rooney Mara decided to opt to campaign for Best Supporting Actress and clear the way for 26-year-old Brie to win it, clearly recognising her performance was head and shoulders above the rest.
03
Best Supporting Actress
Frontrunner: Alicia Vikander for The Danish Girl
Dark horse: Again, no consensus
Just give it to Alicia Vikander already. She's had a stellar 2015 - from playing the robot in Ex-Machina, to movies like Testament of Youth and The Man From U.N.C.L.E., she's demonstrated her talent and range in stellar fashion. Her role in The Danish Girl has been widely praised and shouldn't be overlooked by the Academy voters.
Also read - Hello, Oscar nominees: here's who made the O-list for 2016!
04
Best Original Screenplay
Frontrunner: Spotlight
Dark horse: All other four nominees
Spotlight, based on the true story of how Boston Globe uncovered the massive church child molestation scandal, was an outstanding film. At the heart of the movie lies the screenplay that moves so swiftly, you're never bored for a moment. That's probably why 27 experts think Spotlight will win. Is there a dark horse? Inside Out, but only if the Academy has it in for the Spotlight crew for any reason.
05
Best Adapted Screenplay
Frontrunner: The Big Short
Dark horse: No consensus
The Big Short, a comedy (as the Golden Globes would like to say), is based on the financial crisis of 2008 and a shoe-in for the Best Adapted Screenplay Oscar come Sunday night. Room, Carol, The Martian and Brooklyn may be hoping to be the upset of the night.
It isn't looking likely.
Frontrunner: Emmanuel Lubezki for The Revenant
Dark Horse: Roger Deakins for Sicario
If you haven't seen Birdman, let alone Gravity, you're seriously missing out. For the past two years, Emmanuel Lubezki has been dominating the awards circuit, and has won cinematography awards for both these movies. And even those who disliked The Revenant (yes, they exist) singled out the cinematography as spectacular. Lubezki is going to take home the three-peat come the Oscars and he will make history in the process.
Roger Deakins and Sicario do have an outside shot at upsetting Lubezki - but the Academy voters will have had to have really HATED The Revenant for that to happen.