Varanasi can never be just one colour: Ghulam Ali's concert a success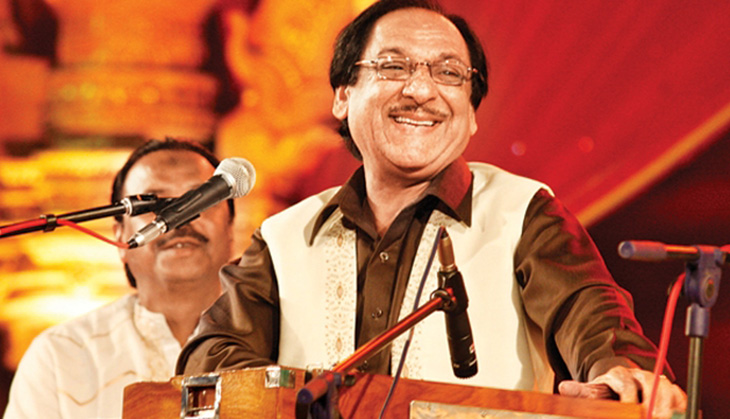 It was Varanasi that first questioned poet-saint Tulsidas. And then, it was Varanasi that gave him the love and respect he so richly deserved.
That is the fabric of Varanasi - it's a city where anger, disagreement and controversy all live together with peace and harmony.
The same people who share a cup of tea and conversation at roadside tea stalls can then abuse each other freely at the slightest hint of disagreement. They will share a paan with each other and then threaten each other with dire consequences.
Pakistani ghazal maestro Ghulam Ali's performance at the city's famous Sankatmochan Temple on Tuesday, 26 April, was no different. In fact, it was not the maestro's concert - it was the temple's annual music festival, where connoisseurs from all over India and the world converge.
Ali brought out his harmonium and rendered Tulsidas's famous composition 'Vinay Patrika'. And soon, he became one with Varanasi, one with the Sankatmochan Temple. Varanasi, too, immersed itself in his rendition.
The tradition in the city is to chant Har Har Mahadev at the end of any trance, and that's the jewel it decorated Ali with.
Opposition and threats
Those whose politics is based on the trishul (trident) smelt an opportunity when it became public that Ali was coming to Varanasi. They got a chance to get some free publicity, and city walls were splashed with posters opposing "a Pakistani's" concert.
These are the same people who have never lovingly listened to Bismillah Khan's shehnai, nor do they remember the classical vocals of Omkarnath Thakur. They just stick like ants to the sweetness of Varanasi, and at the slightest opportunity, they raise their tails and take a dump.
And so, a series of threats flew around against the concert. How could they accept a Pakistani Muslim singing in Prime Minister Narendra Modi's constituency?
There was pandemonium all around. Local newspapers were flooded with a barrage of statements and veiled threats. Varanasi's pious air was polluted with slogans of hate.
But none of this could deter Varanasi, or the organiser, Mahant Vishambharnath Mishra, or Ali himself. The programme went ahead as scheduled.
Blinkered view
Most people's notion of Varanasi is based on a blinkered view. And whatever they see without the benefit of peripheral vision is what they consider the ultimate truth.
There's cowdung on the road? It must be the dirtiest city in the world.
The city is home to the Manikarnika Ghat? It ought to be stereotyped as the ultimate cremation ground, where moksha can be attained.
Temples? It's the city of religion.
Boats? It's the holiest spot for Ganga darshan.
Sarees? It's the city of weavers.
Got your pocket picked? It's the city of thugs.
Cocktail of contradictions
Modi's victory in 2014 made people think the city has turned communal; that it's in the grip of Hindutva forces.
Now that Ali's concert has happened in an incident-free manner, people will turn around and say, "Look, this is democracy at its best. Any Muslim can come here and sing, and we'll listen. Have you ever seen anything like it anywhere?"
People must understand that Varanasi has always been a cocktail of all these contradictions. It is democratic and communal at the same time. It is as much a casteist city as an abode to the lower castes like the doms.
Modi is indeed a new experiment for this city. It toyed with the idea of supporting a candidate who would be Prime Minister. It gave him a chance to fulfill his promises.
If he fails to deliver, the same Varanasi may well unseat Modi from the high pedestal, and push him out of town towards Babatpur, where the airport is situated.
Can't be a single colour
Varanasi's choice of Modi doesn't mean the city won't put a price on its communal harmony. The elders of the city have grown up listening to Ali, and few among them would ever object to his concert. He has promised to return, and Varanasi will wait for him with arms wide open.
This is Varanasi, it loves to paint itself in a new hue every day. Sometimes it looks a bit leaky, sometimes it looks a bit shaky. But it knows the real dangers. Ali's concert was not a real danger, so he was honoured and sent home with respect. Those who pose a threat to Varanasi's culture are the real danger - they'll be taught a lesson in the time to come.
Ghulam Ali's performance at the Sankatmochan Temple is a victory for Varanasi. It's a defeat for one particular ideology, one party and one colour.
Varanasi can never be painted in one colour. Nor should it ever be. Let Varanasi be.
Edited by Shreyas Sharma
More in Catch:
'Shiv Sainiks get angry. But even they are capable of love': Ghulam Ali
Ghulam Ali concert called off: 5 other times Shiv Sena have threatened Pakistanis