Twinkle Twinkle Literati Star: How Twinkle Khanna blossomed into a serious writer
Twinkle Khanna became India's bestselling female writer with her first book Mrs Funnybones which had everyone in splits. Now, her next, "The Legend of Lakshmi Prasad" - a book of short stories on the lives of Indian women - will make you want to fight the urge to double-check if the author is really our country's reigning queen of satire.
For this is not vintage Khanna unleashing her double entendres, but a mature Khanna treading serious territory, showcasing an India we largely know about, but prefer not to bother or think about. Narrating tales of women who are killed before they are born, tales of women who don't know what a sanitary napkin is, tales of women who decide to break free from the shackles of societal norms in the last leg of their lives.
But these are tales with a happy ending - a little girl transforming her village with a revolutionary idea, a villager manufacturing low-cost sanitary napkins, a woman deciding to live her life at 68 and another after five failed marriages taking charge of her life.
The Moni Mohsin of India has finally moved out of her comfort zone. She tells Catch she went and lived in a village in Madhya Pradesh to research for one of her stories and to see that world for herself, that she is a stickler for detail, and that the one thing she didn't read up on before writing this book was - feminism.
The funny woman of India also reveals that if she had to relive her life she would like to be a chartered accountant because her Math is even better than her English, that she writes awfully bad poetry - 'I wrote a poem about how a woman chopped up her husband into bits with a kitchen knife', and that when the (film) world is taken over by Artificial Intelligence we will still need writers.
Of course, Twinkle Khanna will be there writing Bollywood scripts.
For now - though mum is the word - the buzz is that one of her stories from the book is likely to be made into a film by Karan Johar.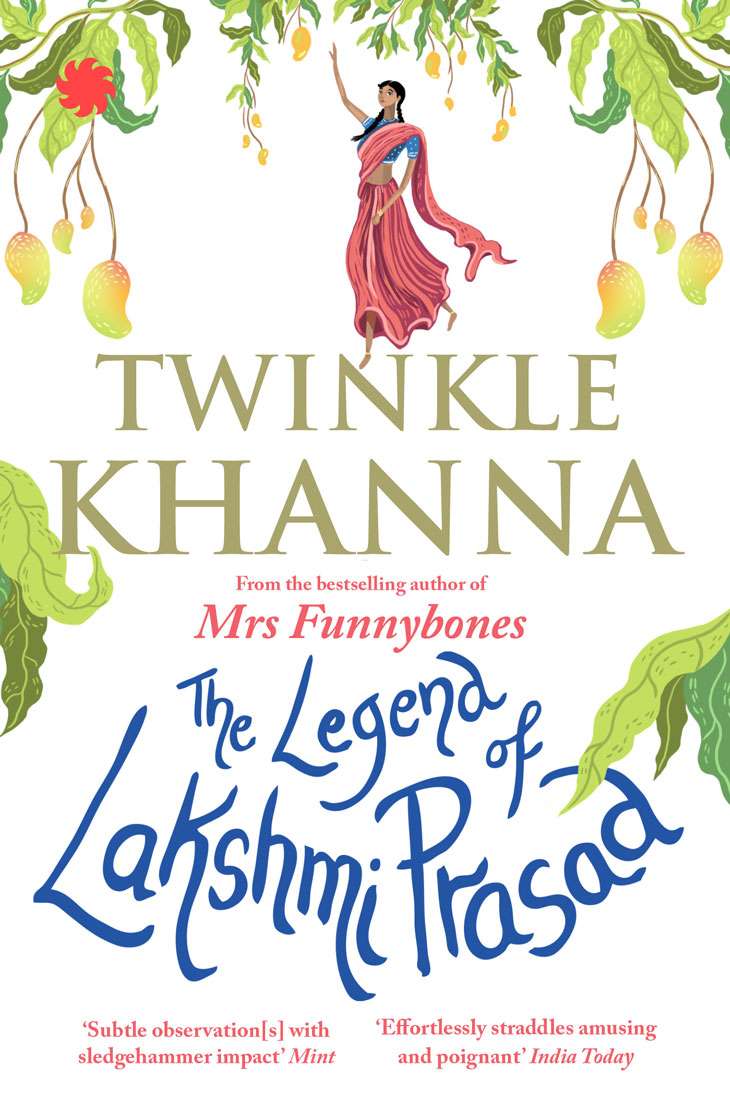 Edited Excerpts:
LH: Just as we were beginning to see you as the Moni Mohsin of India, you've surprised us with The Legend of Lakshmi Prasad. You are blossoming into a serious writer...
TK: Are you saying Moni Mohsin is not a serious writer? (laughs). I am a big fan of Moni, to even be compared to her is wonderful.
I don't think that I have ever sort of been contained or I have conformed to a certain way that people expect me to do the things that I do. So literally it is the easiest, simplest thing for me at this point of time, and I think it would have perhaps been cumbersome to do 'Mrs Funnybones II'.
But like I said it is what the mind wants to do, what you can immerse in, its what obsesses you. To be able to sit and write, you have to have sustained interest in that for nine months, as long as you have to carry your own child, you have to have that much patience with this. It has to be worthwhile.
And I just wrote what I felt needed to be told -- the kind of writing style that would enhance the story. That's it. There was no master plan.
LH: How much time and effort went into researching for the book? Did you have to read up a lot -- on feminism, for instance?
TK: Well the one I did not have to read up on was feminism (laughs). For everything else I had to do a lot of research - as each story is set in a different time period as well as in a different state, almost. I would do a lot of research based on that.
For example, I went and spent a week in Madhya Pradesh in a small town called Maheshwar just to get a feel of what are the houses like, what are the roads like, what do people wear...
Twinkle Khanna: a Bollywood girl crush worth having
Twinkle Khanna with her mother Dimple Kapadia (File Photo)
LH: The details in your book are stark. One wouldn't have expected you to be so observant...
TK: That's a good thing. Thank you very much.
But I am a stickler for detail. So, for example, when I actually conceived 'The Sanitary Man From A Sacred Land' story I wanted it to be as realistic as possible. Dewas is a larger city, I wanted (to be in) a village that really does exist in the real world, which was about 2 km away, so that you could actually cycle back and forth as I have depicted him (the sanitary man) doing in the book.
I found a little village called Itwa, but, as I started writing, Itwa, the actual village, became too small to contain the world I was building. I didn't think it could accommodate a Jagannath Sari Store or whatever. Then I had to make it fictional.
LH: How difficult was your stay there? You were Twinkle Khanna in a small town of Madhya Pradesh...
TK: If I went there with my bodyguards and put my sunglasses on I would be attracting more attention. I have walked down the streets anonymously. You just wear a kurta over a pair of jeans and you can pretty much pull it off.
LH: I really don't think you are anonymous at all...
TK: Well. I am hoping. (laughs) I was like that ostrich hiding my head in the sand, hoping that since I can't see anyone properly, they can't see me either.
LH: Tell me about 'Salaam, Noni Appa'. Did you have to research for this story too?
TK: It is set in the late 80s-early 90s. I grew up during that era, but what I did not know was what were the ICUs like. I actually called up a GP (General Practitioner), my family doctor is a little older, and asked when did the Nanavati Hospital ICU open and what was it like? I had checked online when it had opened, but I didn't know what it was like.
Researching for little details...those things are important for me, whether I share it with my readers is secondary, but I have to know it.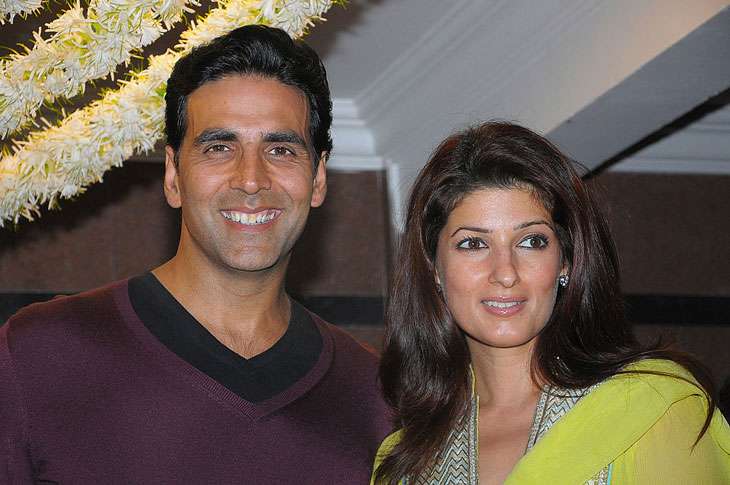 Twinkle Khanna with husband Akshay Kumar (Getty Images)
LH: Of the four stories in the book, which is your favourite?
TK: The story I enjoyed writing the most was 'Salaam, Noni Appa'.
LH: How did you decide upon the title of the book?
TK: Because the first story is 'The Legend of Lakshmi Prasad'. Also, because I wanted to open a small world into this (big) world and then go on...
LH. You have a way with words. A simple sentence such as 'Noni Appa and Binni lost their husbands to cancer and children to the lure of distant lands" sets the tone for that story. Which side of the gene pool would you like to thank more?
TK: (laughs) I would like to thank two things. One, I don't think anybody, or very few people can say they are writers, if they haven't been reading. For me, I have been in the world of words my entire life. On one side as a reader, and on the other side as a writer though I still read as much.
The second thing is I like to watch people, I like to observe things, I like to look at things and figure out. I have always lived a life of asking questions -- why. The ability to write... when I was much younger, I was about 18, I had written half a book and a pile of poems.
LH: You are a poetess too?
TK: I am a very bad poetess. Even today when I write, I write very bad poetry. I wrote a poem about how a woman chopped up her husband into bits with a kitchen knife ....so these are the poems I write, about maggots...(laughs) I am going to go very far in my career as a poet.
LH: So the genes play no role?
TK: I really don't know about genes. I came from a family ....I lived with my (maternal) uncles and aunties, my youngest aunt was writing poetry, my uncle would make ink sketches, my mother paints, we never sat around doing nothing, my granny was knitting all the time.
I can cook, I can knit, I can draw a bit, I can paint a bit.
LH: Also candle making?
TK: That's our business, not a hobby. These are things we continued doing all these years. And everybody was reading. So my love for books came from my uncle -- he had a big box of science fiction books, also 'X-Men'. At that time nobody knew 'X-Men'.
I grew up like that, my sister (Rinke) is a very good reader, like me, she reads slightly different genres of books. So I guess it is the environment, I really don't know much about genes. This was the world I grew up in.
LH: Are you the only non-filmy writer in the film world?
TK: I have no clue. I haven't really done any book on the film world (laughs).
LH: I suppose you are the only one. So if you had to relive your life would you go to a creative writing school or an acting school?
TK: Neither. I wanted to become a chartered accountant. I had applied for my entrance exam, so I guess I would like to do that.
LH: Are you saying you are good at Math too?
TK: I am much better at Math than I am at English. Always have been. (Laughs) In my class 10 board exams I got 97 on 100. Math is my love.
LH: You don't sound like a Bollywood kid at all...
TK: That is stereotyping. That is a preconceived notion. That's really not fair. People are people. Every walk of life there are people and they have different abilities.
LH: You are unabashed and vocal. How do you manage in the largely politically correct Bollywood?
TK: I don't live in that largely politically correct world.
LH: The backlash doesn't bother you?
TK: It's how big or wide you make your world. My world is my family and my friends and I don't have to be politically correct with them. The rest of the world and myself, if they accept me great, if they don't, I honestly could not bother.
LH: Coming back to Noni Appa and Binni, you say you would like to end up like them...
TK: I don't know if I would like to end up like that considering that they lose their husbands and their children (laughs)... I am just joking.
But yes I have that bond with my sister -- like Nonny and Binni. Nothing has changed though we are both married, have children, we've crossed 40 -- can't even believe it's happened. But the way we see each other, we behave like we are 12 and 13! That probably will not change when we are even 60 and 70. So that is the sort of relationship we have and we hope it remains unchanged.
LH: You've told the world why women should not change their surnames after marriage. In 'If The Weather Permits' the protagonist Elisa marries five times. Why is marriage so important in our society?
TK: It's the conditioning, the accepted way.
It's nice to have a partner, it's nice to have a companion, it's nice to grow old with someone. Marriage is a legal entity... To me marriage is very important if you want to have children, so that they don't have to deal with the society, the social norms that are still prevalent.
You might decide you are thick-skinned enough (to have children outside marriage), but why would you want to put your children through that.
The second thing is if you find the right partner, where you find you are each other's cheerleaders -- which I agree is extremely rare - or if you are best friends, then it is a wonderful thing. I think it is a great institution, a stable institution...
LH: But marrying five times...
TK: (laughs)
LH: Elisa thinks up a brilliant epitaph for herself in the book. What will your epitaph say?
TK: My epitaph? I haven't thought about that. Well I would say that... No, I won't have an epitaph. First of all, I am going to be probably burnt, so I won't have a gravestone. Sorry. I will bypass that.
LH: I felt sorry for Elisa, she had to go through so much in each of her marriages...
TK: She (Elisa) doesn't think that she has gone through so much. In fact, much of her blundering and floundering about is because of her. She didn't have to get married so many times...There are people like that, I have seen people like that.
LH: Are we seeing a lot of your world in this book?
TK: No. I don't think it is my world at all because there are different-different worlds. My world is the only world that you don't see there. If you look at 'The Legend of Lakshmi Prasad' it is set in the 1920s, in a small village.
LH: Is there any bit of you in the book?
TK: There is all of me there.. Every character has my emotions... but if you are asking me which is the character I am closest to then it is the sanitary man.
LH: Of your four stories one is being made into a movie by Karan Johar. Which one is that?
TK: There is nothing really concrete right now...
LH: Do you see yourself as a film writer in the years to come?
TK: What I do see in the future is -- a lot of movies being made off books. I have a strong feeling about this. Hollywood is coming to India in a very big way, we cannot compete with their budgets or their special effects or any of that.
Where we can compete with them is - with a great story. This is an indispensable breed. Even if the world is taken over by Artificial Intelligence we will still need writers (laughs)...
LH: So we hope to see you there soon...
TK: (laughs)
Publisher: Juggernaut Books
The Legend of Lakshmi Prasad is available in bookstores and on the Juggernaut app Paperback Rs 299; App Rs 60