Outdoing Rowling: this new illustrated Harry Potter is stunning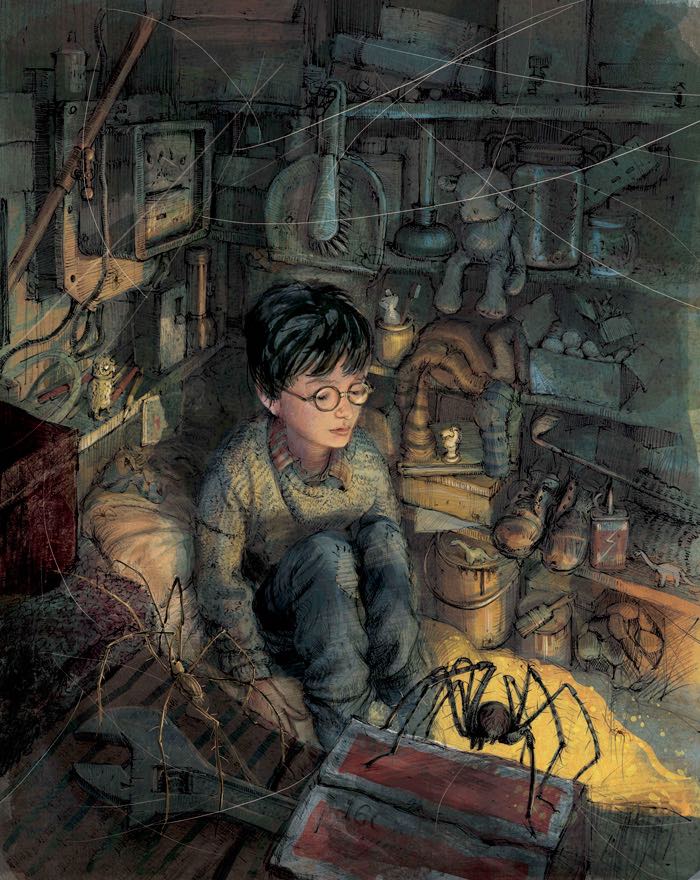 Harry Potter is back. This time, in technicolour - without being in film.
All seven books have just been illustrated in a stunning volume by illustrator Jim Kay.
Kay knows his work is cut out for him.
It's a series everyone has read. It's a series everyone has an opinion on. It's also a series everyone has shared visually in eight separate movies. And one everyone has been emotionally invested in.
This knowledge kept Kay up at night for months. "I was terrified. I used to get terrible shakes when I was drawing."But he's already completed the first of the illustrated series, and with startling finesse.
In a stunning mish-mash of oils, acrylics, watercolor, digital coloring, he's done a degree of detailing that even Rowling hadn't conceived of. In Diagon Alley, for example, Kay noticed that there were a lot of gaps between shops. Would Rowling mind if he filled in those gaps?
No she wouldn't, it turned out. So Kay drew, lending colour, detail and architecture to a narrative that was already rich with detail and history.
Here, six stunning images from the first of the series, Harry Potter and the Philosopher's Stone:
1.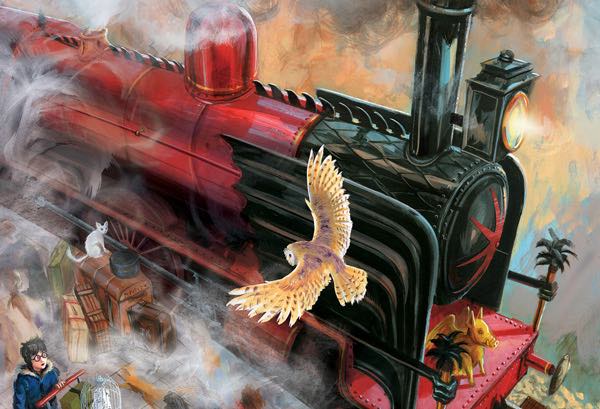 Like the original, Hogwarts' Express graces the cover of the illustrated edition too.
These Harry Potter illustrations have a detailing Rowling couldn't match.Of course, the chimney is the head of a dragon bellowing smoke and fire. And pigs, if you notice, can fly.
2.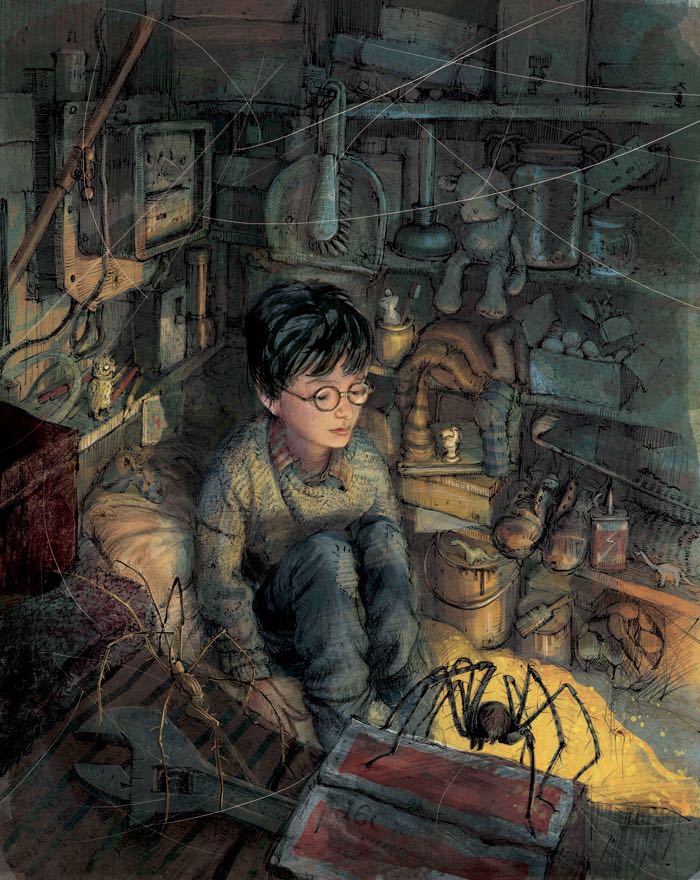 We remember that Harry's little cupboard under the stairs was infested with spiders. But did you ever imagine that Harry would have a fascination for dinosaurs? Or that he owned an inanimate owl that lay by his makeshift bedstead?
3.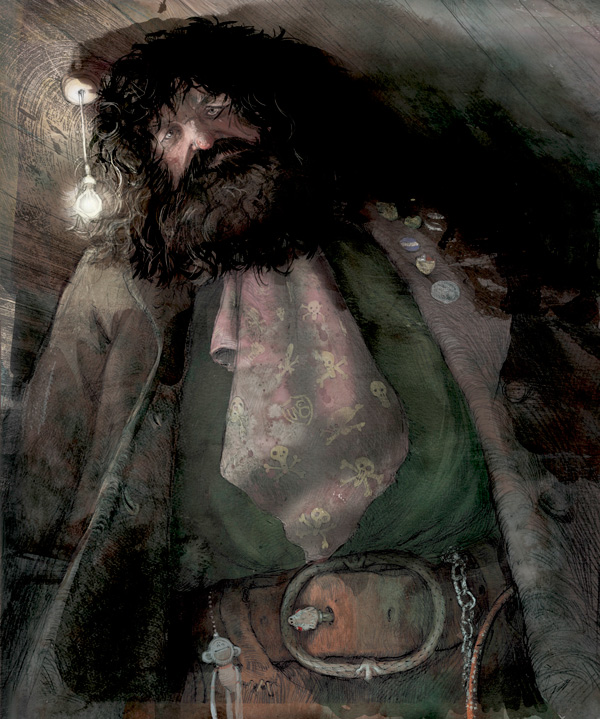 Our beloved, hairy, horrendously coiffured Hagrid. With a pirate headband for a tie, and a key - for he really needs to lock it in place - for his pants.
4.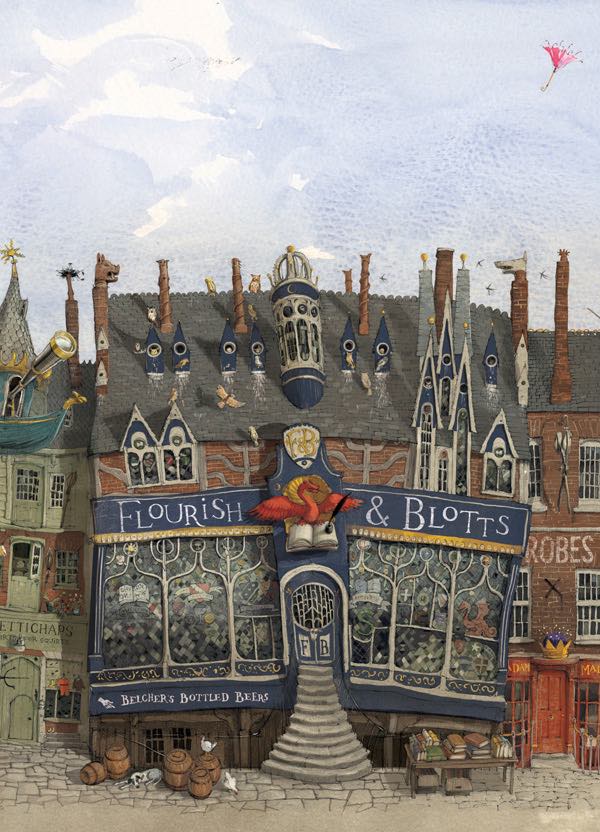 Delivery owls perched on the roof, the recurrence of dragon chimneys, and flanked by the impeccably named Belchers' Bottled Beers, lies the shop Harry would frequent every year (till Hermione created a library of her own) - Flourish and Blotts.
5.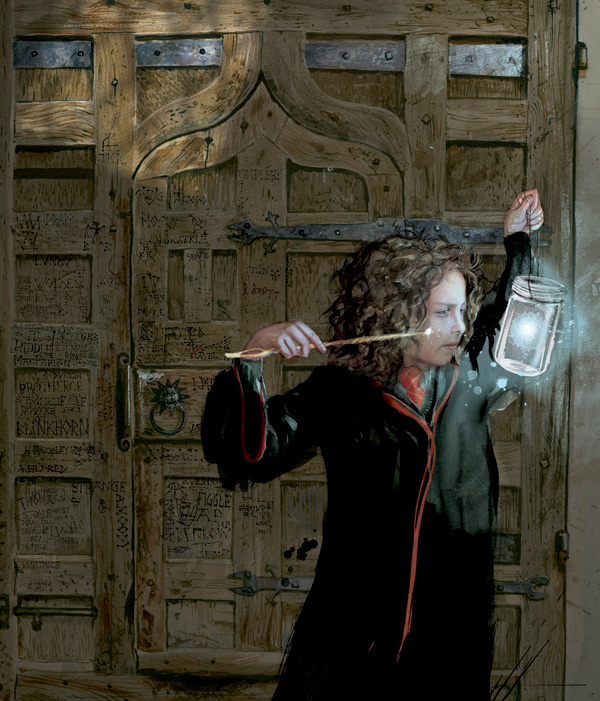 Here's Hermione, whom John Kay admitted was styled after his bossy and erudite niece.
The image also features graffiti engraved on the solid wood classroom doors. An Abbot has certainly engraved his name in the door. There's also a Riddle in there - though there's no way to ascertain its Tom. And something about a Professor "Slinkhorn"
6.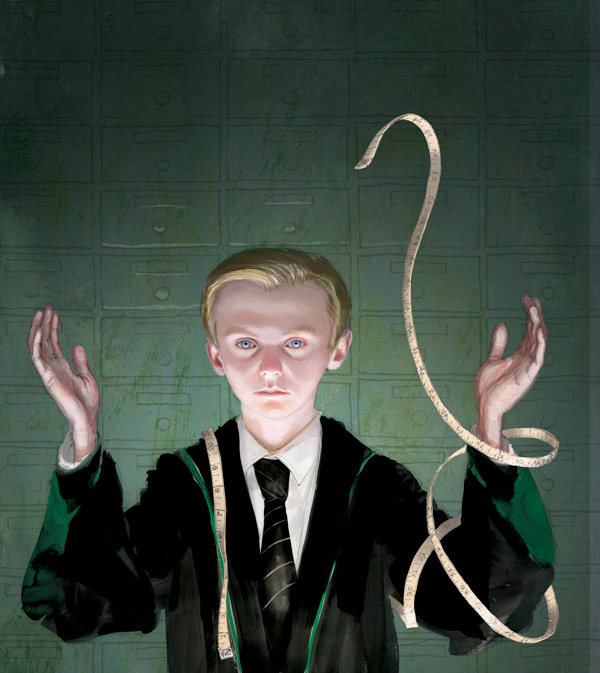 And finally, here's Malfoy. Pale, green, unsmiling and as Slytherin as ever.