The dot is in the heavens now: Rest in peace, SH Raza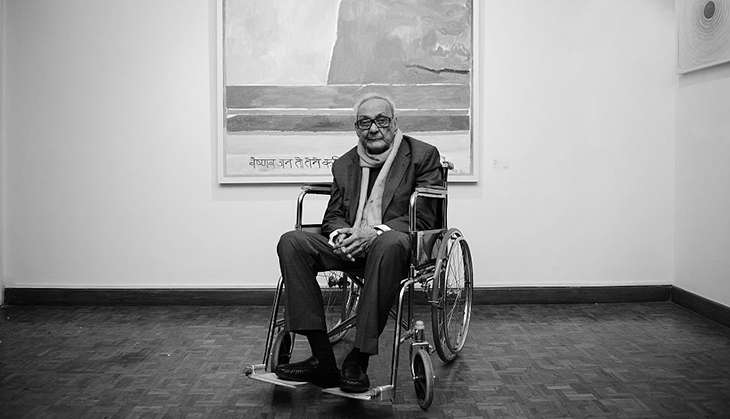 The canvas shall now remain blank. The colours will remain untouched, the brushes will no longer feel the loving caress of their master. Syed Haider Raza, India's legendary abstract artist, is no more.
Raza, 94, had been in a New Delhi hospital for over two months. He had been in the ICU where, on Saturday 23 July, he suffered two heart attacks.
Ashok Vajpeyi, the famous poet and a close friend of Raza, told Catch: "I was here when he suffered the second heart attack. It was around 11 am. It is very sad, and a big personal loss to me."
Raza's last wish, according to his friends, was to be buried in his hometown of Mandla in Madhya Pradesh, where his father also rests in eternal peace.
"We are making arrangements to fulfill his wish. The body is being taken to Mandla for the last rites," Vajpeyi said.
His life
Raza was born on 22 February 1922, and his whole life was spent experimenting with colours, thoughts and philosophies.
In 1950, Raza went to France with all his belongings in one suitcase. He worked hard on his art in what is considered one of the world's nurseries of art, and became one of the most celebrated artists of our time.
Raza's wife died in 2002. Since then, he lived with an overwhelming sense of loss. He promised his wife he would leave behind everything he earned in France. Finally, in 2010, he gave away all his belongings, bank balance and three houses in France to the nurse who had helped him. He came back to India the way he had left - with one suitcase in hand.
His legacy
Meeting Raza sahab was always a pleasant experience; his mere presence engendered a sense of calm around him. His face usually bore an expression of great serenity and silence, with endless depth, like a sea. His eyes always seemed to be in meditation. And all this reflected in his work.
Raza was considered one of the finest abstract painters in the world. Another friend of his and a great artist in his own right, Akhilesh Verma, said: "I have not seen such use of colours by any other abstract artist around the world. He was simple unique. There's no one who has advanced the art of using colours as Raza sahab."
Raza's departure also signals the fall of the final pillar of the Bombay Progressive Artists' Group, after FN Souza died in 2002 and MF Husain in 2011. All three of these painters were recognised the world over for their great contribution to Indian art.
Till very recently, every morning, Raza would be in his studio. His love for painting was unbelievable. The hard work and the great sense of art and aesthetics he had is unmatchable.
Raza was and will remain an inspiration for many young artists, and his contemporaries as well.
And though his eyes are closed forever now, every painting he made has been blessed with his vision. There are many eyes, dots and circles he painted in which he will remain among us.
Edited by Shreyas Sharma
More in Catch
Vincent Van Bot - robots are now taking over the art world
25 artists. 100 shipping containers. 1 amazing idea. Delhi St+Art festival is back
High art, big money: Cannes' secret to success