World's most successful paid video game will be a movie. Hello Tetris, the film
Asad Ali
| Updated on: 13 February 2017, 10:15 IST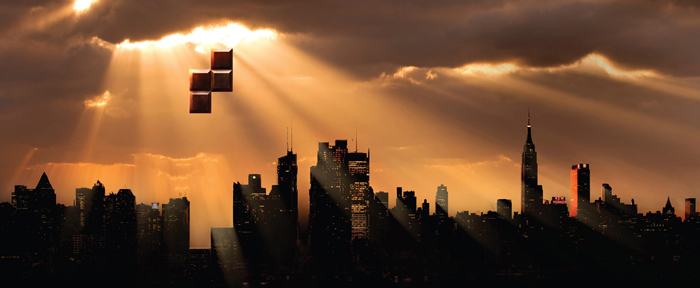 It was the first piece of entertainment software to be exported from the USSR to the US.
It was the first ever video game to be played in space (in 1993 Russian Cosmonaut Aleksandr A Serebrov carried it on his mission along with his Nintendo Game Boy.That Game Boy was auctioned for $1,220 at Sotheby's in 1996).
Also read - The Biggest entertainment release of 2015 wasn't a film. It was a video game
It also earned a man named Faiz Chopdat the "Longest Prison Sentence for Playing a Video Game" aboard a flight in 2002 - a Guinness World Record.
No matter how you look at it, Tetris is remarkable.
Especially because there's no reason why stacking blocks atop one other should be as addictive as it is.
But Tetris proved it's possible to hook fully functioning adults to a game - and to do it so that three decades later they're still hooked; the game, first released on June 6 1984, celebrated its 30th anniversary last year.
And it's now getting a new fan following: cinema.
The Tracking Board reports that a movie on Alexey Pajitnov, founder of Tetris, is on the cards for 2016.
What's more, the project will be headed by James Packer and Brett Ratner - of Prison Break, Rush Hour and X-Men fame.
For a simple game of building blocks Tetris has a complex yet fascinating history. Ahead of the movie, here's what you need to know!
The backstory
It was while working at the Soviet Academy of Sciences in Moscow, 1984 that Alexey developed the first version of Tetris on an Electronika 60 terminal computer. It was his job to develop software to test the capacity of new hardware, and it was something he did by developing simple games for them.
This one, though, caught on - first with two colleagues who ported the game to the IBM PC, then with their friends, then with just about everyone in Moscow - and finally in Budapest, where the British also discovered and tried to license it.
It took just two years for the game to find distribution to PCs in North America and Europe.
But its commercial superstardom didn't come for another two years, till 1988, when Henk Rogers, a Dutch games publisher, discovered Tetris at Las Vegas' iconic Consumer Electronics Show.
Also read - The Oscars of Science just happened and you didn't even know
There was no looking back. He struck a deal with Nintendo that resulted in Tetris being included with every Game Boy unit. Nintendo's original preference was to bundle the Mario Bros game with the system. Rogers convinced them otherwise, saying: "If you want little boys to play Game Boy, pack in Mario-but if you want everyone to play Game Boy, pack in Tetris."
Because Alexey had developed the game using a government computer at the Soviet Academy of Sciences, where he worked - the original rights and license fee went to the government. It was only when Alexey met Rogers and emigrated to America in 1990 that he started to make some cash.
The trivia
* The word Tetris is a portmanteau of the Greek word "tetra" (four) and "tennis" (inventor Alexey's favourite sport). The blocks are called tetrominoes and can be of up to seven variants or shapes. The game area is called the matrix.
* Alexey drives a Tesla with a license plate that says, no prizes for guessing: TETRIS!
* For circumstantial reasons - Alexey was an employee of the USSR govt at the time he developed the game, on an official machine - he handed over rights of the game to the Russian government for over 10 years. It's probably the only commercially successful video game in the world to have been developed by a scientist and owned by a government.
* The original Tetris theme music is actually from a 19th century Russian folk song called Korobeiniki, about a girl who haggles with a market peddler. Go here to trace how the original song has evolved over time and versions:
http://kotaku.com/the-evolution-of-the-tetris-song-from-1987-to-today-1533072841
* Today, Tetris has proper world championships and leagues. Players play a specific Nintendo Entertainment System (NES) version of the game:
http://chrishiggins.com/w/2013/02/03/playing-to-lose/
* Hypothetically a top score of 999,999 points can be achieved. But to the question - "Can someone keep playing Tetris forever?" the answer is a '92 thesis by John Brzustowski that says no. Here's a video to explain why you'll never beat Tetris:
http://in.ign.com/tetris/75415/news/why-youll-never-beat-tetris
* The 1987 PC version of Tetris was amongst the earliest games to have a Boss Button - which opened a spreadsheet when you pressed it, just in case your boss happened to be nearby in office
* Tetris Effect is an actual condition where you dream about falling tiles while sleeping, if you've played too much of it!
http://www.scientificamerican.com/article/tetris-dreams/
* And yet, it's considered good for the mind and helps in thickening the cortex, says a BBC report:
http://news.bbc.co.uk/2/hi/uk_news/magazine/8233850.stm
* The smallest Tetris game was played in Amsterdam at the Department of Physics of Complex Systems, under an electron microscope!
* A '98 Japan-only release, Tetris 64 had a Bio Tetris version that measured the player's heartbeat and sped up the pace of the falling tiles accordingly!
MORE IN CATCH:
Transformers, eat your heart out: giant fighting robots are now real
Selfie-Esteem: this Stanford PhD built an algorithm to rate your selfies