Take the summer off: these 27 movie releases are set to make it an epic one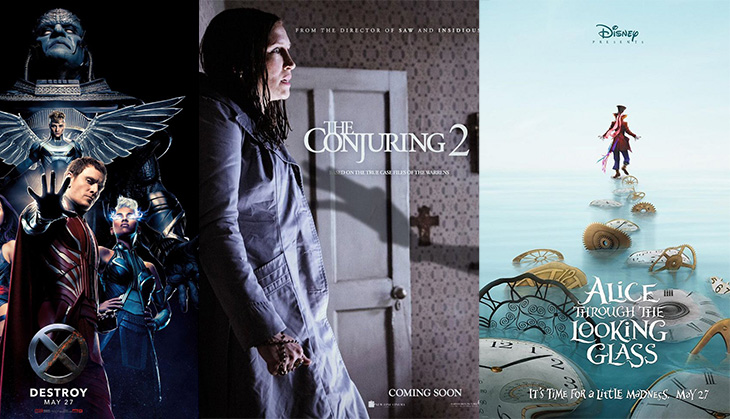 The weather hit summer mode a while ago but cinematically, it got here last week with the release of the first summer blockbuster, Marvel's Captain America: Civil War, on May 6.
As always, over the next few weeks and months, dozens more such movie will release and aim to break box-office records.
The 27 movies on this list may not seem like a shortlist but they are, sorted into two categories: the 15 likely to go on and earn the tag 'blockbuster', and the 12 indie films we think will find an appreciative audience, even if they don't hit the bigtime. All release dates are US.
First the blockbuster films:
1. Captain America: Civil War (released last week)
Director: Anthony Russo and Joe Russo
Cast: Chris Evans, Robert Downey Jr., Scarlett Johansson, Don Cheadle, Jeremy Renner, Elizabeth Olsen, Paul Rudd, William Hurt, Daniel Bruhl and othersProduction company/Distributor: Marvel Studios/Walt Disney Studios Motion Pictures
Release date: 6 May
You're in luck. This 2016 American superhero film that pits Team Cap and Team Iron has already been released in most parts of the world. Most of the series superheroes are present, including the new additions of Black Panther and Spider-Man. Movie review aggregator, Rotten Tomatoes sums it up by saying, "Captain America: Civil War begins the next wave of Marvel movies with an action-packed superhero blockbuster boasting a decidedly non-cartoonish plot and the courage to explore thought-provoking themes."
2. The Angry Birds Movie
Director: Fergal Reilly and Clay Kaytis
Cast: Jason Sudeikis, Josh Gad Danny McBride, Maya Rudolph and Kate McKinnon and Sean PennProduction company/Distributor: Rovio Entertainment and Sony Pictures Imageworks/Columbia Pictures
Release date: 20 May
This 3D computer-animated movie is based upon the highly successful video game series that goes by the same name. This is Fergal Reilly and Clay Kaytis' directorial debuts.
3. X-Men: Apocalypse
Director: Bryan Singer
Cast: James McAvoy, Michael Fassbender, Jennifer Lawrence, Oscar Isaac and Nicholas HoultProduction company/Distributor: 20th Century Fox and Marvel Entertainment
Release date: 27 May
Another superhero movie. Another one from Marvel Comics. This is a sequel to X-Men: Days of Future Past that came two years ago in 2014. It is the ninth film in the X-Men franchise. IMDB sums up the plot as, "With the emergence of the world's first mutant, Apocalypse, the X-Men must unite to defeat his extinction level plan."
4. Alice Through The Looking Glass
Director: James Bobin
Cast: Johnny Depp, Anne Hathaway, Mia Wasikowska, Rhys Ifans, Helena Bonham Carter, Sacha Baron Cohen, Alan Rickman, Stephen Fry, Michael Sheen and Timothy SpallProduction company/Distributor: Walt Disney Pictures/Walt Disney Studios Motion Pictures
Release date: 27 May
This is a sequel to 2010's Alice in Wonderland and is based on Through the Looking-Glass by Lewis Carroll. Alice returns to the world of Wonderland. She travels back in time to save the Mad Hatter in this movie that clocks in just under two hours.
5. TMNT: Out of the Shadows
Director: Dave Green
Cast: Megan Fox, Stephen Amell, Will Arnett, Brian Tee and Tyler PerryProduction company/Distributor: Nickelodeon Movies/Paramount Pictures
Release date: 3 June
IMDB sums it up best: "The Turtles return to save the city from a dangerous threat.".
6. The Conjuring 2
Director: James Wan
Cast: Vera Farmiga, Patrick Wilson, Frances O'ConnorProduction company/Distributor: New Line Cinema/Warner Bros. Pictures
Release date: 10 June
This supernatural horror film is to the highly successful 2013 movie, The Conjuring. This is another story that comes from the real life case files of Ed and Lorraine Warren. It's one of the most anticipated horror movies of not just the summer but all of 2016.
7. Now You See Me 2
Director: Jon M. Chu
Cast: Jesse Eisenberg, Mark Ruffalo, Woody Harrelson, Dave Franco and Daniel RadcliffeProduction company/Distributor: Entertainment One/Summit Entertainment
Release date: 10 June
Another movie. Another sequel. This one is a sequel to 2013's Now You See Me, a movie about magic that was a surprise hit. The Four Horsemen come back to life on screen and are hired by a tech genius to pull off some sort of heist in what could be another surprise hit.
8. Finding Dory
Director: Andrew Stanton
Cast: Ellen DeGeneres, Albert Brooks, Hayden Rolence, Diane Keaton and Eugene LevyProduction company/Distributor: Pixar Animation Studios/Walt Disney Studios Motion Pictures
Release date: 17 June
This is a sequel to the thirteen-year-old Pixar superhit Finding Nemo. Andrew Stanton returns as writer and director. This film centers around Dory and thee story of her being reunited with her family.
9. Independence Day: Resurgence
Director: Roland Emmerich
Cast: Liam Hemsworth, Jeff Goldblum, Bill Pullman, Judd Hirsch, Vivica A. Fox, Brent Spiner and Charlotte GainsbourgProduction company/Distributor: Centropolis Entertainment/20th Century Fox
Release date: 24 June
This sci-fi disaster film comes 20 years after the original. IMDB once again with the summary, "Two decades after the first Independence Day invasion, Earth is faced with a new extra-solar threat. But will mankind's new space defenses be enough?"
10. The BFG
Director: Steven Spielberg
Cast: Mark Rylance, Ruby Barnhill, Penelope Wilton and Rebecca HallProduction company/Distributor: Walt Disney Pictures, DreamWorks, Amblin Entertainment, Reliance Entertainment, Walden Media, and The Kennedy/Marshall Company/Walt Disney Studios Motion Pictures
Release date: 24 June
Based on the novel of the same name by Roald Dahl, this is the second adaptation of the book. The first was a television movie. Mark Rylance stars as the Big Friendly Giant (BFG). It is a story of a girl, Sophie, who encounters a surprisingly friendly giant.
11. Ghostbusters
Director: Paul Feig
Cast: Melissa McCarthy, Kristen Wiig, Kate McKinnon and Leslie JonesProduction company/Distributor: Village Roadshow Pictures/Columbia Pictures
Release date: 15 July
This is the revival of a classic series and this time, it's got an all-female lead. Only time will tell if that moves pans out or not. Still, everyone is awaiting this movie, like no other.
12. Star Trek Beyond
Director: Justin Lin
Cast: John Cho, Simon Pegg, Chris Pine, Zachary Quinto and Zoe SaldanaProduction company/Distributor: Skydance Media, Bad Robot Productions/Paramount Pictures
Release date: 22 July
Star Trek Beyond is the sequel to Star Trek Into Darkness and the third installment in the reboot series. Not much is known about the plot as yet.
13. Jason Bourne
Director: Paul Greengrass
Cast: Matt Damon, Julia Stiles, Alicia Vikander, Vincent Cassel and Tommy Lee JonesProduction company/Distributor: Universal Pictures
Release date: 29 July
Jason Bourne, the 5th in the franchise, sees the return of Matt Damon. It is the sequel to The Bourne Legacy. IMDB descriptor: "Jason Bourne, now remembering who he truly is, tries to uncover hidden truths about his past."
14. Suicide Squad
Director: David Ayer
Cast: Will Smith, Jared Leto, Margot Robbie, Joel Kinnaman, Viola Davis, Jai Courtney and Jay HernandezProduction company/Distributor: DC Entertainment/Warner Bros. Pictures
Release date: 5 August
This is decidedly the summer of the superhero movie. This time it's DC Extended Universe that has the next release, Suicide Squad. It sees Will Smith and Margot Robbie team up as secret government recruits to defeat the greater evil.
15. Kubo and the Two Strings
Director: Travis Knight
Cast: Art Parkinson, Charlize Theron, Ralph Fiennes and Rooney MaraProduction company/Distributor: Laika/Focus Features
Release date: 19 August
Animation Studio seems to have another winner in Kubo and the Two Strings after producing Oscar-nominated films such as Coraline and ParaNorman. This stop-motion seems like it'll keep you glued to your seat, start to finish. According to Verge, "this might be the sleeper hit of the season".
Potential sleeper hits
16. High Rise
Director: Ben Wheatley
Cast: Tom Hiddleston, Jeremy Irons, Sienna Miller, Luke Evans and Elisabeth MossProduction company/Distributor: Recorded Picture Company/StudioCanal
Release date: 13 May
A simple description courtesy our friends at IMDB, "Life for the residents of a tower block begins to run out of control."
17. The Lobster
Director: Yorgos Lanthimos
Cast: Colin Farrell, Rachel Weisz and Jessica BardenProduction company/Distributor: Element Pictures, Scarlet Films and Faliro House Productions
Release date: 13 May
This is one strange movie starring Colin Farell and Rachel Weisz in unusual roles. As IMDB nicely puts it, "In a dystopian near future, single people, according to the laws of The City, are taken to The Hotel, where they are obliged to find a romantic partner in forty-five days or are transformed into beasts and sent off into The Woods." This movie has already done the festival rounds across the world and garnered a good reception.
18. Money Monster
Director: Jodie Foster
Cast: George Clooney, Julia Roberts, Jack O'Connell and Dominic WestProduction company/Distributor: TriStar Pictures
Release date: 13 May
An angry and furious investor takes over a TV studio that has George Clooney as the host and Julia Roberts as the producer.
19. Maggie's Plan
Director: Rebecca Miller
Cast: Greta Gerwig, Ethan Hawke, Bill Hader and Maya RudolphProduction company/Distributor: Sony Pictures Classics
Release date: 20 May
Maggie's plan premiered at the 2015 Toronto International Film Festival and holds 75% on review aggreggator Rotten Tomatoes. Maggie wants to have a baby on her own but her plan runs into hurdles when she falls in love with a married man.
20. The Nice Guys
Director: Shane Black
Cast: Russell Crowe and Ryan GoslingProduction company/Distributor: Silver Pictures/Warner Bros. Pictures
Release date: 20 May
IMDB: "A private eye investigates the apparent suicide of a fading porn star in 1970s Los Angeles and uncovers a conspiracy." Starring Ryan Gosling and Russell Crowe this could be the hilarity Hollywood needs between action and serious movies coming this summer.
21. Me Before You
Director: Thea Sharrock
Cast: Emilia Clarke, Sam Claflin and Janet McTeer
Production company/Distributor: Metro-Goldwyn-Mayer/Warner Bros. Pictures
Release date: 3 June
A girl from a small town (Emilia Clarke of Game of Thrones fame) falls in love with the unlikeliest of people - a recently paralysed man she has begun taking care of.
22. Warcraft
Director: Duncan Jones
Cast: Travis Fimmel, Paula Patton, Ben Foster and Dominic Cooper
Production company/Distributor: Legendary Pictures and Blizzard Entertainment/Universal Pictures
Release date: 10 June
This epic fantasy film is based on one of the best-selling games of all time, Warcraft. It protrays the initial encounters between the orcs and humans.
23. Indignation
Director: James Schamus
Cast: Sarah Gadon, Logan Lerman and Ben Rosenfield
Production company/Distributor: Bing Feng Bao Entertainment/Roadside Attractions
Release date: 29 July
James Schamus makes his directorial debut with a movie based on a Philip Roth novel of the same name. The film is set in Ohio and features Marcus, a working class Jewish student amid the Korean War.
24. The Founder
Director: John Lee Hancock
Cast: Michael Keaton. Laura Dern and Nick Offerman
Production company/Distributor: The Weinstein Company
Release date: 5 August
This upcoming biographical film is about McDonald's, and Ray Kroc's acquisition of the worldwide superstar in the fast food industry.
25. Pete's Dragon
Director: David Lowery
Cast: Bryce Dallas Howard, Oakes Fegley, Wes Bentley and Karl Urban
Production company/Distributor: Walt Disney Pictures/Walt Disney Studios Motion Pictures
Release date: 12 August
Via IMDB, "The adventures of an orphaned boy named Pete and his best friend Elliott, who just so happens to be a dragon."
Fun fact: Elliot, the animated dragon, is not a hand-drawn animation but animated entirely in CGI.
26. Ben-Hur
Director: Timur Bekmambetov
Cast: Jack Huston, Morgan Freeman, Toby Kebbell and Rodrigo Santoro
Production company/Distributor: Paramount Pictures/Metro-Goldwyn-Mayer Pictures
Release date: 19 August
This is based on the 1880 novel Ben-Hur: A Tale of the Christ by Lew Wallace. It's apparently a re-imagination and reinterpretation of the novel. There have been two previous adaptations of the movie in 1925 and 1959.
27. Southside With You
Director: Richard Tanne
Cast: Parker Sawyers and Tika Sumpter
Production company/Distributor: Roadside Attractions/Miramax
Release date: 19 August
The film features young Barack Obama and Michelle Obama and their first date. It premiered at the 2016 Sundance Film Festival and has garnered positive word of mouth.