Stalking a Saint: 5 things I learned at the MSG 2 press conference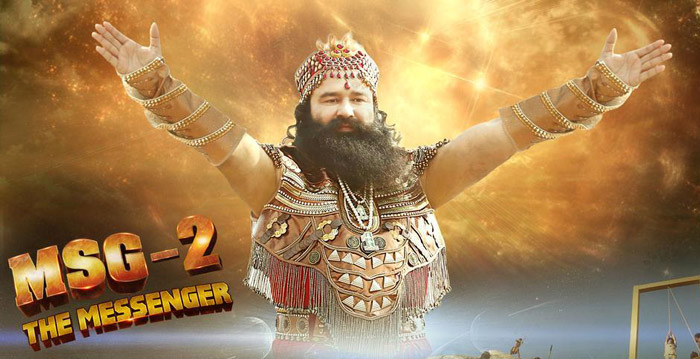 "Where's mine?" was my first thought as I walked through the doors of the Messenger of God 2 media interaction.
I was referring to the paper bags emblazoned with Gurmeet Ram Rahim Singh's face that dotted the room. Every reporter had one. Even the cameramen did. As someone who'd written an impassioned plea for the release of his first movie, I felt it was the least I deserved.
Clearly the organisers thought differently.
Or maybe they'd just run out of goodie bags considering there were at least 60 reporters from different media houses. And that's not even counting their crews. After all, why waste time reporting the Assam floods when you can get an audience with the Messenger of God.
Dejected, I took my seat in the last (and only available) row of chairs as songs from MSG 2 played on the big screen.
But I couldn't see the man himself, so I stood up for a better look. Even as the cameramen assembled behind me cursed my intrusion, I caught a glimpse of a gigantic head of hair. The music stopped and the head rose, revealing a purple tee shirt made even brighter by shiny red, yellow and green sequins. It had begun.
As he walked towards the stage, the cameramen swarmed. He turned to face us and that was when I first saw him.
His beard covered most of his face, or rather, his face covered a bit of his beard. His potbelly struggled against a tee shirt two sizes too small for a man two sizes smaller. His arms were hairy enough to give Anil Kapoor's back a complex.
I picked my jaw up off the floor and readied myself for what was to come. There was so much to learn.
So here are 5 things we learned at the MSG press conference:
01
Entertainment reporters are a strange breed
Dulled by an endless barrage of Bollywood banalities and saccharine press conferences, they approached the event with a seriousness normally reserved for a criminal investigation. And while MSG has been involved in numerous criminal investigations, his only crimes on the day were those against fashion.
Regardless, there was not a smile or set of wide eyes in the audience.
Here was a movie about a man who would deliver the most offensively stereotyped tribe of adivasis ever from black magic. Along the way he finds the time to be birthed from a giant Faberge egg on stage, destroy CGI buffalos, snakes and assorted wildlife. All of this, as the same trailer informs us, is "based on real events".
Regardless, the reporters soldered on with serious questions.
In fact, so serious were the questions that Guruji, as he was addressed by all, felt it necessary to clarify that he hadn't actually thrown an elephant in the movie.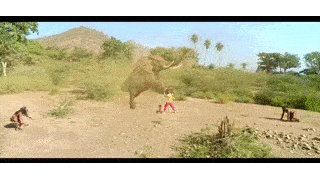 Maybe it's the gift bags, maybe it's a sense of culture I don't get or maybe the job market is just really, really, really tight, but I don't understand entertainment reporters. I'm not sure they do either.
02
Any time is a good time to promote yourself
This wasn't a press conference as much as it was a press satsang too. Every question was turned into a life lesson or a means of self-promotion. Here are some actual examples:
Q: Guruji all the action in your movies seem to promote violence.
A: It is not violence. It is an example that people should exercise and be active. If people take this lesson and are physically active, then it means they have given up drugs. So my teachings have succeeded.
His movies are supposedly a tool to get people off drugs and other vices.
Which is strange, because, if anything, they can't be watched sober. His flashy cars? A tool to get the attention of the youth. His clothes? A trade off with youth who promised to get off drugs if he agreed to wear jeans. Why no one offered to give up drugs if he covered up his arms is beyond me. It's a lesson we can all learn.
When a police officer asks why you were drunk driving, just tell him it's so others can learn from your example and not do the same. The drugs in your dashboard? Confiscated from neighbourhood youth gone astray. The prostitute in the backseat? A harlot you saved from the cold winter night.
After all, what's good for the saint is good for the sinner.
03
Gurmeet Ram Rahim Singh is the best. At everything.
He's the absolute best at everything. EVERYTHING. From sports to fashion. His entire wardrobe is designed by him. Why? Because he once designed clothes for his children's wedding and people were so blown away he had to keep doing it.
He even announced that his singing was so great, Universal Records presented him with two awards, even telling us that Justin Bieber only had one. Exactly, Justin, if you're reading this, you're well on your way to being the next MSG. Lay off the drugs, Justin, lay off them!
His acting is apparently so good that Hollywood has made enquiries. Heck, when he asked Hrithik Roshan if he'd be interested in acting together, Hrithik gave him three thumbs up. Everything comes easy when you're a messenger of god it seems. In fact, the whole entertainment industry better beware because Singh is prodigious. Because this is how long it took him to write the entire script for MSG 2!
That's the sort of diligence that made the first movie (which took him marginally longer to write) manage a net loss of Rs 45 crore.
Luckily, Ram Rahim Singh is also an expert at financial management which is how he managed to still donate the profits from the film to HIV and Thalassemia research.
04
Meat is murder. Literally
Entertainment reporters probably find it hard to justify their journalist tag to friends and family. So when they get the chance to be "political", they have to seize it. Since the meat ban was hot and imagination was limited, that was the chosen "political" angle.
Singh's answer though, exceeded all expectations. Not content with just covering the obvious "our culture says so angle". Singh also decided to venture into the realm of science, because obviously, that's his realm.
Singh not only informed those present that humans were biologically not cut out for meat because our intestines were long.but that the consumption of meat would lead to cancer.
In his defence, this wasn't a blanket statement. He did offer the caveat that this was only the case 99% of the time.
05
His followers really, really love him. Like, really
While we waited to get one-on-one time with him, we spotted a few of his followers. Obviously, we had to speak to them. After all, while his followers number in the tens of lakhs, no one seems to have ever met one.
So we just had to. We spotted a man on the wrong side of 50 standing at the edge of the stage, wearing a blue MSG 2 shirt.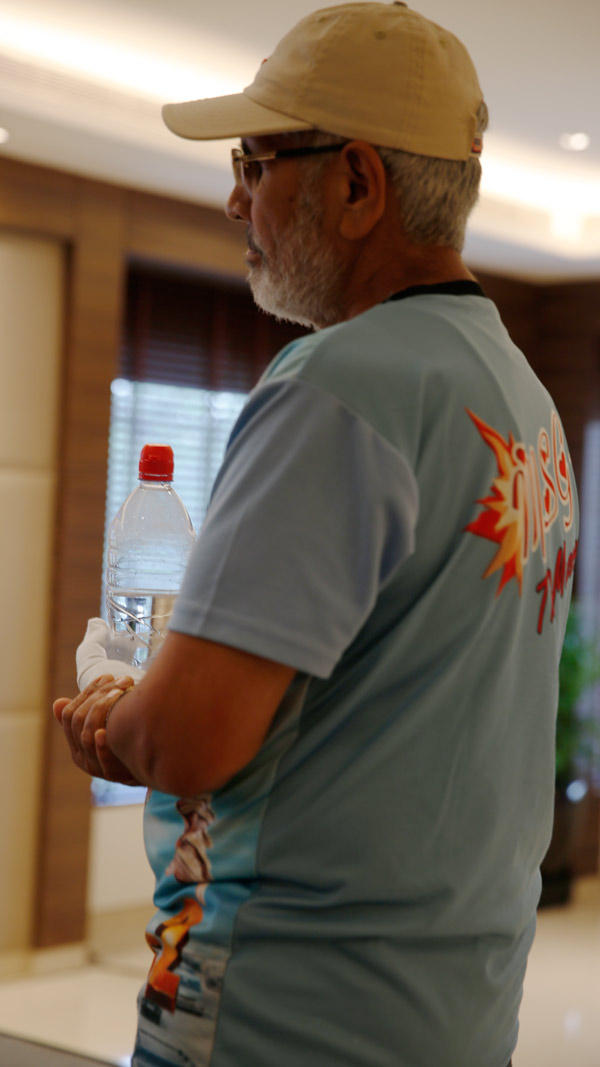 His purpose? To hold Singh's water during the event.
The bottle couldn't touch his bare hand so it was sheathed in a glove. Holding a bottle of water up had clearly put a strain on his hand so he used his other hand to support it.
Still, he never complained. In fact, he never uttered a word through the event, only moving when Singh asked for water. Not wanting to disturb him, we cornered a second similarly clad man.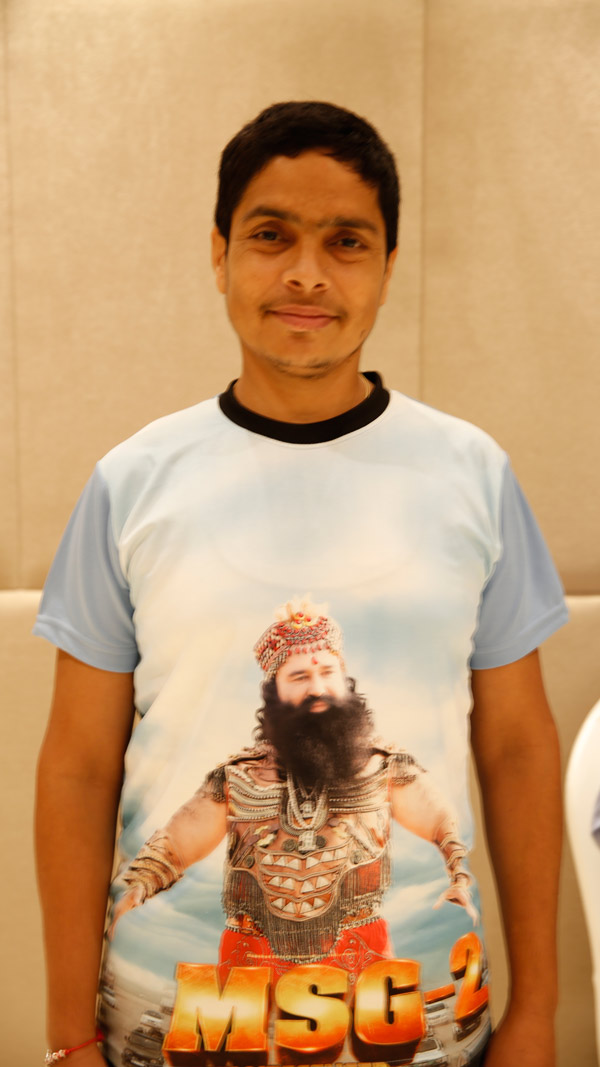 After introducing himself as Rajkumar he spoke solely in superlatives about Singh. From his singing to his acting to his dressing, Singh could do no wrong. But his favourite thing? The dancing. With that sort of support its no wonder he does things like this mid-interview:
With so much new knowledge (and since we have free passes and no friends) we absolutely can't wait to see MSG 2 at the premiere.
There's just one problem, the premiere will only show half the movie. To watch the other half we'll have to buy tickets. I guess every ticket counts after the way its prequel tanked. Long live MSG!