Sound Cloud: the music streaming revolution and what's holding India back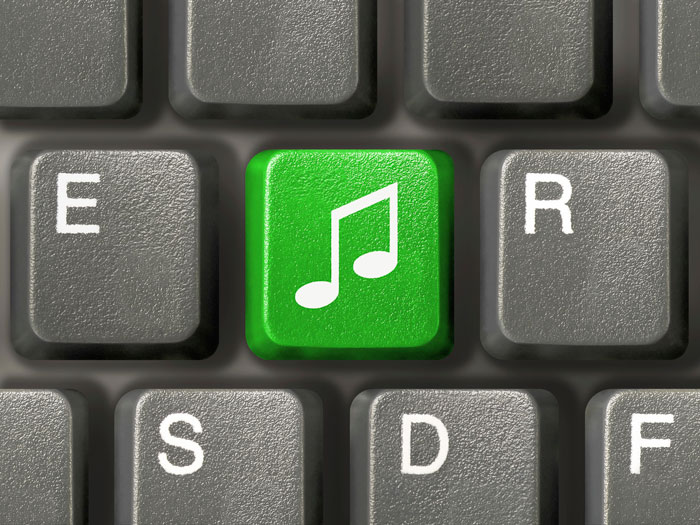 Here's a question I'm sure you get a lot: what kind of music do you listen to? Whether you're meeting strangers at a party, a stranger on a Tinder date (don't lie) or catching up with long-lost friends, most people use taste in music as an indicator of how much longer the conversation is going to last.
I've got a new question for you, and I hope you'll engage me in some flirty banter: how do you listen to music?
Do you old-school hunt for mp3 files of unverified quality on the big bad interwebs?
Do you rely on YouTube to supply all your music needs?
Is there a dusty shelf of CDs and cassettes you return to, and you can't remember the last time you liked a new song?
I asked over 100 Facebook friends and friends-of-friends these questions in a written survey, which threw up answers mostly expected, but also some surprising and intriguing.
Most people, expectedly, now listen to music on their phones, either at work or in transit. When asked if they stream or listen to download music (legally acquired or otherwise), most people said they stream.
Where are they streaming from? YouTube!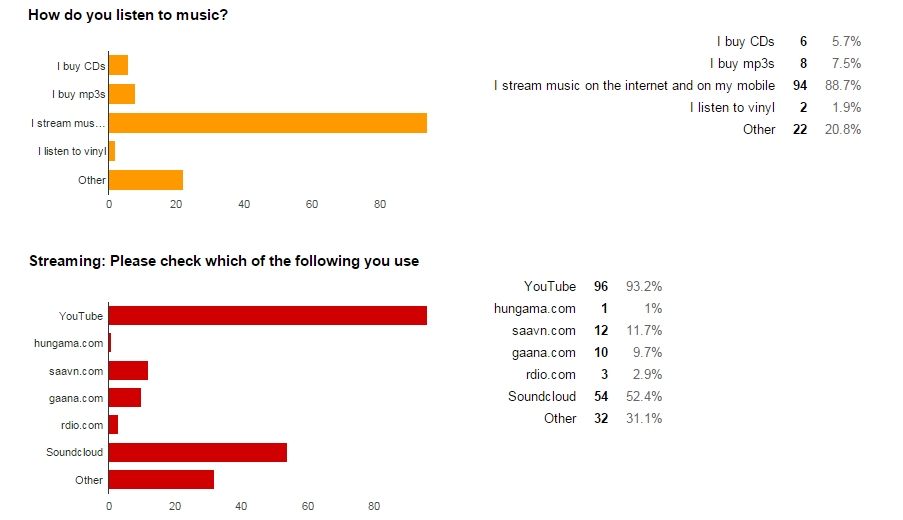 That, readers, is crazy to me.
Until YouTube rolls out Music Key to the general public, why bother streaming low-quality videos when what you are really looking for is audio?
But first, what exactly is streaming
It's a way to listen to music on the internet without having to download the data first.
That makes it, potentially, quicker, cheaper and more flexible than buying or downloading music.
This has many caveats of course, including how much you would need to pay and the variety of music available to you, apart from the availability of WiFi and reliable 3G of course. (Don't even attempt streaming on 2G. I tried it once, and my wall now has a fist-sized dent in it.)
Music makes the people come together. Or not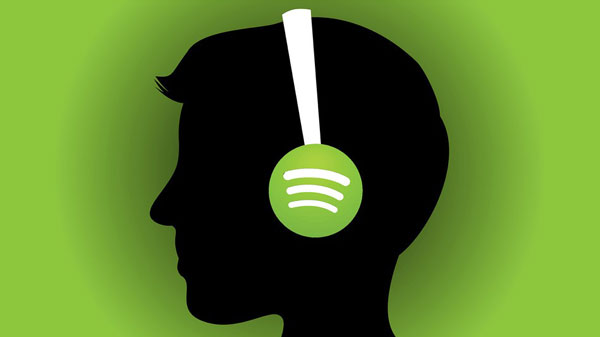 For music nerds, what you listen to is almost a way of life. You're defined by your taste in music. Sometimes it's cultivated in privacy; other times, at bars, parties and concerts.
Then there's those of us who grew up listening to music on our parents' cassette tapes, or downloaded illegal and dubious versions off Limewire and Napster, or were lucky enough to be born in the YouTube era.
Either way, music has two impulses: listening to what you already love, and the second, equally-key part, the discovery of music.
That's what is truly crucial for the contemporary audiophile, and the Internet and its plethora of resources has made that discovery both easier and more difficult.
Gone are the days of relying on radio or MTV to tell us what to listen to. Today, the radio's only really good to listen to the latest Salman Khan song or top 40 on repeat. It's not where you discover music. (Unfortunately, the radio renaissance hasn't hit our shores yet.)
Whatever the case may be, outside of music concerts - of which there are painfully few good-quality ones in India - most of us listen to music on our headphones, i.e. in 'private'. Even when we're standing in a jam-packed metro station, or making small talk with coworkers while having one ear plugged in, we're mostly listening to our own music privately.
The driver of the auto you may have taken to work this morning probably had his own pair of earphones plugged in, just as you did.
This is the musical revolution worth watching; not what the combination of an iPhone and Beats headphones promises to those few who can afford it. It's the many feature-phones and low-end smartphones, the exchange and sharing of illicit mp3s and the struggle for good 3g and WiFi.
Here's your roster of choices in India
Much like Netflix, Spotify is the global leader in music streaming but is still out of reach to all but the most tech-savvy in India - the service isn't 'officially' available here yet.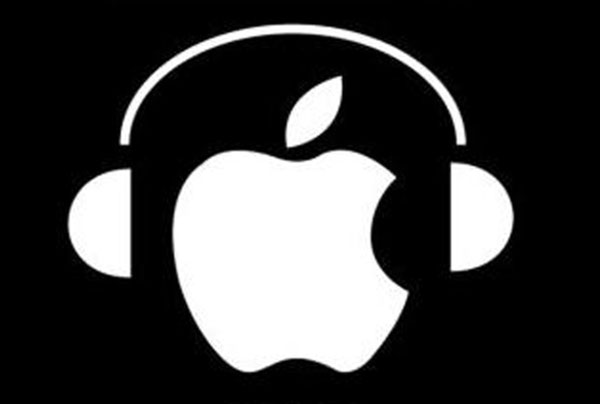 Of course, the name on everyone's lips these days is Apple Music. For Rs 120 a month (and first, a 3-month free trial), you can listen to all the music you want - assuming you have an iDevice - plus, there's the added bonus of Beats radio, which is really one of the only things Apple has that other services don't. The others, by the way, also have unlimited radio stations and playlists, but populated by algorithms, not some smart, great DJs.
There have been other, legally-accessible streaming options for a while - including our very homegrown Gaana, Hungama and Saavn.
Then there's imports Rdio and Guvera, who've both offered similar options in India since earlier this year.
But while each of these companies have reported a lot of users and general buzz about their services, the fact that we're still predominantly streaming on YouTube makes it obvious that there are entire markets untapped.
Why aren't we streaming as much as we should?
There's no shortage of music lovers in the country. Yet, these services haven't really caught on.
It begs the question: what's holding the streaming revolution back in India?
Above all, what is the trigger to scout the internet for illegal mp3s when you could stream decent-to-high quality music at what should be throwaway prices for most of us?
Streaming offers the ease of switching between devices, of downloading what you want, of discovering new music through algorithms that help determine what you may like. Why aren't more people signing up for this? Especially since you can listen to most of these streaming services for free; you only pay for premium features if you want to.
Not surprisingly, many artists don't love streaming too much
Everyone from Taylor Swift to Radiohead's Thom Yorke have railed against streaming companies, for different reasons.
When Swift released her album 1989 last winter, she preceded it by removing her entire catalogue from Spotify. Even today, Apple Music has her music, but not Spotify.
There are two major arguments that artists, as well as some devoted fans, have made against streaming: that it doesn't pay enough, and that it offers music for free, thereby decreasing sales of albums.
It's worth noting that where the first complaint is concerned, streaming companies claim they pay as much as they can, but it's the trickle-down from the record labels that results in artists getting a pittance.
Record labels sign incredibly complicated deals with musicians, creating situations whereby new revenue streams showing up will benefit the company more than the artist.
And while CD sales have been decreasing year on year, the same does not seem to be true for digital music. Subscription services like Spotify in fact are credited with the supremacy of digital revenue over CD sales. Note also that downloads still account for 52% of digital revenue, so it's not like no one downloads anymore now that there's streaming.
Who is streaming not for?
Not all of us listen to music obsessively, this is true.
But enough of us do, and even more of us do so enough that the industry should be taking serious notice about our streaming needs.
Globally, for the last couple of years Spotify, Apple, Rdio and others have been duking it out for the lion's share of the digital music market.
The scope in India is massive - we've got dedicated Bollywood listeners and the cityslick aficionado of all things rock, roll and indie (*raises hand*). We're a giant country often talked of in terms of our rising consumerist lifestyle and growing economy.
If streaming companies know what's good for them, they'll cater to both, and to those who don't count themselves as 'much of a music person'. They'll make accessing and discovering old and new music so easy that we'll all be able to listen to and share music on streaming platforms, create playlists, tune into curated shows, and who knows what more?
That, readers, is my utopia.