Six seasons down: Saying goodbye to wit and wisdom of Downton Abbey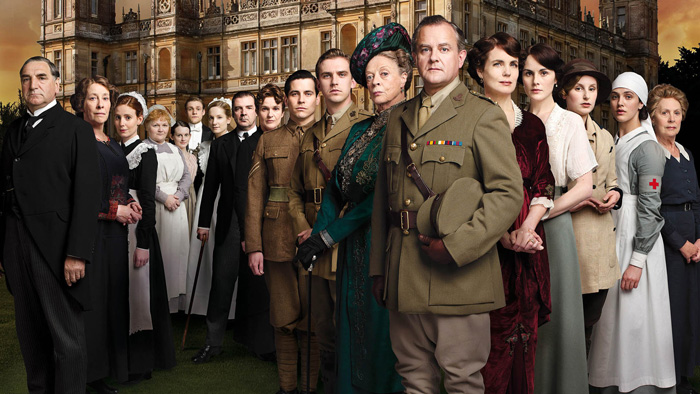 Shows like Downton Abbey are gems that come by very rarely, even during these golden days of television.
But even all good things must come to an end, and when they do, it's best they go out on top. Which is just the case with Downton.
An irresistible watch
Since it was first broadcast in 2010, with the news of the sinking of the Titanic in 1912, to this final season set in 1925 where women are allowed to work and big houses like Downton are floundering, the series has been irresistible for those those who are fascinated by a bygone era.
The six seasons have been fraught with drama, heartbreak, various deaths and aristocratic disgrace. All of this while the spectre of socialism looms large over the ridiculously privileged Crawley family living in their stately home - Downton Abbey.
The final season - which already aired in the UK on ITV with a finale on Christmas - began its broadcast on 3 January in the US, signalling the end for Lord and Lady Grantham (Hugh Bonneville and Elizabeth McGovern), their daughters, servants and the intrigues, love affairs, deaths, and marriages that have defined Downton Abbey since 2010.
Read- It's like breaking up: these 11 cult TV shows won't make it into 2016
To be fair I must admit it was hard to jump into the show initially. When I did, reports had been pouring in of American audiences being hooked, spending hours binge watching the drama. A family member decided to give it a go to see what the fuss was all about, and lo and behold, two seasons later we'd become just as bad as the Americans.
Occasional jarring plotlines
The show slipped into some very silly storylines occasionally, but still there's something about the combination of upstairs/downstairs antics and the Dowager Countess's (Dame Maggie Smith) sharp tongue that made even the silliest storylines bearable.
It's sad though. For all its charms, the show never really managed to find the right balance when it came to plot. Season 4 had many darks threads which were jarring in the long run.
#DowntonAbbey's six seasons were fraught with drama, heartbreak, various deaths and aristocratic disgrace
In fact, the show meandered quite a bit. Remember Cora's flirtation with the art historian and Tom's awkward relationship with the schoolteacher? The Dowager Countess and the exiled Russian prince?
But the final season neatly wrapped up not just a few loose ends, but all - wisely easing the entire show toward a happy ending. It was a gentle winding up that would no doubt please most fans.
The underlying theme
The major point of the show was always to depict time marching on, to show us a changing world where upstairs and downstairs are no longer as divided as they used to be.
Season 6 footage reaffirmed the theme, with Lord Grantham putting pressure on Carson to downsize the staff. Carson reminds him that Downton started with six footmen and five housemaids. Now, Carson says, there are only two footmen and housemaids and no kitchen maids at all. Grantham, a fire lit under him after seeing his neighbour sell off his cutlery, exclaims, "Who has an under-butler these days?"
Also read- Problem of plenty: keep calm, there's officially too much TV
Yet there's hardly time to consider it, with so many characters to deal with. And then, of course, there's the gorgeous fashion, the sweeping score, and the ever-reliable witty banter among the characters.
It's all part of both Downton's charm and its irritating inconsistency.
But we're grateful that Lord Julian Fellowes, the Oscar-winning creator of the series, did offer us this gem. And let's not forget that every word of dialogue uttered has flowed from the mind and pen of him and him alone. That in itself is a feat that should be applauded.
So, should old acquaintances be forgot for old lang syne? "Never, my dear."
Edited by Sahil Bhalla
More in Catch:
Binge-watched Netflix? Here's a monster guide for returning TV shows
Busted by the FB-I: why is Facebook playing moral police?
#RohithVemula: female eye-witness on horror of being assaulted by Delhi police