We ranked every single James Bond theme song from worst to best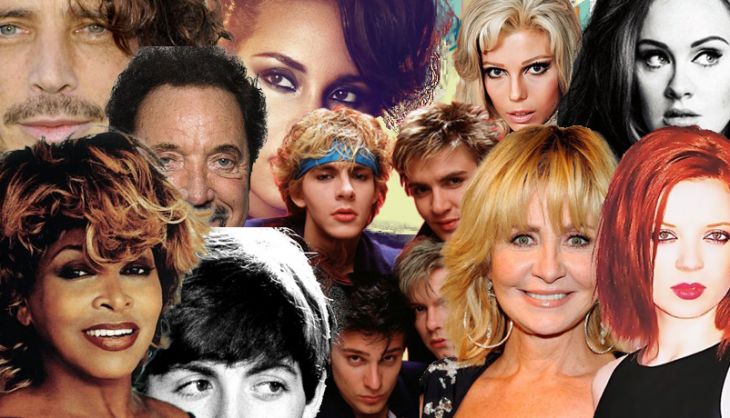 No matter how good or bad (hello Timothy Dalton!) it may be, a new James Bond movie is always an event.
You may hate Daniel Craig or you may think he's the second best Bond of all time (sorry, that's high enough), but in the run-up to the movie, 007 actually takes the back seat.
He's a given.
What's more interesting is all the new stuff: who's the new Bond villain? The new Bond girl(s)? And for some of us, like this writer, who's braving the theme song this time?
Also see - This is who every Bond Girl is styled after: Muriel Wright, Ian Fleming's girlfriend
The answer, with Spectre, is Sam Smith. The 23-year-old Englishman wrote the single Writing's on the Wall and ahead of the film's worldwide release today, the song is already quite the rage. It reached No 1 on the UK charts - the first Bond song ever to do so.
But 'hit' isn't synonymous with good. After all, even Rebecca Black's Friday has 85 million YouTube views.
A disappointing Spectre
Poor Smith. He had to follow Adele into the Bond canon. He was set up to fail.
The song has been universally called 'disappointing'. That's not surprising - it simply doesn't have enough menace and danger. It has none of the swagger and bite that the best Bond songs have. It builds up to an amazing crescendo, only to end with a whimper.
And given that it has over 50 years of precedent, it set us thinking: who really did get it right?
After all, this is no ordinary theme song; it's one that's been interpreted by the who's who of the music business - from Carly Simon to Sheryl Crow and Madonna.
So we decided to go back, listen to each one of them all over again, and do the dangerous: rank them. If you beg to differ, have your say in the comments. Unless you think Octopussy and Timothy Dalton were awesome, in which case comments will be moderated.
Also see - The lost art of lobby cards: 24 James Bond films in one spectacular photo story
Please note: The original Bond theme from Dr No is not a part of these rankings. That is genesis. Geneses are sacred. It has also been established as one of the most iconic pieces of music in history, and greatly pleasing to the auditory canal. The Calypso 'three blind mice' bit at the end of the credits is awesome.
So here it is, in reverse order from worst to best, our totally subjective, possibly contentious ranking of Bond title tracks (and some amazing trivia as bonus!)
Artist: Madonna
Song: Die Another Day
Bond: Pierce Brosnan
#BetYouDidntKnow: The song was nominated both for a Golden Globe for Best Original Song and a Golden Raspberry Award for Worst Original Song.
One had got to the age when Madonna was no longer just a teenage fantasy, and had begun to appreciate some - not all - of her music.
Then came this track. Auto-tune, the last resort of the talentless. All electronic noise, nothing else. This, from the franchise that had given great visual and aural satisfaction for 40 years (at the time) to its adoring audience.
Thanks, Material Girl. Buzz off.
02
Quantum of Solace (2008)
Artist: Alicia Keys & Jack White
Song: Another Way to Die
Bond: Daniel Craig
#BetYouDidntKnow: Paul McCartney turned down the offer to write a new Bond song, and recommended Amy Winehouse, who recorded a demo. But she couldn't record the song due to her personal situation.
The growing legend of R&B meets the man who made Seven Nation Army. What could possibly go wrong?
Everything, as it turns out. The fact that only Madonna comes before this one on this list tells a story.
A disaster of a movie, and a bigger disaster of a song. Daniel Craig suddenly had a lot more to brood about.
03
The Man with the Golden Gun (1974)
Artist: Lulu
Song: The Man with the Golden Gun
Bond: Roger Moore
#BetYouDidntKnow: The lowest-grossing Bond film ever. On sets, producers Harry Saltzman and Albert R Broccoli's relationship was deteriorating. Composer John Barry regards this as his weakest score. Need we go on?
It's rubbish. Complete and utter rubbish. Penis metaphors for the win!
But not as rubbish as the two above it.
04
The Living Daylights (1987)
Artist: A-Ha
Song: The Living Daylights
Bond: Timothy Dalton
#BetYouDidntKnow: Morten Harket, the lead singer of A-Ha, was offered a small role as a bad guy. He turned it down as he felt that they wanted to cast him due to his popularity.
The fourth Bond, and the one most devoid of humour. Timothy Dalton, at least to my mind, nearly killed the franchise. All because he was hell-bent on playing it to Ian Fleming's broody specifications (think a more boring version of Daniel Craig's Bond), whereas the world loved the Connery/Moore interpretation, laced with humour.
You may think we're digressing, but it's intentional. Watch the song below if you still want to talk about it.
Artist: Rita Coolidge
Song: All Time High
Bond: Roger Moore
#BetYouDidntKnow: Kabir Bedi remains the only actor who has appeared in Bollywood and in a Bond movie.
Agent Bond's foray into India, with tennis player Vijay Amritraj and Connery clone Kabir Bedi for company in Udaipur, was quite the disaster. The song is not a complete disaster, but enough of one not to merit any further discussion.
06
The Spy Who Loved Me (1977)
Artist: Carly Simon
Song: Nobody Does It Better
Bond: Roger Moore
#BetYouDidntKnow: This was the last movie rock and roll legend Elvis Presley saw. He died six days after watching it on 10 August 1977.
If you focus on the lyrics alone, it sounds like the opening theme to the Austin Powers rip-off, The Spy Who Shagged Me.
The song has been used in many romantic flicks over the years, and is a nice enough piece of music. But seriously, the word innuendo is wasted on those lyrics. Nobody does it half as good as you, baby, baby, baby you're the best indeed.
Artist: Duran Duran
Song: A View to Kill
Bond: Roger Moore
#BetYouDidntKnow: This was the last song recorded by Duran Duran before the band briefly split up.
Dance into the fire, that fatal kiss is all we need... Dance into the fire, when all we see is the view to a kill.
Look, Duran Duran tried. Their song even became the first Bond song to reach No 1 on the US charts. But it just didn't fit with the feel of a James Bond theme. And it isn't just the synthpop genre that's to blame.
Roger Moore was 57 at this time, and the choice of artist was clearly to create a resonance with a younger audience. It simply didn't work.
08
Tomorrow Never Dies (1997)
Artist: Sheryl Crow
Song: Tomorrow Never Dies
Bond: Pierce Brosnan
#BetYouDidntKnow: Crow's song was chosen through a contest. In all, there were about 12 entries.
Sheryl Crow is essentially a pop/country artist. It wasn't a stroke of genius for her to perform a spurned lover's rock ballad.
The usually effortless songstress sounds like she's trying too hard, and the song wasn't really a saving grace for a movie that underwhelms.
09
For Your Eyes Only (1981)
Artist: Sheena Easton
Song: For Your Eyes Only
Bond: Roger Moore
#BetYouDidntKnow: Sheena Easton is the only performer to have her face float through the credits sequence.
It's like Nothing's Gonna Change My Love For You meets Take My Breath Away. The first Bond movie of the 1980s and, from the moment the first note hits, you are transported to the eighties and its electronic pop ballads.
Entirely too middle-of-the-road for a Bond theme.
Artist: Gladys Knight
Song: Licence to Kill
Bond: Timothy Dalton
#BetYouDidntKnow: Since it's essentially a rehash of Goldfinger, royalties had to be paid to the relevant artists before the song could be used.
It starts off similar to Shirley Bassey's Goldfinger from 1964, and Knight puts her soul into the song, if you'll forgive the awful pun about her usual genre.
The vibrato is delectable, but the overbearing music in the background ruins the taste.
Artist: Chris Cornell
Song: You Know My Name
Bond: Daniel Craig
#BetYouDidntKnow: Cornell says he was inspired by Live and Let Die and Thunderball while writing this song.
Chris Cornell, of Soundgarden and Audioslave fame, is a rock god. Since Freddie Mercury died, no one but Pearl Jam's Eddie Vedder has been on the same plane as him when it comes to vocals.
That's why this song is embarrassing. Well, compared to what came before (No 22) and after (No 21) it in chronology, it's a gem. But still, it's nowhere near what it should've been.
Was it intentional that this was the only theme song ever to be left off a Bond soundtrack?
12
From Russia with Love (1963)
Artist: John Barry Orchestra
Song: Title theme music
Bond: Sean Connery
#BetYouDidntKnow: This is the favourite movie of three actors who played Bond - Timothy Dalton, Daniel Craig and Connery himself.
It's an amazing piece of melody in its own right. If you were to hear it out of context, it's soothing, with just a little tantalising electric guitar in the background. Then comes the intrigue of the Dr No theme, towards the end.
On hindsight, it is hamstrung by the fact that Bond themes became such a big deal later. A big deal is what this isn't.
13
On Her Majesty's Secret Service (1969)
Artist: John Barry Orchestra
Song: Title theme
Bond: George Lazenby
#BetYouDidntKnow: The secondary theme song is the real stuff of genius here. The last song the legendary Louis Armstrong ever recorded, the lilting 'We have all the time in the world' is by far the better known song from OHMSS. But alas, it's not the main theme.
A new Bond, and a return to the theme's instrumental roots. The movie showed that the Bond franchise could survive without Connery, even though Lazenby's performance wasn't anything to write home about.
The title theme is preceded by Lazenby's wisecrack 'This never happened to the other fellow'. What follows is an electronic intro into a brassy melody that's unspectacular. It's an apt metaphor for Lazenby's one-film stint as Bond.
Artist: Shirley Bassey
Song: Moonraker
Bond: Roger Moore
#BetYouDidntKnow: Frank Sinatra was approached to sing the theme song, 'Think Of Me', with music by John Barry and lyrics by Paul Williams. After he turned it down, Barry and Hal David wrote 'Moonraker' and Johnny Mathis was chosen to sing it.
When it was decided it wasn't working, Barry had a chance meeting with Shirley Bassey and she recorded the song.
Say hello to the voice of the Bond franchise. Shirley Bassey sang three Bond theme songs, and this, the soothing theme to Moonraker, was the third and most underwhelming of the lot.
Hear it, and you'll know why you're meeting her so far down the list - and you'll meet her twice more.
15
The World is Not Enough (1999)
Artist: Garbage/Shirley Manson
Song: The World is Not Enough
Bond: Pierce Brosnan
#BetYouDidntKnow: In the music video, Manson plays a robot twin who kills the real Manson and takes her place.
To my ears, this song is a bit 'meh'. But then, when there's silence and one is about to turn in for the night, the earworm begins to buzz. And buzz. And buzz. And suddenly, the world is not enough.
Songwriters of the future, please note: THAT's how you write a hook.
Artist: Tom Jones
Song: Thunderball
Bond: Sean Connery
#BetYouDidntKnow: Jones reportedly fainted after recording the high note at the end of the song.
Jones's rendition is a bardic ode to Bond, a paean in his praise, unlike the songs of foreboding and longing that women sang.
While it retains its slow rhythm throughout, the song is melodically bang on.
But it misses out on a higher because it doesn't have the quintessential Bond theme-ness to it: a female voice, Paul McCartney notwithstanding.
Artist: Tina Turner
Song: Golden Eye
Bond: Pierce Brosnan
#BetYouDidntKnow: Bono's inspiration behind the song was his honeymoon at Ian Fleming's Jamaican beach house Goldeneye
The most iconic Bond theme in over 20 years, it doesn't get the love it deserves. Turner channels her inner Shirley Bassey and delivers an all-time classic. Somehow, even the awkward lyrics can't kill the musical and vocal brilliance of the song. Guess who the songwriters are? Bono and The Edge from U2.
Some say Brosnan was a weak Bond. But I'm partial to GoldenEye, since it was his first introduction to the Bond franchise. Mind. Forever. Blown.
18
You Only Live Twice (1967)
Artist: Nancy Sinatra
Song: You Only Live Twice
Bond: Sean Connery
#BetYouDidntKnow: The screenplay was written by celebrated novelist and short story-writer Roald Dahl. Another famous film he scripted was the children's classic Chitty Chitty Bang Bang, also based on a novel by Bond creator Ian Fleming.
The song starts off with an orchestral flourish, and gives way to Sinatra's soothing vocals. Brass instruments predominate the song, but their harmony blends in nicely with the vocals.
This was the first Bond theme song not to use the Dr No theme as a motif.
19
Diamonds are Forever (1971)
Artist: Shirley Bassey
Song: Diamonds are forever
Bond: Sean Connery
#BetYouDidntKnow: Connery was reportedly paid $1.25 million to return as Bond. Remember, this was 1971.
Connery returns to the franchise, and so does Bassey in all her velvety glory.
The track itself features softer notes than her previous song (which we'll get to...), and the lyrics are less sexual than most Bond themes. It's nearly perfect. Nearly.
20
Live and Let Die (1973)
Artist: Paul McCartney
Song: Live and Let Die
Bond: Roger Moore
#BetYouDidntKnow: Producer Harry Saltzman wanted a black female artist to perform the song. But McCartney insisted on performing it with the Wings. Saltzman had passed up the opportunity to produce The Beatles's A Hard Day's Night, and thought the better of it.
The third Bond arrives in the form of Roger Moore, and with him arrives a legend. Three years after The Beatles, McCartney wrote the theme with then-wife Linda, and performed it with his band, the Wings.
The lyrics quote the old adage, 'Live and let live', and go on to expound why the movie is called the opposite. They talk about an ever-changing world, and then McCartney changes the rhythm six times in 153 seconds.
Hear it without the video, and you'll think this is a Beatles song. It's that damn good.
Artist: Adele
Song: Skyfall
Bond: Daniel Craig
#BetYouDidntKnow: This was the first Bond song to win the Academy Award for Best Original Song
Perfection. From the horn blast at the start, through the slow build-up and into Adele's powerful voice. From the nihilism of the first line ('This is the end') to the romance of the last ('We will stand tall, at sky fall...) and back into the horn blast in the outro.
Words cannot do justice to this song. Just go ahead and listen to it, if you haven't already.
If Skyfall had happened in 1964, it would have probably had the same impact as the No 1 selection. As it is, it's painful to put it at No 2. However...
Artist: Shirley Bassey
Song: Goldfinger
Bond: Sean Connery
#BetYouDidntKnow: The opening credits were running on a screen in front of Bassey as she recorded. When she hit her final high note, the titles kept running, and she was forced to hold the note. Unlike her successor Tom Jones, she didn't quite pass out.
The great granddaddy of all Bond themes. Shirley Bassey's mesmerising vocal range is on full display, as is the sense of thrill and foreboding.
It also sets the long-running trend for 'spurned Bond girl' lyrics and innuendos.
Goldfinger is what made the Bond franchise. Goldfinger the song is what made the film.
Not an instrument out of balance, not a note in the wrong place. The question and answer of the brass instruments. And Bassey's voice that pierces your skull and stays there.
And then, the build-up and the climax... oh the climax!
With inputs from Aleesha Matharu.