Seeing as it is: Capturing the pain of Gujarat & Kashmir on canvas
Rollie Mukherjee is a lovely irony. She lives in Gujarat and paints the people of Kashmir. She engages with the riot-affected in Gujarat but highlights the plight of Kashmiris. She holds an exhibition on Kashmir; even though Kashmir is a state she has never been to.
It's a fact difficult to digest when you see her stunning series on Kashmir. 63 works, completed over a period of four years.
Mukherjee does not see this irony. "I don't know how different the issue of Kashmir is from Gujarat. They are both a part of the same Islamophobic culture," she tells Catch.
Also read -These stunning paintings by Filipino artists are made of polluted water
Mukherjee was a student at the MS Baroda University when the 2002 Gujarat riots occurred. She has been engaging with "different levels of humiliations Muslims face" since then. And her work on Kashmir also started just then - in her head and heart.
"You cannot relate to a problem unfolding thousands of miles away by shutting your eyes to your immediate circumstances. My response to Gujarat is through the way I understand Kashmir."
"We witnessed the way Hindus mistreated Muslims in Gujarat and till date we feel that paranoia and feel ashamed."
The only irony that strikes Mukherjee is that both sets of people - those of Gujarat and Kashmir - are treated as outsiders in their own country.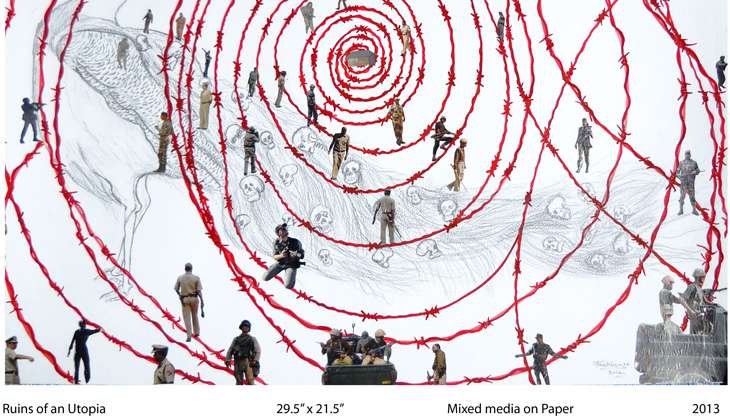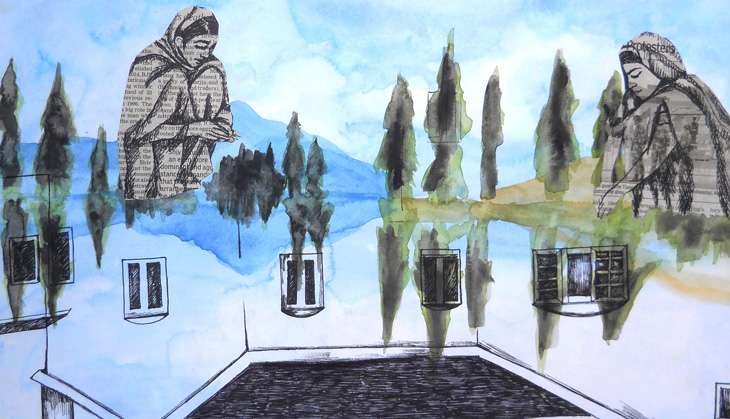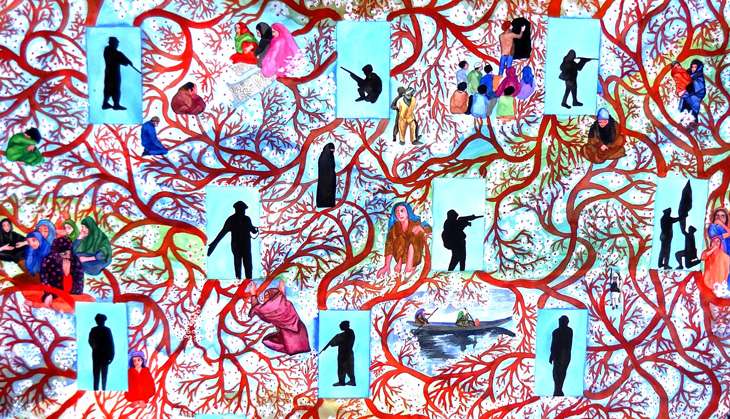 Documenting Kashmir
Mukherjee's first interface with Kashmiris was when they went door-to-door selling shawls and carpets across India.
"It was the 1990s. The Kashmiris would come to our house to sell their wares and would often share their problems. That memory stayed with me and would come back in flashes when I started reading up on Kashmir."
By 2007, she was reading up almost everything on Kashmir - poems, stories, articles.
"The writings had a deep impact on my consciousness. I started working on the notion of female agency, memory and remembrance as forms of resistance. Memory and remembrance are a powerful way of resistance for Kashmiri people to undo the state hegemony and its repressive means."
She decided to document the pain of not just resident Kashmiris but also of those who were forced to relocate.
Also read - Raja Ravi Varma: The painter-king who gave gods & goddesses a human face
Mukherjee's first painting on Kashmir was part of a show in Bangalore in 2007. The canvas captured "the coldblooded hegemonic state apparatus which reiterates and ruins people's life to nothingness".
By 2009, she was working on the notion of normalcy, how it is generated by the state and "how certain state-orchestrated violence and militarisation is kept under official cover".
She exhibited five more works between 2011 and 2013 - the process of understanding the reality of Kashmir and Kashmiris was adding up.
"My works are an inquiry into how such a paranoia is deliberately created structurally. The communal discourse which the mainstream discourses propagate has damaged the very fabric of Kashmiri society. The images of Kashmiri Muslims constructed by the Indian state and mainstream media have played a role in enhancing the prejudices and distortion about Kashmir, its people and its history."
Going by the rave reviews Mukherjee has been receiving, it seems she has succeeded in dispelling these notions with a mere splash of colours.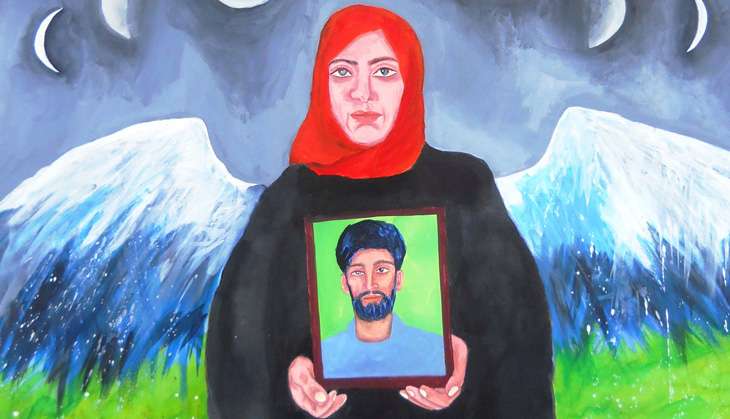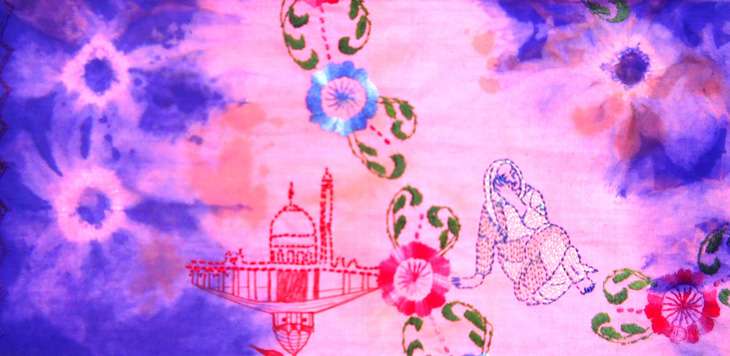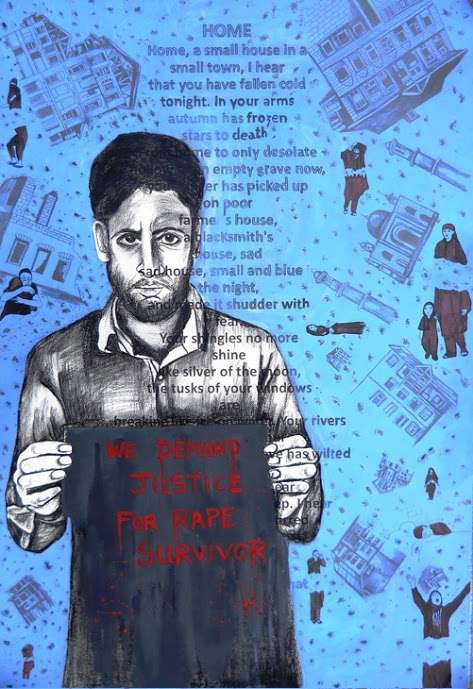 All images have been sourced directly from Rollie Mukherjee.