Raja Ravi Varma: The painter-king who gave gods & goddesses a human face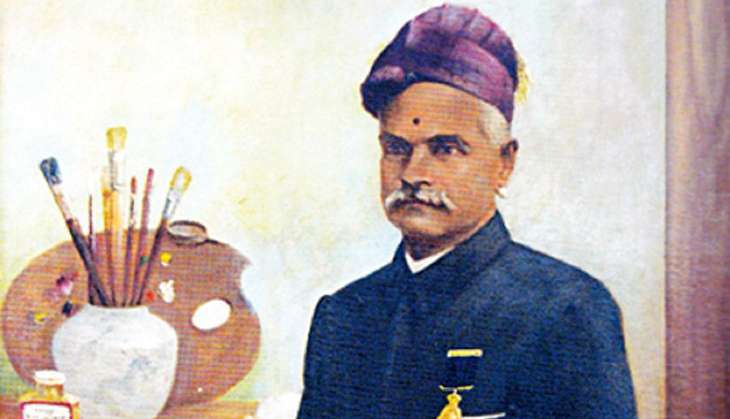 Think of the goddess Laxmi. The image that's likely to come to mind is of a radiant goddess floating on a lotus in full bloom. Think of Saraswati and you're likely to picture an erudite goddess playing the veena.
These images are implanted in our collective memory. And we have Raja Ravi Varma, the great Indian artist who passed away over a century ago, to thank for that. Varma was an artist who played to please the royals as well as the masses; both with ease and perfection.
Through his work he effectively democratised art.
We've seen his imagery on calendars, match boxes, soaps, incense sticks, tin sweet boxes and religious and political posters.
In mythological tales played out on television sets, in Amar Chitra Katha comics and, of course, as collectibles from the 1960s and 70s, well before advertising took off in India.
The play of light and shadows, the attention to detail - whether it is the clothes, the shoes, the jewellery or the backdrop - made his paintings appear lifelike.
The legacy of Varma
When Varma (1848-1906) died on October 2, The Times announced the passing of "the famous Indian artist" in its London edition.
To date, Varma's legacy remains unsurpassed. And indeed his story. Born in a royal household of Kerala, Varma, in his early days, loved to splash colour on the canvas - the canvas being the walls of his home. His creations were not replicas of what existed, but his take on how he viewed the world.
His maternal uncle, himself an artist, noticed Varma's remarkable talent and his imagination to see the world like none before. He took Varma to Ayilyam Thirumal, the ruler of Travancore, who was a patron of the arts. Varma experimented and perfected his skills there. He brought to life mythological figures. His portraits were as real as they were magical.
His groundbreaking painting of goddess Laxmi in a sari as it is worn today - is considered to be his vision of how a sari should be worn. His portraiture of Shakuntala and Maneka are etched in most memories to date. Much later, after Varma's passing away, European porcelain artists used this imagery of Shankuntala and Maneka to make pretty porcelain pieces.
During his time in Travancore, Varma got to see Danish artist Theodore Jensen, who had been commissioned by the Travancore court, at work. Jensen's work inspired Varma, which explains the intrusion of European realism in to Varma's works. The stamp of European realism in the portrayal of Indian mythological characters is also what makes Varma's work unique and special.
Varma's fame grew rapidly. Soon, he was invited by the rulers of Bhavnagar, Pudukottai, Mysore, Bikaner and Jaipur to contribute to their pictorial art history.
The popularity of Varma
While the royals and the wealthy in colonial India keenly sought his paintings, his work became popular with the masses thanks to the prints produced by his Raja Ravi Varma Fine Art Lithographic Press.
His imagery was reproduced to position and launch brands. What may seem odd now, the same image of Laxmi - the goddess of wealth - was employed to launch several products successfully.
Pages of a Mind documents Varma's journey in an effort to explain his meteoric rise and his immense popularity - something almost none of the art greats were able to achieve. Not the MF Hussains. Not the SH Razas. The book has been published by Piramal Foundation which also exhibited his never-seen before works - including lithographs and oleographs last month.
"Varma was not just as a painter. He was a meticulous businessman. He worked in a studio set up, he was able to grasp the power of mass reproduction and above all else, he was a master story teller," writes Farah Siddiqui in an essay on Varma.
Varma started his printing press in Bombay in 1894 to churn out oleographs of his paintings. He made pictorial representations of his paintings available to the common man - the emerging middle class. The art of lithography that Varma pioneered was not easy. Sometimes, up to 16 stones had to be perfectly aligned to make a single image. Yet he made the effort to make them available.
According to Piramal Art Foundation's director of exhibitions Ashvin E Rajagopalan, it was Varma's mastery over portraiture and his ability to choose the most pregnant moments from Indian mythology that made his work popular.
A genius or kitsch artist?
However, not all are fans of Varma's art. Some hold him guilty of being too commercial, accusing him of enjoying "the shallowness of wealth and fame".
Pages of a Mind is a collection of essays which delves into the current relevance of Varma, the patronage he enjoyed, his mass appeal and how he continues to hold a special power over the Indian imagination.
Dr Erwin Neumayer and Dr Christine Schelberger reconstruct the life and practice of Varma using photographic documents and the diary maintained by Raja Raja Varma, the artist's brother and assistant.
Vaishnavi Ramanathan looks at the patronage Varma received during his lifetime while Lina Vincent Sunish debates on the place of Varma within the history of printmaking in India.
Dr Usha Balakrishnan takes a close look at the representation of jewels in Varma's paintings. Art and film critic HA Anil Kumar looks at the influence of Varma on Indian cinema and analyses the way the artist has been represented in recent films.
Raja Harishchandra, the first full-length feature film based on the legend of Raja Harishchandra by Dadasaheb Phalke was greatly influenced by the style of painter Raja Ravi Verma in the making of his films.
It is said that just as Verma brought Hindu mythology on canvas, Phalke brought it in motion pictures.
Varma broke the royal mould to be an artist. His representation of the Indian aesthetic changed the visual language of the country forever. His understanding of Indian mythology was thorough, his art was revolutionary, and by taking this art to the masses he did them a huge favour. They will take a long time to break away from that imagery - if at all they do.