Prince among men: an explosion of grief from the world's music community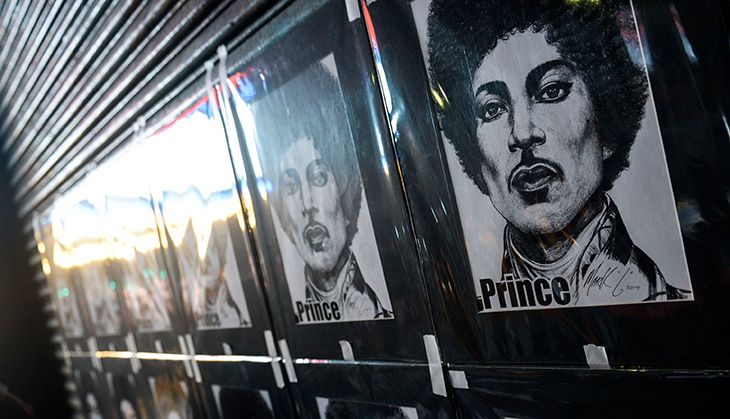 If you said that almost no-one has had a greater influence on the music industry as a whole than Prince, people might think you're exaggerating - but barely.
Yesterday, the music world was rocked by the sudden death of the legendary artist at 57 of causes not yet known.
Prince, who passed away at the tender age of 57, was among the top influencers of his generation. Not just for his musical ability but also for his ability to both support and take on the music industry.
That's why the outpouring of grief and loss we've seen in the hours since his death seems so personal.
Prince's sister: "He loved all of you. Thank you for loving him back." https://t.co/QUKecNIV0J

— Sky News (@SkyNews) April 22, 2016
Like most memorable artists, Prince was provocative - pushing the boundaries on a host of issues of race, gender, and more. He was also passionate about protecting the rights of artists themselves.
"People think I'm a crazy fool for writing 'slave' on my face," Prince said in a 1996 Rolling Stone interview. This was in reference to a feud with Warner Bros three years earlier when the label refused to release his music when he wanted. "But if I can't do what I want to do, what am I? When you stop a man from dreaming, he becomes a slave. That's where I was. I don't own Prince's music. If you don't own your masters, your master owns you."
Fast forward to 2014 when Prince signed a new deal with Warner Bros. This time, the deal gave him full control of his catalog. His life long dream of getting control of his art was achieved.
For the next seven days, SiriusXM has introduced a 24-hour channel dedicated to Prince:
SiriusXM has launched a 24-hour Prince channnel! https://t.co/sURoilcJ0b

— billboard (@billboard) April 22, 2016
And if you haven't heard Prince's cover of Radiohead's Creep from Coachella 2008, stop everything and get to it now. As Slate says, "Prince's cover of Radiohead's "Creep" is a small, eight-minute miracle".
It's no surprise then that miracle man is revered not just by fans but fellow celebrities from around the world. It's safe to say this man is a hero among heroes.
Something Eric Clapton acknowledged years ago.
Eric Clapton was asked about how it felt to be the world's best guitarist.

His response: "I don't know. Ask Prince".

— Stig Abell (@StigAbell) April 21, 2016
Here's some of the love coming the late rockstar's way:
Will Smith
Will Smith mourns Prince's death: ''I just spoke with him last night.'' https://t.co/YpOjwuCPBY pic.twitter.com/rJlhwiMCj3

— E! Entertainment (@e_entertainment) April 22, 2016
Vishal Dadlani
Today, nothing exists but #Prince. Musicians always speak of his guitar-playing with hushed awe. Here's why. https://t.co/5hJ7UeMml5

— VISHAL DADLANI (@VishalDadlani) April 22, 2016
Duran Duran
"Devastated to hear the news about Prince. An enormous talent that we were all big fans of." - Duran Duran pic.twitter.com/478Q9dVF7K

— Duran Duran (@duranduran) April 21, 2016
Katy Perry
And just like that...the world lost a lot of magic ✨ Rest in peace Prince! Thanks for giving us so much...

— KATY PERRY (@katyperry) April 21, 2016
Billy Idol
Oh my god I can't believe that Prince has died…he was a great great talent…RIP

— Billy Idol (@BillyIdol) April 21, 2016
Justin Timberlake
Numb. Stunned. This can't be real.

— Justin Timberlake (@jtimberlake) April 21, 2016
Spike Lee
Warning (2): file_get_contents(https://api.instagram.com/oembed/?url=Madonna): failed to open stream: HTTP request failed! HTTP/1.1 400 Bad Request
 [APP/Controller/MediaParserController.php, line 218]
No data to display.
Lenny Kravitz
The Weeknd
i promise this was the greatest moment of my entire life. i wish i could relive it everyday. pic.twitter.com/i7oax7tLYr

— The Weeknd (@theweeknd) April 21, 2016
President Obama