Move over Wiki: Sahapedia, India's first encyclopaedia for the arts is now live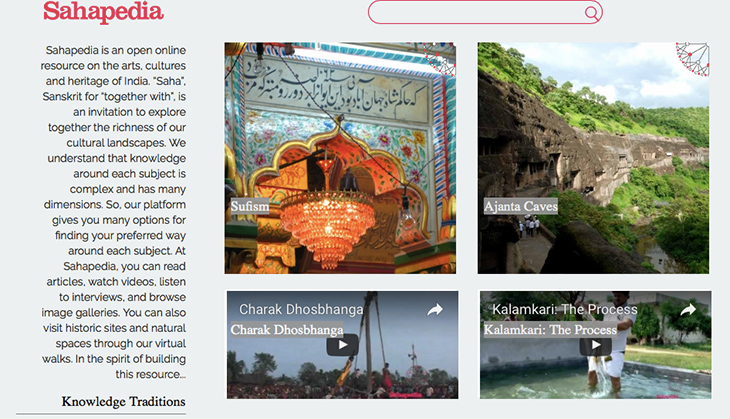 Move over Wikipedia. Sahapedia - an exclusive knowledge resource for the arts, cultures and heritage of India - is here.
Sahapedia, which went live yesterday, promises to be the go-to spot online for those who want to explore and study the richness of the Indian cultural landscape.
The brainchild of Sudha Gopalakrishnan, who earlier headed India's National Mission for Manuscripts, Sahapedia will be an exclusive spot to engage, record and share India's cultural wealth. For pleasure. And for knowledge.
As a researcher Gopalakrishnan found getting access to archives and libraries difficult. And that made her think how difficult it would be for common people to access such information. One of the most pressing challenges for her, therefore, was to make such classified collections and documents accessible to the public.
"We thought it would be great to have a cultural knowledge resource that prioritises access and not just physical access. That we ought to have a space where people without institutional affiliations, those who are amateur enthusiasts, could share their writings, or images or other creative expressions. Therefore, Sahapedia," Gopalakrishnan told Catch.
Sahapedia, of course, owes its nomenclature to encyclopedia and not Wikipedia.
"The resemblance to the word 'encyclopedia' is deliberate. 'Saha' means 'together with' in Sanskrit," she says.
The Project
Gopalakrishnan and her team will focus on 10 domains: 
* Knowledge traditions (textual, oral and embodied in practice)
* Literatures and Languages
* Performing Arts
* Visual and Material Arts
* Practices and Rituals
* Histories
* Institutions
* People
* Built Spaces
* Natural Environment
Each of these domains can be accessed through a module. Typically, there will be an article by an expert that puts the subject in perspective. Other articles will delve deep and bring out interdisciplinary linkages. There will also be interviews with scholars and practitioners - both videos and transcribed pages.
"The immediacy of image galleries with captions and videos of ritual and festivity and aural enhancement through audio tracks with translations make for a multisensory understanding of the arts and practices. In addition, we will have interactive timelines, as well as bibliographies and guides to online resources," says Gopalakrishnan.
"The modular format accommodates different levels of engagement: transcripts may be scanned, site walkthroughs orient tourists and video-interviews with illustrations deepen understanding after site visits," she adds. 
The portal will be interactive, encouraging users to engage with the like-minded. "Users will have work spaces to develop drafts which they may submit for editorial review if they would like to see it published on Sahapedia." 
Sustaining Sahapedia
While the encyclopaedic core will continue to remain free, to ensure the sustainability of the project, Sahapedia plans to develop a parallel programme of revenue-generating activities including CSR. 
These would include consultancies in tourism, in conservation, some paid tools and in creating educational resources. 
On her future plans, Gopalakrishnan says, "Sahapedia plans to expand its multilingual content and to facilitate documentation and interpretation, while it consolidates its role as an interpretive site by providing glosses and translations."
The endeavour will also be to put out what is not in the public domain - untranslated texts and archival maps. And to use digital interactives to aid understanding. 
In addition, Sahapedia will work on developing tools and content for students, teachers, parents and schools.
Pandora's creative box
The Sahapedia portal will allow users to:
* Create content in different formats such as text, videos, audio, photographs and timelines. 
*Start a discussion through the 'communities' feature
*All content is reviewed by the Sahapedia team before it is offered to the public
* Offers curated multimedia content on a variety of different themes for all levels of user interest.
* Library offering a selection of previously published research journals, visual media and archival resources can also be accessed.
* Listing events and news
* Heritage education for youngsters
* 'Oral Histories' interviews that tap into the knowledge of senior citizens
India & Beyond
Sahapedia will not just be a one stop resource on Indian arts and culture but expand its ambition to South Asia.
"I feel the cultural connections within the South Asian region are too numerous and dense to unpack and then claim some exclusively for India. Truthfully, in the future we would even like to explore our continuing connections with South East Asia, Central Asia and so on.
"All of us feel that when it comes to artistic expressions, cuisines, languages and festivals, there are far too many commonalities between parts of India and parts of Bangladesh, Pakistan, Sri Lanka and Nepal. These must be acknowledged, and political borders aren't really relevant to this project in that sense," adds Gopalakrishnan. 
There's no question Sahapedia's ambition is huge. But if it manages to accomplish even a fraction of its intent, the world will be a richer place for it.