Meet Reema Abbasi, the only Pakistani writer who attended Jaipur Lit Fest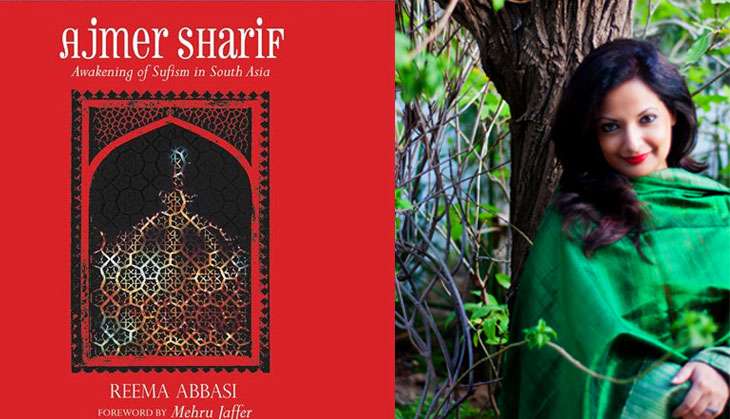 Much as Pakistani writers are loved in India, Reema Abbasi was the only writer from across the border who found herself gracing the 10th edition of the Jaipur Literature Festival.
Given the current strife between the two countries, while the discerning book lovers missed the Mohammed Hanifs and the Kamila Shamsies, journalist-writer Abbasi tried to fill in that void with a session titled 'Khwaja Gharib Nawaz: A Message of Love'. Filmmaker Imtiaz Ali, Syed Salman Chishty and Abbasi were hosted by Sadia Dehlvi on the last day of the festival.
Abbasi's book Ajmer Sharif - Awakening of Sufism in South Asia - an in-depth take on the history, spiritual journey and enduring legacy of Sufi saint Khwaja Moinuddin Chishti - was launched at the fest.
The book looks at the life and times of the saint and the continued relevance of his shrine at Ajmer Sharif which is visited by thousands every day, cutting across faith and status. That, Abbasi says, is the way forward in our conflicted times.
The saint discouraged religious supremacy and patriarchy by example - his wife was a central leader and his only daughter became a caliph - an aspect practiced at his seat, but not at other shrines of his lineage.
In an interview with Catch, Abbasi talks about Sufi culture, her travels to India to research the book, but all questions on the absence of Pakistani writers at the fest are brushed aside with a firm "no comment".
Edited excerpts:
LH: Tell us about the book...
RA: This is a condensed biography dealing with the architectural, anthropological details of the place and the history of Mughals, Marathas and their patrons.
It is focused on, more than anything else, on the centre of South Asia - which knows no divide, which is the most inclusive of spiritual orders, whether it is gender or whether it is faith.
LH: The book is about the Ajmer shrine or the syncretic Sufi culture?
RA: Khwaja Moinuddin Chishti brought the most paramount order of Sufism to South Asia which is the Chishti silsila - he is the founder of it. That's why the 'Awakening' of it in South Asia in the title.
Secondly, the book is about the place and then the whole history, the backdrop, the introduction, about how we are living in very similar times to when he started out. How this has relevance to our times, it is not just about getting up and saying that I feel like writing about this person, it's about when he was making his way into the world. There was a lot of orthodoxy, there was global conflict...
He landed in Hindustan in 1552 and said 'no hunger above all doctrines', that was the way forward, he brought Qawwali to the region.
My first book (on temples in Pakistan) was also about heritage with an essence of pluralism. This is again a shared heritage because we have this silsila in Pakistan and unites the population in a big way between the two countries and at the same time there is a living symbol of the pluralistic ethos embedded in our roots.
LH: Did you have to travel to India often to research for the book? How long did it take?
RA: The research took a year-and-a-half. There's very little (resources/material) available. I went to Aligarh Muslim University, met various professors there, got to a lot of archives.
I did the photography in one trip, I took books back. That's two trips...I have a lot of family there so I sent for a lot of material.
There's very little readily available on him. Most of the stuff is in Persian and they don't let you touch it because the pages will turn to powder. It is very, very fragile.
So whatever could be retrieved and could be translated is there, there's a lot of stuff in Urdu, but this is the first of its kind of book in this format in English.
LH: The most comprehensive book in English, so far?
RA: Yes.
K A Nizami was a great scholar. He has written a lot on Moinuddin Gharib Nawaz as well, but not in this detail. He was more like a scholar, a discoverer - he has written on all of them, all the orders such as Hazrat Nizamuddin Aulia.
So this (book) definitely has that edge.
LH: Are you a full-time writer now? Have you stopped being a journalist?
RA: I write on socio-political issues for Dawn, but I am not a full-time journalist anymore because I am now focussing on writing.
LH: There were no Pakistani authors at JLF, you were the only one. Why?
RA: I don't want to comment on that.
LH: So you were the only one from Pakistan?
RA: Yes, as far as I know.
LH: Was it difficult to get a visa?
RA: Not that difficult really. I have been coming here since the age of 2.