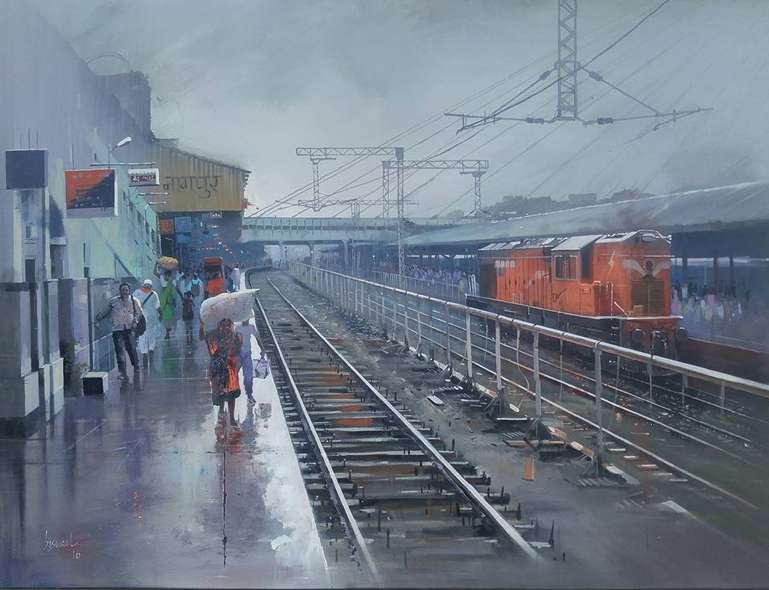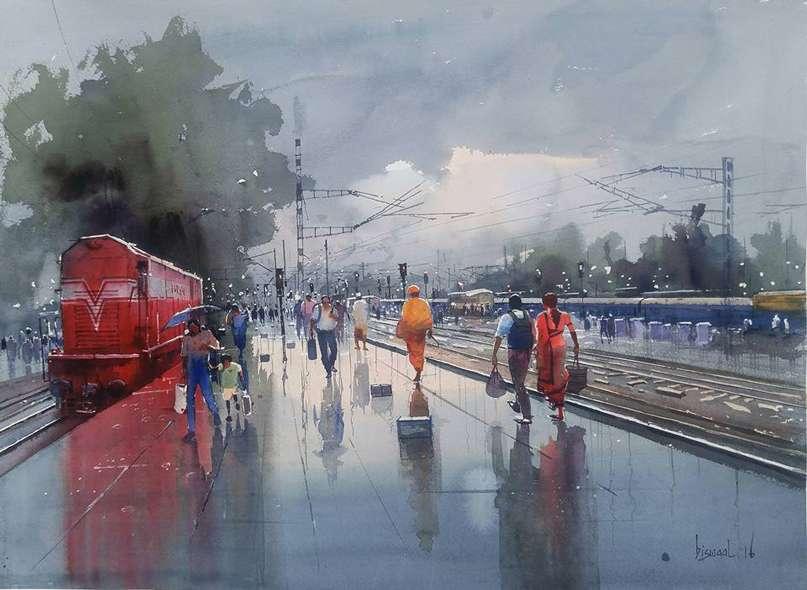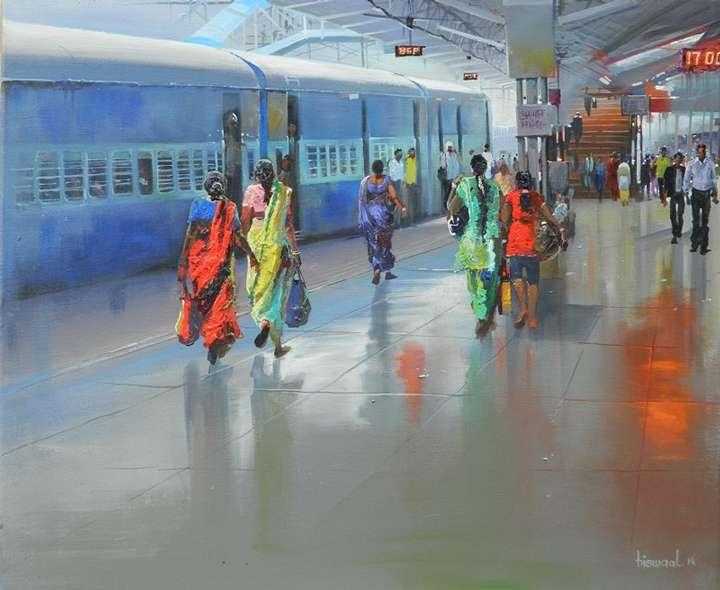 This is an advertisement.
To view next image, click on the next button.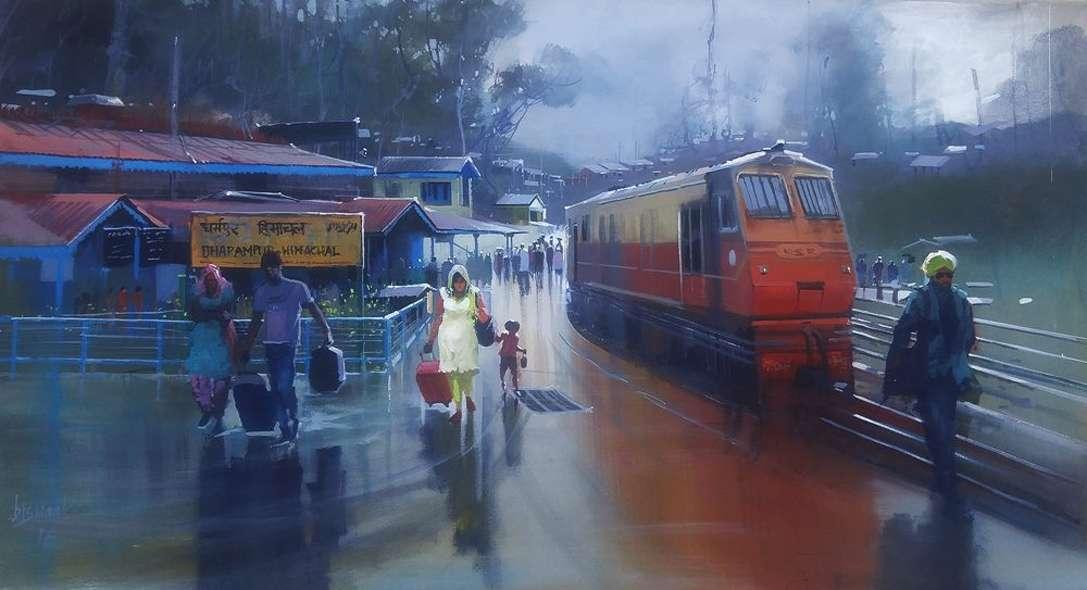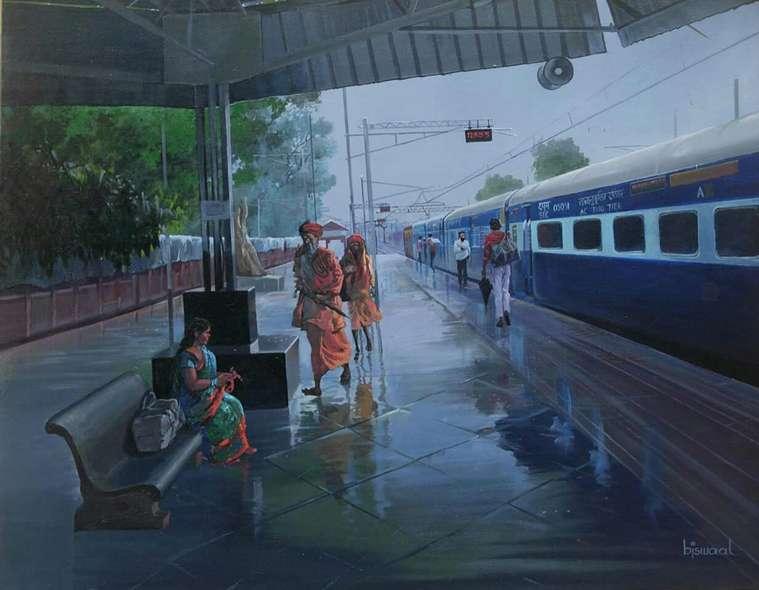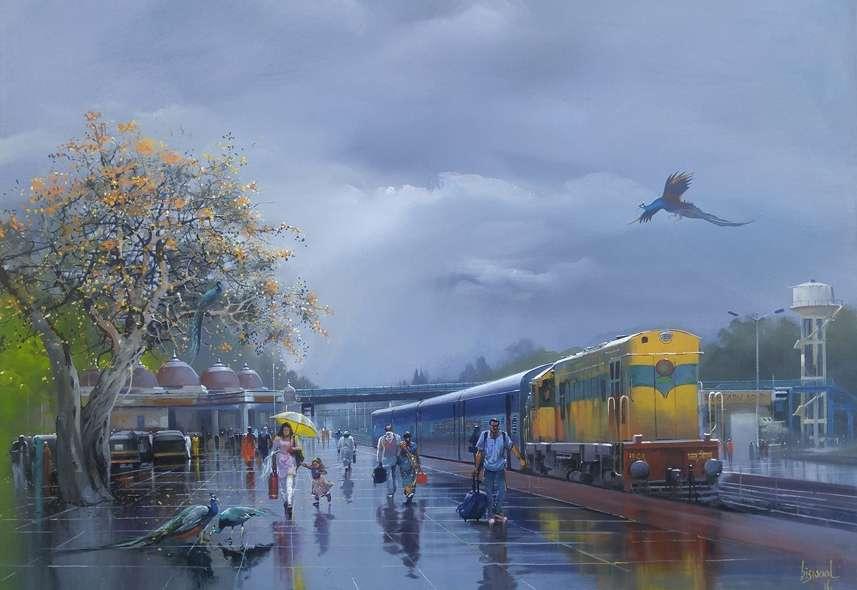 This is an advertisement.
To view next image, click on the next button.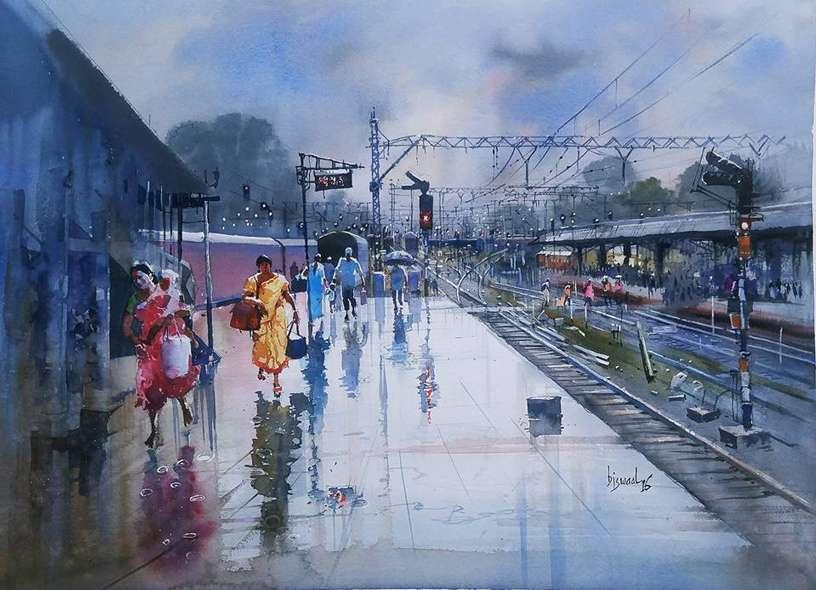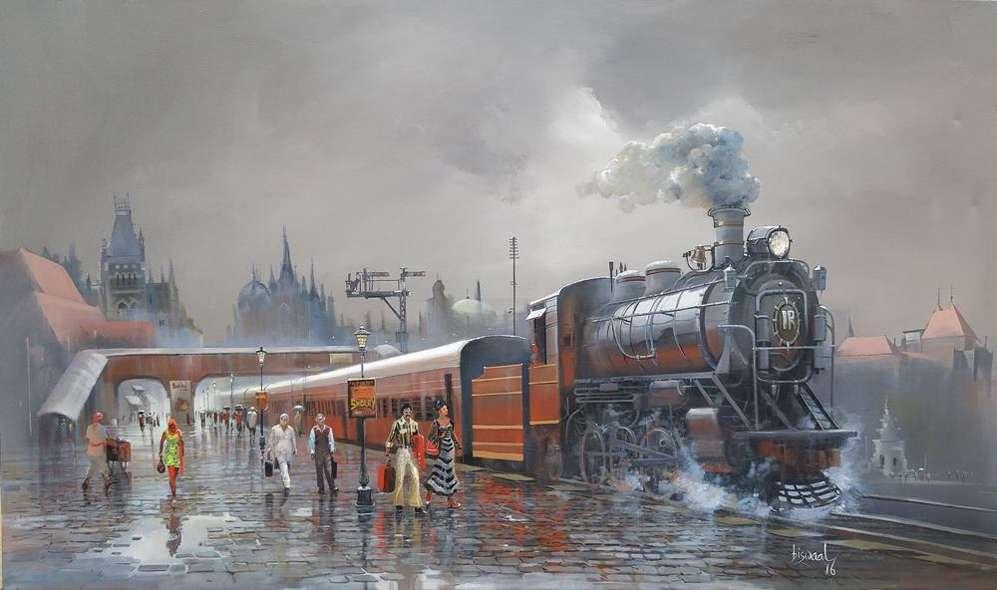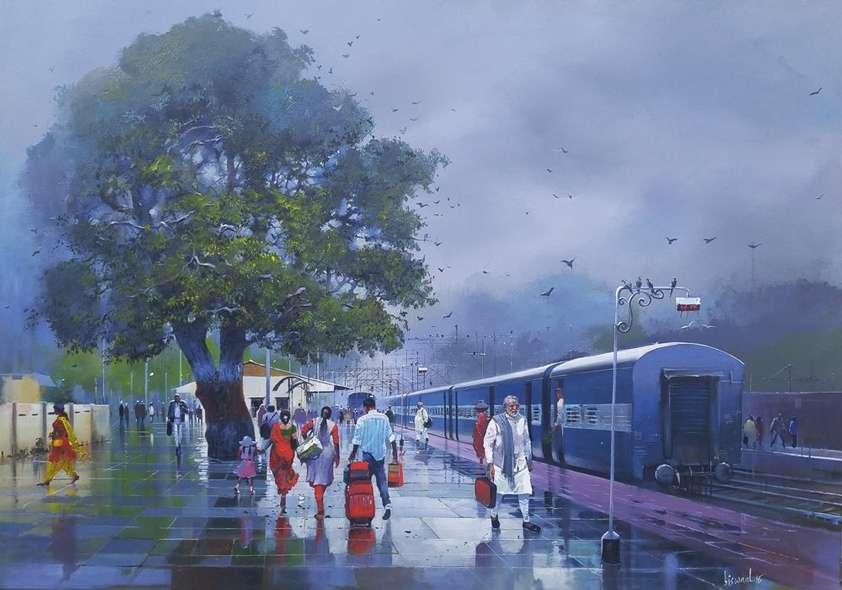 This is an advertisement.
To view next image, click on the next button.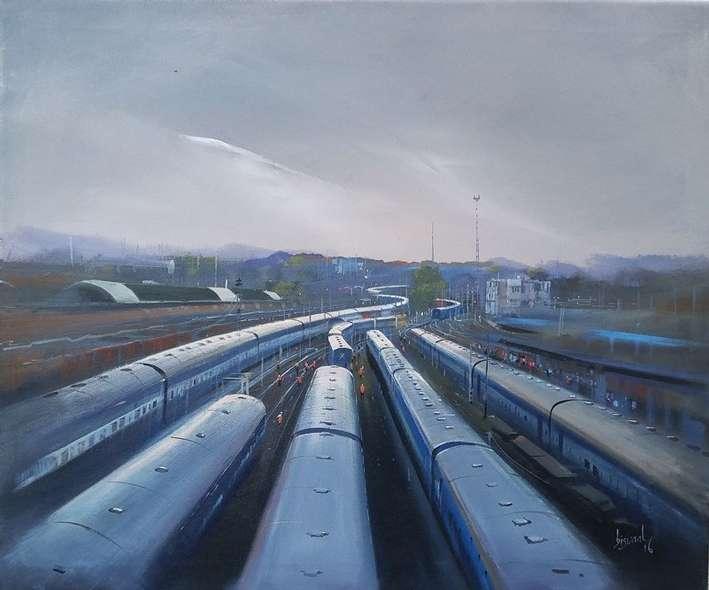 10/14
Art By Bijay Biswal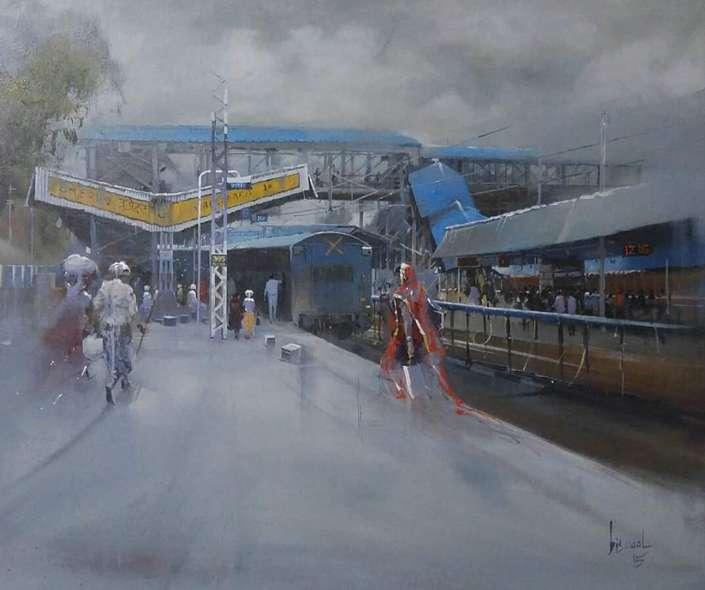 11/14
Art By Bijay Biswal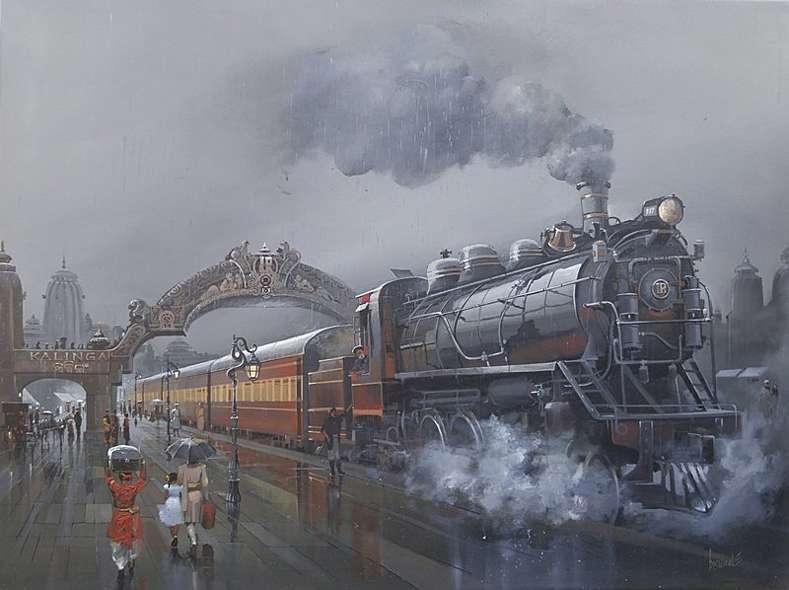 12/14
Art By Bijay Biswal
This is an advertisement.
To view next image, click on the next button.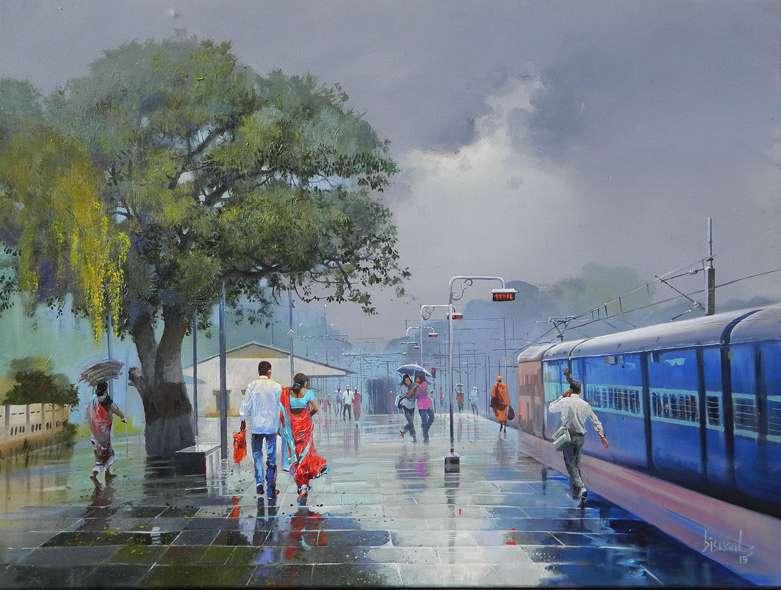 13/14
Art By Bijay Biswal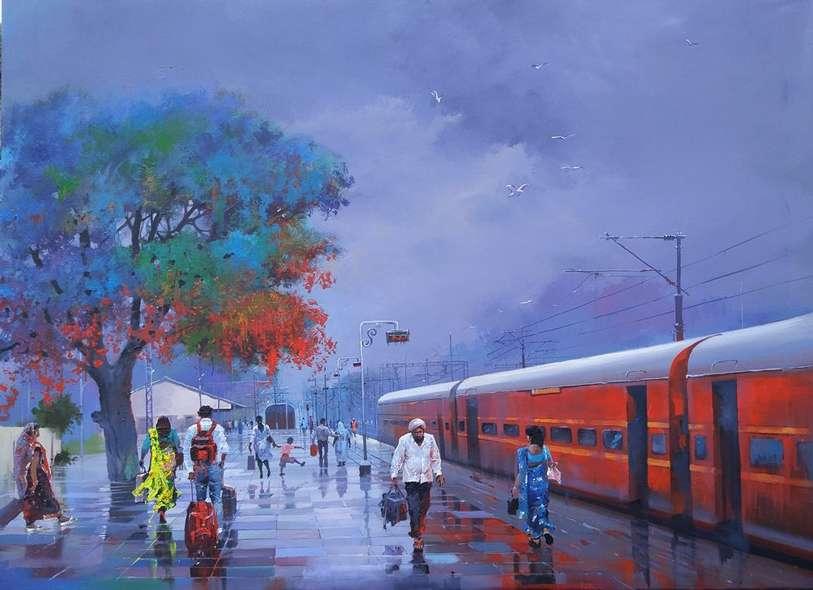 14/14
Art By Bijay Biswal
Meet Bijayanand Biswal: The Ticket Examiner who paints railway stations
Bijaynanda Biswal is a chief Travelling Ticket Examiner (TTE) in the Indian railways. Currently posted in Nagpur, Biswal hails from a small village in Odisha. There is little in the appearance of this man that reflects his real talent. He can see masterpieces in the livid scenes of ordinary railway stations and trains. He springs them to life on a canvas.
We bet you cannot pass over without marvelling at Biswal\'s paintings. Perhaps even sharing them and commenting upon them. It is possible, that you might have seen his works, without knowing the man behind it. Here, we introduce this extraordinary artist, to you:
Q: Tell us about your early days?
A: My father was a small-time trader. We were four brothers and sisters. I was born in a small village named Pallahara in Odisha\'s Angul district. I completed my early education in a government school in the same region. I used to carry a mat to school along with my books, as there were no desks available.
Q: When did you start painting? How do you manage to pursue your hobby while handling a demanding job?
A: (laughs) You are right. A flair for painting was always in my heart, even though I was never professionally trained to paint. In my village, I used to spend a lot of time with my mother as a child. My mother would cook food in a mud-oven and I would engrave images of flowers and leaves on the ash of the oven. My mother would often chide me for this.
I used to eagerly wait for the weekly painting classes in school that happened every Saturday. Those forty-five minutes used to be the best time of the week for me. I didn\'t only paint for myself, but also helped other children complete their painting assignments. I was also good in other subjects. This is how I began my career as a painter.
As far as the job is concerned, my father, like every conventional parent, thought I must pursue a job alongside my hobby. I needed a permanent source of sustenance to continue pursuing my passion of painting. TTE was the first job I got and I happily joined. I have never abandoned my hobby for work. In fact, this job has helped my artistic pursuit as I come across new subjects and scenes every day.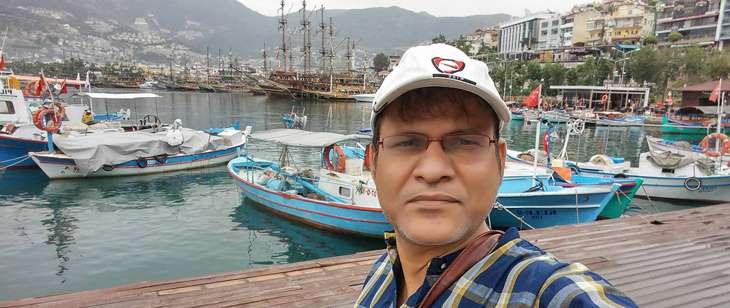 Artist Bijay Biswaal posing for camera. (Bijay Biswal/Facebook)
Q: How do you manage to strike a balance between painting, family and job? It's not something many people can boast of.
A: Good question. My colleagues had expressed similar reservations during my initial days on the job. Everybody thought I would soon stop painting. However, as I said, my motive for joining the job, was to support myself, so that I could continue with my passion. I am, after all, an ordinary TTE, after donning the black coat. But, as soon as I am off duty, I take refuge in the world of colours and canvas. I spend 7-8 hours every day in my studio, after my job hours. At times, my wife is irritated with me, but in general, she has been supportive.
Q: One of your paintings depicts the Prime Minister walking on a railway platform. He even mentioned you, in his 'Mann ki Baat'. What changed after that?
A: It's a nice feeling to be praised by the Prime Minister. I felt a heightened sense of responsibility. I realised my work is now being noticed. People are constantly coming to discuss my work with me. I was noticed everywhere, including my department, after the Prime Minister mentioned me in his 'Mann Ki Baat' address. It was a great feeling.
Q: There are many youths who spend the better part of their prime years trying to get a government job. What would you like to say to them?
A: I am not competent enough to give any message. All I would like to say is that we should never let our hobbies die. Pursue your passion with zeal. They will motivate you to work harder and lead a happy life.