Maha Shivratri 2019: Chant these powerful mantras to rejuvenate yourself on 'Great Night Of Shiva'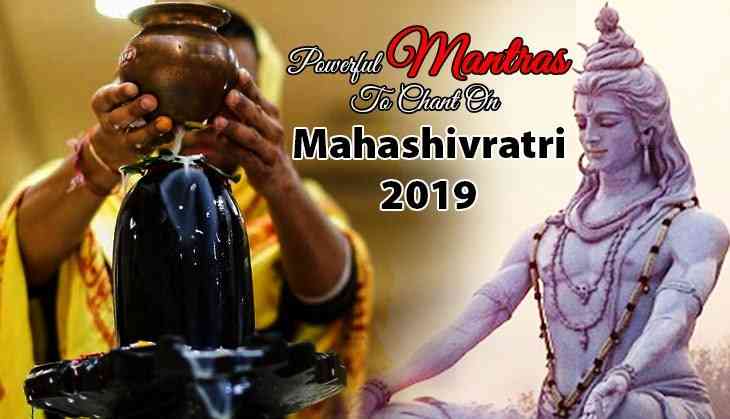 Mahashivrati or the great of Shiva celebrations has already begun across the country today. Lord Shiva devotees have gathered in the various Mahadev temples in the country. Many of them travelled to very far places from their home to worship the almighty Lord Shiva.
Lord Shiva is the supreme power among Hindus and Maha Shivratri is one of the biggest festivals to show the love & affection towards him. On this auspicious occasion, people used to worship God with holy water, milk, roli, chandan, dhatura, bhaang (hemp) and sweat dish.
However, many devotees observe fast on the full day and chanted mantras to offer their prayers to God.
If you are also on fast today and wanted to utter some holy mantras today, then we have brought some tremendous and powerful mantras of Lord Shiva that will rejuvenate yourself and also carry forward your wishes directly to Bholenath.
Chant these mantras on the auspicious day of Lord Shiva:
1. Mahamrityunjay Mantra:
Om Trayambakam Yajamahe Sugandhim Pushtiwardham
Urwarukmivbandhanaan Mrityormuksheey Mamritat
2. Om Namah Shivaay:
Chant this mantra for the whole day
3. Rudra Mantra:
Om Namo Bhagwate Rudraay
4. Mantra for mind peace and to appease Lord Shiva:
Om Tat Purushaya Vidmahe Mahadevaya Dhimahi Tanno Rudra Prachodayat.
5. Sivayajurmantra:
karpuragauraṁ karuṇāvatāraṁ sansārsāram bhujagendrahāram
sadāvasantaṁ hṛdayāravinde bhavaṁ bhavānīsahitaṁ namāmi
Also read: Maha Shivratri 2019: Keeping fast this Shivratri? Eat these foods while on vrat for Lord Shiva