Love, loss & making babies: why Padma Lakshmi's memoirs are a letdown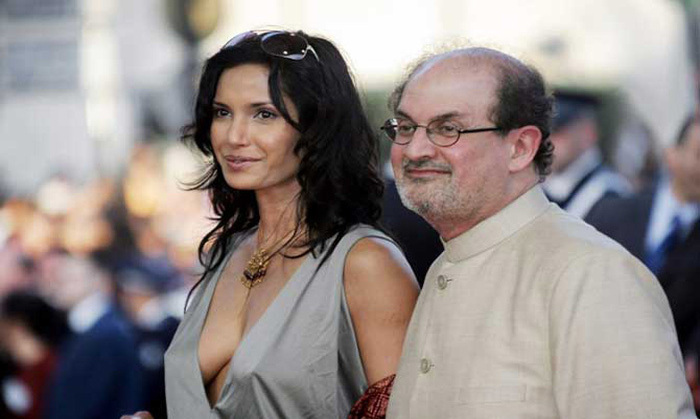 When Top Chef host and former model Padma Lakshmi turned 38 she had saved enough money to 'splurge' on freezing her eggs. Despite her endometriosis she hadn't given up the idea of becoming a mother. So she took a battery of expensive hormone tests.
Her ovaries turned out to be older than she was. It was impossible for her to conceive the old-fashioned way. And even with in-vitro fertilisation the chances of harvesting her eggs were just 10 to 15%.
She choked on her own cursing words. She felt stupid for not taking care of her womanhood while going to amazing parties and grand literary dinners.
Also read - From Rushdie to sexual abuse in her childhood, Padma Lakshmi's memoir has it all
In the four or five surgeries she had had to undergo she had lost a part of an ovary, her right fallopian tube - "half of my equipment". And had it not been for that she could even have salvaged her marriage to controversial writer Salman Rushdie, she felt.
"Rage and self-pity swirled in my stomach at the thought of being barren," Lakshmi confesses in a long chapter in Love, Loss and What We Ate: A Memoir.
After three months of vitamin supplements, hormone injections, blood tests, and many thousand dollars in bills, the doctors harvested three of her eggs. She was on top of the world.
A superflawed approach to life?
In the book, Lakshmi describes herself as a fashion icon and the first internationally successful Indian supermodel.
So the takeaways from the book - seeing herself as barren, believing a baby could have salvaged her marriage, putting her life at risk to prove to herself and the world she is fertile - are exasperating.
Her self-pity, her sense of low-esteem, her fears, her tears at her inability to have a child the natural way - they are real, and she is as entitled to them as any other woman. But the scale of her obsession takes the sheen away from her accomplishments.
At best the unending sections on her reproductive health read like a "how to have a baby in 7 steps" and at worst as a reminder of an old-world Bollywood film where a barren woman is thrown out by a scheming in-law.
Lakshmi's admission is indeed brave, but the extent she goes to change the reality is nauseating. In doing so she reinforces more gender stereotypes than one can possibly imagine; many she seemed to have originally set out to challenge through her career and life choices. Because in this reckoning, she ends up being a woman who sees women as natural producers of mankind, as child-rearers. A fact that patriarchy has long celebrated.
A Bad Investment?
The only readable parts in the book are those pertaining to her former husband - Salman Rushdie. The man who could illuminate any room, no matter how dim; the man whom she thought was a distant uncle when she first met him - because he seemed to know everything about her.
Her guilt at dating Rushdie who was almost a quarter of a century older than her, with special branch security protection, and married with two sons - did not last long. Her morality and sense of right "were eroded by the allure of this man's ardor and attention."
Rushdie seduced her with his greatest weapon. His words.
"My 29th birthday was approaching, and he handed me a copy of his latest book, The Ground Beneath Her Feet. On the title of the page, he had crossed out 'her' and written 'your', and signed it, 'Love Salman'."
Trouble began in her marriage when she was diagnosed with endometriosis. It peaked on their second marriage anniversary. Rushdie had "expected to make love" and Lakshmi was writhing in pain.
"Of course," he said, "How convenient for you. It's not your period and it's not ovulation. What is it this time?"
Lakshmi writes that Rushdie argued with the same eloquence that he had used to woo her, that he lacked a sense of humour, and that he called her a bad investment.
When the Nobel Prize winners were announced, he became moody and irritable, and when she asked for a temporary separation, he told her, "you can have one, but it won't be temporary."
Top Chef & Other Recipes
Lakshmi describes her memoirs as sensual prose punctuated with evocative recipes.
But many recipes that follow a sequence of events are hardly inviting given the accompanying text.
Sample this: Lakshmi was making breakfast - scrambled eggs with a crisp slice of sourdough and Tapatio Hot Sauce - when the fertility expert called to say that she could not conceive the natural way. When she hung up the phone the toast was damp and the "bits of curd looked like vomit".
The overuse of the egg and yolk metaphor may have been intended as humour, but fails. The recipe sandwiched in between the pages a few days before she goes into labour is called "Egg in a Hole".
After her marriage to Rushdie, Lakshmi overcame "the feelings of insecurity" by keeping herself busy in the kitchen. Cooking. Bringing drinks. Cleaning plates.
In the kitchen she "felt happy and confident".
It's another case of free will coming to choose the very spot so many women find themselves chained to. And while Lakshmi has every right to find herself in the kitchen, womankind could have done with a more nuanced worldview.
More in Catch - Book Review: Salman Rushdie's new book blends magic realism and fantasy