Lights Out review: One jump scare too many, but a half-decent directorial debut
Ah, what great promise this movie had, considering how terrifying the trailer looked!
Based on an award-winning horror short, directed by the same person, David F Sandberg, this James Wan-produced feature-length expansion can't match the compressed primal frisson of the original.
But that doesn't mean it's an out and out bad movie - there are enough jolts interspersed all through the film even if it does keep recycling the same gag over and over again. It's well-produced, well-acted and has decent special effects and sound design.
It also has one of the best beginnings a horror movie has had in recent times. It establishes quickly that the monster of the movie is one that thrives on the dark and we're soon handed a backstory to explain that.
How easily that backstory is found is annoying - usually you have to go dig around a bit, but here there's a box with all the info neatly left in the study for our protagonist Rebecca (Teresa Palmer) to find.
Are you afraid of the dark? Or light?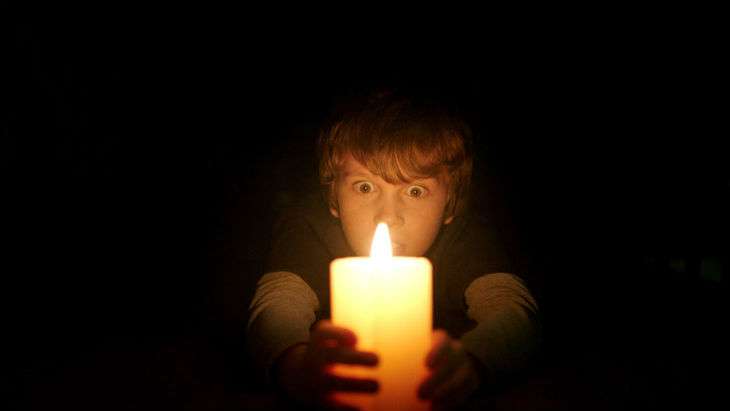 The story is simple: when Rebecca receives a call from younger half-brother Martin's (Gabriel Bateman) school about his sleeping in class, it is a surefire sign that mother Sophie's (Maria Bello) depression has reared its head in a big way.
Grieving over the recent brutal death of second husband Paul (Billy Burke), Sophie is basically up all hours of the night speaking to an unseen friend called Diana.
Worried their mom has stopped taking her medication, Rebecca welcomes Martin into her home. Simply going across town, however, is not enough to save them from a sharp-clawed, light-sensitive wraith, and eventually, the action moves back into the horror house situation.
Having Teresa Palmer as a badass adult daughter with commitment issues - typically a male role - is refreshing. Bello does a great job playing the tremulous mother, and perfectly portrays her mental illness.
At 81 minutes of runtime, it's clear that Sandberg knew to not overplay his hand. What was great was that he wasn't above playing it for laughs - in a sequence involving Rebecca's boyfriend Bret (Alexander DiPersia), his timing with common items is impeccable. And ingenious.
The verdict
Ultimately, Lights Out is a perfectly acceptable waste of time for those looking for an orgy of jump scares that are professionally framed.
And if the lights begin to flicker, just run.
RATING: 2.5 out of 5