JLF 2017 kicks off with songs, Sadhguru & Man Booker winner Paul Beatty
Jhinuk Sen
| Updated on: 11 February 2017, 5:46 IST
It's all colourful, all decked up. The kulhad chais are ready for the taking and the stage set. The Jaipur Literature Festival 2017 (JLF) began in its signature style, reminding all its loyalists why they come back year after year.
Wednesday, 19 January, saw Diggi Palace welcome thousands from across the country and abroad to Asia's biggest festival for bibliophiles, which is now in its tenth year.
Day 1 kicked off with a brilliant performance by the Shillong Chamber Choir on the front lawns that was soon followed by Rajasthan Chief Minister Vasundhara Raje's inaugural address.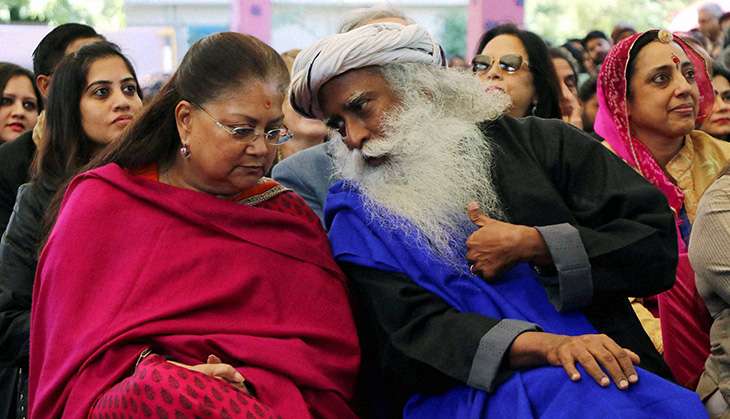 Vasundhra Raje spotted having a conversation with Sadhguru. (PTI)
Raje tweeted soon after -
In a world where attention spans are limited to an instagram post or a tweet, it is a feat that @ZEEJLF completes its 10th year! #JLF2017 pic.twitter.com/8TAWK4qdU6

— Vasundhara Raje (@VasundharaBJP) January 19, 2017
The keynote address of the opening day was delivered by two poets - Gulzar and American poet Anne Waldman. Gulzar set the tone of the festival by speaking about how vital it is for an author to have his "paon zameen pe (feet on the ground)," because, as he explained, how else would an author know how to feel and how to write? Gulzar raised the issue of the 'national' language and the 'regional' languages and argued that all languages in India are national languages, and to call any other language that is spoken in the country as 'regional' is not correct.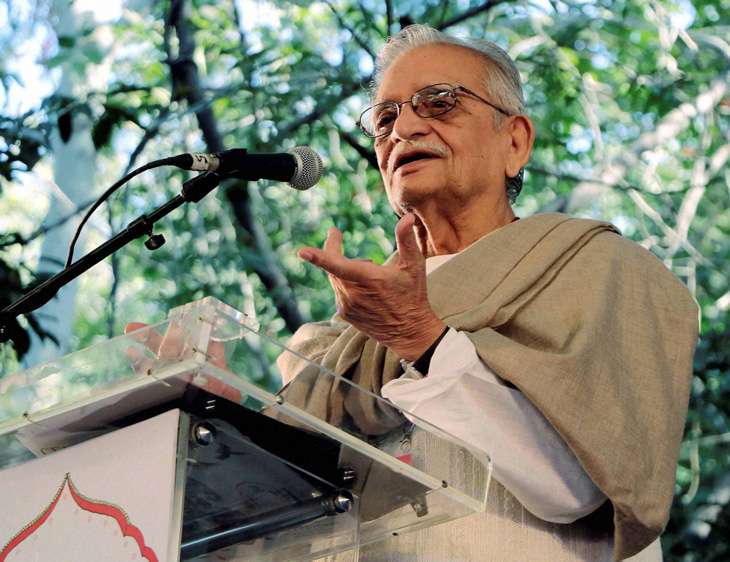 Gulzar speaks to the audience during his keynote on Day 1 of Zee Jaipur Literature Festival 2017 (PTI)
Waldman raised her war cry for all things not touched by 'the hands of men' as she gave a shout out to the women who will be marching in protest against President-elect Donald Trump in Washington DC and around the world. While she wished she was with them, she said she would make her protest felt from Jaipur.
"(The) purpose of art and literature is to make the world wake up to itself. Not be a drunkendumb show," Waldman reminded the audience.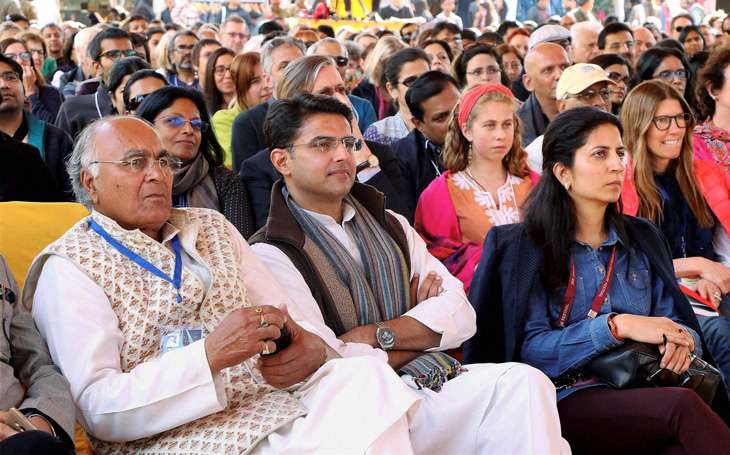 Sachin Pilot at the inauguration of Zee Jaipur Literature Festival 2017 (PTI)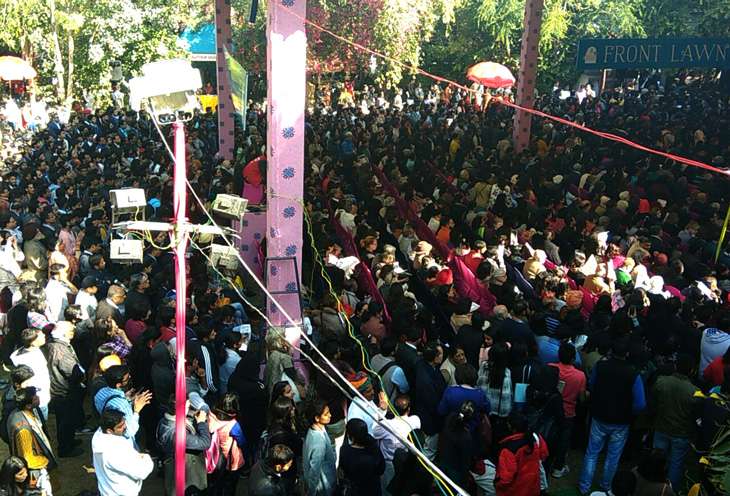 Guess who got all these people listening with rapt attention? Gulzar did! Guests at the Zee Jaipur Literature Festival 2017 (Jhinuk Sen/Catch News)
Post the keynote, six different sessions kicked off across different areas of the palace - Charbagh, the front lawn, Mughal Tent, Baithak, Durbar Hall and Samvad.
While Raja Sen spoke to playwright and screenwriter David Hare in the Front Lawn in a session smartly titled - Plenty, writer Mei Fong tackled 'One Child: The Past and Future of China's Most Radical Experiment' at Charbagh.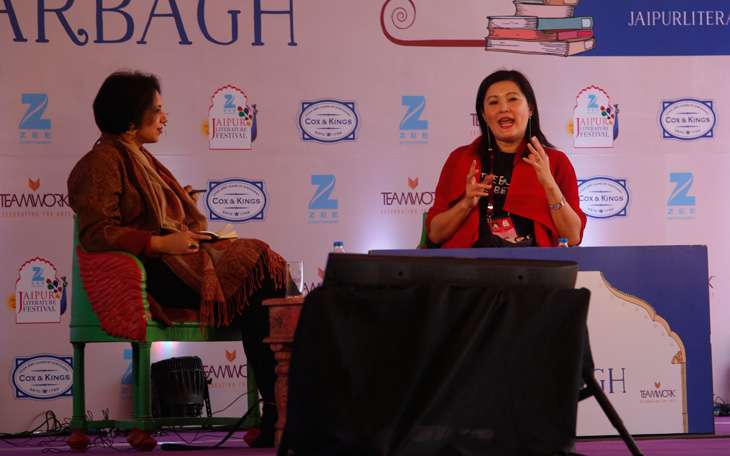 Writer Mei Fong in conversation with Suhasini Haider at Zee Jaipur Literature Festival 2017 (Manas Gurung/Catch News)
Read our small chat with Mei Fong here - No women to marry in China, so sex dolls are hugely popular: Mei Fong
And while those two were underway, Jaisal Singh and Ruth Padel spoke to Meru Gokhale aboutJawai: The Land of the Leopard; Lila Azam Zanganeh, Sholeh Wolpe, Valzhyna Mort, Vladimir Lucien spoke to Tishani Doshi about Migrations. Meanwhile, Global Hindi: The Desi Diaspora was also being discussed at the Durbar Hall.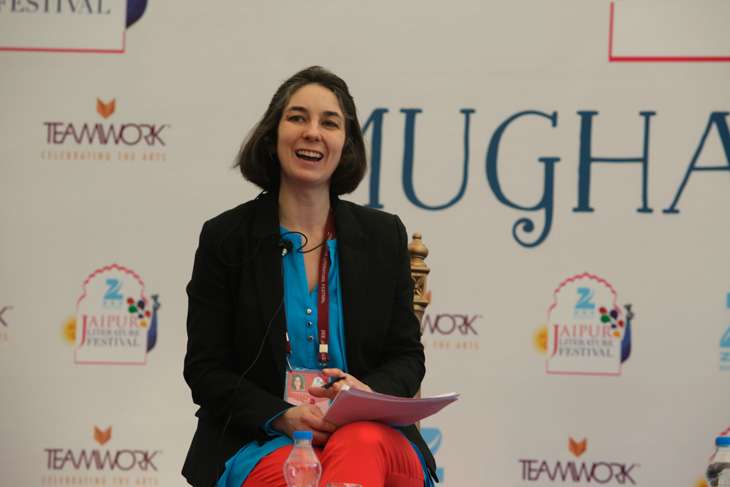 Writer Audrey Truschke at her session - 'Cultural Encounter: Sanskrit at the Mughal Court' at Zee Jaipur Literature Festival 2017 (Manas Gurung/Catch News)
And there was also a session called 'Wordsmith', introduced by Nandana Sen and helmed by Patricia Forde.
For the uninitiated wondering how so much could go on at the same time, that's JLF for you. Controlled and carefully orchestrated chaos where at least four sessions are in progress at any given time.
While Gulzar's address drew a full house, the holy man beat the poet. Sadhguru drew in more people than the sprawling shamiana could contain, and the line to get books signed by him stretched longer than the one for food at the delegates/media food lounge.
But, giving credit where it is due - "You should never teach someone else something that hasn't worked for you in your life..." said Sadhguru, and many people must have guffawed, or at least politely clapped to correct things.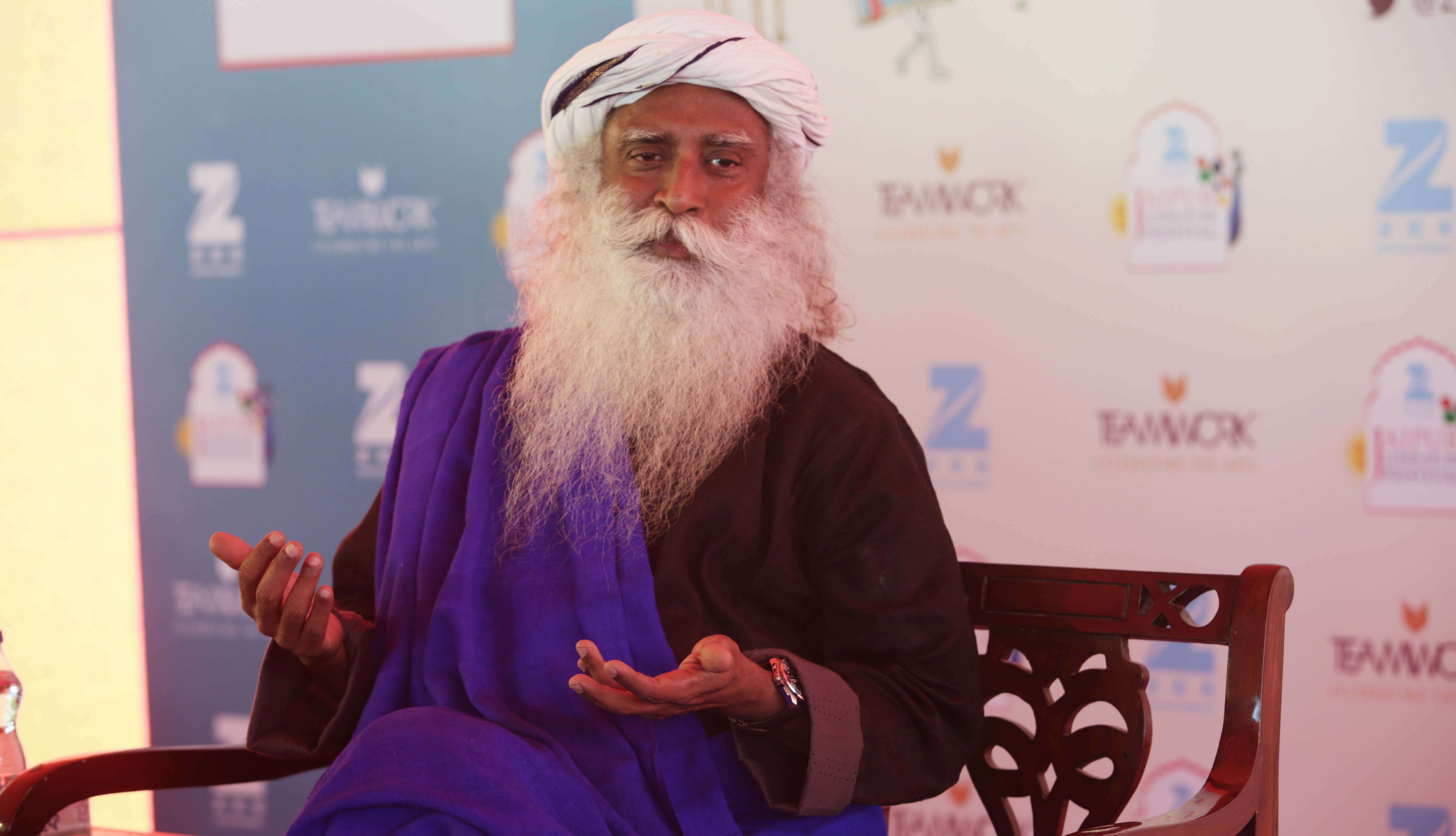 Sadhguru addresses the crowd at Zee Jaipur Literature Festival 2017. (Manas Gurung/Catch News)
Day 1 at JLF was a day of political correctness (or practice of caution - The Enigma of Amma which had Vaasanthi in conversation with Sudha Sadhanand and Sadhguru talking in favour of Jailikattu) and of absolute political 'incorrectness' with Man Booker winner Paul Beatty calling a spade a...not a spade...but an 'ugly d**k pic'.
Day 1 also saw a bunch of book releases - 31 Miles (Vinita Bakshi), Sari of Surya Vilas (Vayu Naidu), Manas (Gulab Kothari) and EKAM: The Supreme Oneness (Sangeeta Gupta).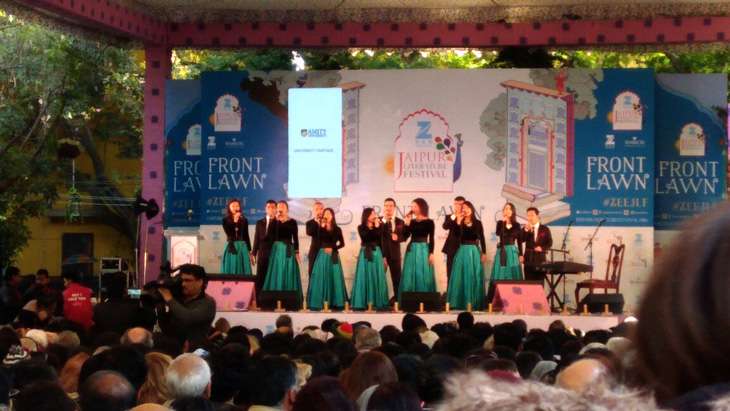 The Shillong Chamber Choir performing at the inauguration of Zee Jaipur Literature Festival 2017 (Jhinuk Sen/Catch News)
As Swanand Kirkire's voice rang out with "Tu kisi rail si guzarti hai, main kisi pull sa...thartharata hoon..." as he closed the session Kitna Kuch Jeevan with Manav Kaul and Satyanand Nirupam, the crowd collected their bags to leave for the day.
They will be back tomorrow. As will we.