Israel's women soldiers have an underrated enemy: boredom. This film shows why
Asad Ali
| Updated on: 13 February 2017, 10:44 IST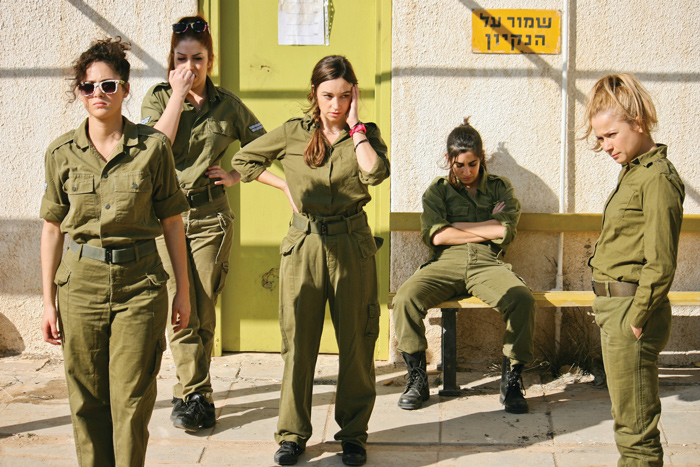 A bunch of women soldiers are trying to kill time with a staple gun.
Because they are unable to kill the gender stereotype that women can be posted in combat roles and can 'man' borders.
These women are part of the Israel Defence Forces (IDF), perhaps the first force in the world to recruit women in combat roles.
Also read - Placebo: The chilling undercover film that tracks student suicides in AIIMS
Even though their fame has reached mythical proportions, in reality the only battle they're fighting is - boredom.
Zero Motivation is the powerful story of these women, fated to serve coffee to dismissive colleagues while the world looks up to them as women of substance.
Israeli filmmaker Talya Lavie showcases the life of these women in this award-winning film that is at once satirical and sad.
Their struggle to survive the banal, which is just as important, if not more, as the wars being fought by Israel.
This is Lavie's story, as it is every other Israeli woman's, with military service being compulsory for women in the country.
Combatting boredom
Think of Zero Motivation as Full Metal Jacket in reverse.
It's not the intensity but the languidness of a group of bored Israeli women at a military base in the middle of a desert that drives the film.
Daffi (Nelly Tagar) is the Non-Commissioned Officer in charge of Paper and Shredding. Her sole responsibility? To shred unimportant documents.
Meanwhile her colleague Zohar (Dana Ivgy) likes playing minesweeper on the clunky office computer. That's as close to a warfront mine as Zohar is ever going to get.
She's a tough cookie on the outside. Internally, she's actually deeply embarrassed to be the only virgin in office.
Their boss Rama (Shani Klein) is a steely woman who wants to discipline and inject some meaning into their existence as non-combat 'secretary-level' women.
But even she has to bear the brunt of sexism - she's asked to serve coffee to the men despite her seniority.
It's an irony superimposed with the framed photograph of Margaret Thatcher on the wall.
Gunning for nothing
One of the first objects the film zeroes in on is a staple gun. Daffi is trying to shoot herself by holding it like a gun to her head. You soon realise that's as close to a real gun as she'll ever get.
"I figured that in 'wartime' the characters should use the office supplies as their weapons. I was inspired and amused by the idea of using envelopes, coffee cups, office intrigues, staple guns and Solitaire in order to create a female response to the Israeli male-dominated army-films genre," says Lavie.
So instead of gunfights and explosions, the film gives quirky nods to conventional war films and violence. The women seldom talk in the film.
Also read - Maoist child soldier to record-breaking athlete: the incredible story of Mira Rai
"They don't talk music, books, medicine or anything outside of the film's plot or that is not part of their private drama. They're not in a talk-show. The film has a story to tell," says Lavie.
The film may not conform to the popular idea of a political war film that takes sides, but it succeeds in framing the inaction of its characters. The film is divided into three parts; the staple gun is shown in all three.
It's the filmmaker's nod to Chekhov's gun theory - if there's a rifle shown in the first chapter, it must go off in the second or third chapter.
Gendered lenses
It's the subtext that lends subtlety to the script.
Zohar, for instance, grew up in a kibbutz - a rural self-sustained community that advocates gender equality.
But not the male-dominated Israeli army. Women are asked to perform mandatory service, but their roles are gendered.
Zohar, in one of the scenes, is alone on night duty and is challenged with a - "You want equal rights? This is what you get."
And Rama never gets the promotion she desperately wants. It's almost as if the director has based the film on her own experience at the IDF.
Lavie is noncommittal about that. "It's not an autobiographical film. I was inspired by my own experience as well as my research. And, of course, my imagination."
For an Israel army movie that conspicuously avoids mention of the Palestine question, Zero Motivation has been received remarkably well. It won best narrative film at the Tribeca Film Festival as well as the Nora Ephron Award, given to woman filmmakers with a unique voice, apart from picking up several major awards in Israel.
MORE AT CATCH - The Hunger Games: Mockingjay 2 review: a grim and fitting end
Laughter ahead: The nominees for 2015's Bad Sex in Fiction award