Is NGMA's next director Adwaita Gadanayak riding the saffron wave?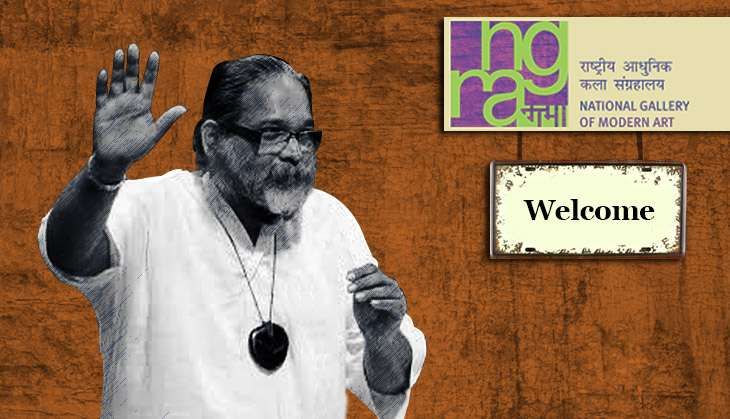 Odisha-born sculptor Adwaita Gadanayak's phone has been ringing incessantly since news of his appointment as director of the government-run National Gallery of Modern Art (NGMA) leaked. But mum's the word for Gadanayak.
Gadanayak claims he has "no information" about his appointment to this leading cultural institution, but the happiness in his voice and the unnecessary chortles are a complete giveaway.
"I have no idea what I will do when I take over. I have not been told anything yet," Gadanayak tells Catch.
It takes a lot of prodding for Gadanayak to admit he had presented a three-page proposal - his vision - to the ministry of culture some time ago.
Gadanayak's NGMA ambitions
"I have already told them about my vision," says Gadanayak.
His vision is to make Delhi the global art hub. Where international artists are invited to participate in India and Indian artists travel abroad to appreciate the global art scene.
"Art should be lively. It should involve people. The process has to be lively. We should showcase our indigenous art abroad. Make a mark on the international art scene," he suggests.
"On the one hand, we should be able to showcase our reality, and on the other, we should strive to create a balance between the Indian art scene and the international art scene. We should study international art movements and learn from them."
Khajuraho temple art meets Indian censorship through Akshita Chandra's work
So what is the one thing that he would change as NGMA director?
"If I take over I will want to make the art scene lively. I want to collaborate."
Gadanayak has been associated with the cultural cell of the BJP in Odisha for a while.
Asked if he is close to the BJP, he clams up, "We should not talk like that. I am an artist. Artists are above religion, above politics."
Stories in Stone
Gadanayak, 47, is currently based in Bhubaneshwar, where he heads the department of fine arts at the Kalinga Institute of Industrial Technology.
He learnt early to tell stories through stones. He did his MFA from Delhi College of Art in 1992 and his postgraduation from Slade College of Fine Arts in London in 1995.
He won the National Lalit Kala Akademi award in 1993, Odisha Lalit Kala Akademi Award in 1999 and Scottish International Sculpture Award in 1996.
The battle between faith and culture isn't new. Here's how Akbar reconciled them
Gadanayak's most famous projects include "Meditation", a sculpture in granite installed in London, "My Temple" at National Lalit Kala Akademi in Delhi, "Five Elements" at Netaji Subhash Institute of Technology in New Delhi, "Nature" at Lampsdeen (Aberdeen) UK and "Dandi March", a monumental sculpture of Gandhiji at Raj Ghat.
He has held exhibitions around the world, including Denmark, Scotland, Mexico and South Africa.
Most recently, Gadanayak joined a camp at Kozhikode in Kerala with a dozen other sculptors to raise awareness about the city's landscape. His work consisted of 18 pieces of stone, each of them shaped to represent a wave.
"These stones were taken from Kozhikode itself and they know what the city has gone through since its earliest origins. I am just cleaning off a few layers and letting them tell their own stories," he told reporters then.
Last year, the country's top artists - Anjolie Ela Menon, Jatin Das, Aparna Caur and Sugata Roy along with 400 others - joined the ranks with scores of writers who returned their Sahitya Akademi awards or resigned from the Akademi's general council, to protest against the culture of silence of the Modi government.
They regretted the ideology of the ruling party that has revealed its "contempt for creative and intellectual work" and its "attempts to impose conformity of thought, belief and practice".
With Gadanayak in the hot seat we can only hope the waves do not take us back in time.