India loves to drink. Would you say cheers to that?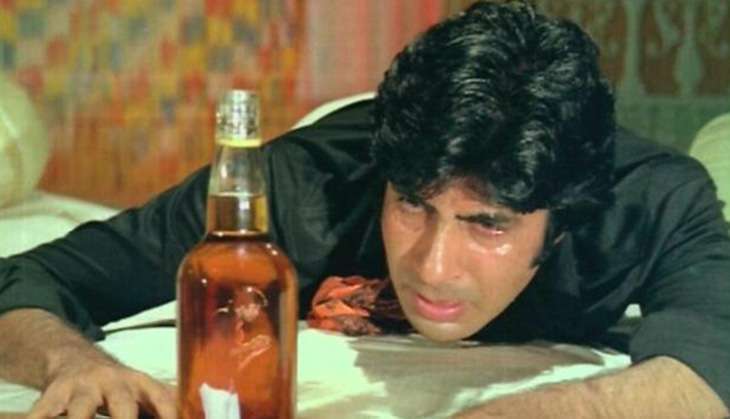 Novelist Amit Chaudhuri was born with two defects. One, a murmur in his heart, and two, a dislike for alcoholic drinks. The first defect has been long since fixed. The second, not. In fact, the second defect is now perceived as a perversity in an India which loves to binge drink.
He documents his experience of being 'the Other' in India's first anthology of drinking -
"House Spirit: Drinking in India" published by Speaking Tiger..
A tad sad, a tad funny - the book beautifully captures the India we live in. Where we are willing to travel for to up to four hours to head to a bar. Where we manipulate laws to arrange our daily dose of alcohol. Where we feel left out if we don't join in. Where booze has become the ultimate expression of happiness. Or sadness.
Also read:How to brainwash a generation: lies about India pepper Pakistan school books
Yet it wasn't an easy journey for Palash Krishna Mehrotra to bring out an anthology on drinking - where we still drink on the sly, where our relationship with the bottle is a secret to even ourselves.
The excuses were plenty. Some potential writers backed out. One woman got prickly - "Palash, I really don't drink that much". Others got writer's block.
The anthology also did not happen for miscellaneous reasons. Such as Mehrotra failing to meet Renuka Chatterjee, his editor.
When she called to say she had reached the venue, he lied that he was on his way. So she ordered fish tikka for him. He slipped back to sleep, nursing a hangover.
The anthology has been in the making for seven years.
"The first anthology about drinking in India is here. It's seven years vatted, like Old Monk," writes Mehrotra in the introduction.
The book is divided into three parts: Stories, Poems & Essays.
The Sharaabi Act
Mayank Shekhar nails how boozing is viewed in India with this

shair

: "Nasha sharaab mein hota toh, naachti botal" (If booze was an intoxicant, the bottle would dance).

Shekhar knew he was a potential booze hound when he turned 5 or 6. He needed just a little coaxing from an uncle or auntie to recite a poem or sing a song. He would obviously break into the anthem of

sharabis

: "Jaha char yar mile jaye wahi raat ho gulzar. Jaha char yar..."

"I would begin to stagger and sway with an imagined booze bottle in my hand..." Shekhar writes in an essay titled "Booze, Bollywood, Bombay & I".

He didn't care if he was being seen as a "lafanga" kid. He enjoyed the feedback and when he learnt about an impending shaadi in the family he decided to rehearse for another drunk song: "De daru, de daru. O mere bhaiyya de daru."

That wedding was also his first real exposure to how people reacted when they got drunk. "Only the serious family-rejects would appear ready to pick a fight (verbal arguments mainly). Calling to memory every injustice served upon them by fate, females, or history," he writes.

Only later did Shekhar learn that those who did the drunken routines in films had given up or never touched alcohol.

Johnny Walker never touched alcohol all his life. Keshto Mukherjee and Jagdeep were known to be teetotalers too.

"By the time Amitabh Bachchan played the eponymous 'Sharaabi' (1984) he had already given up drinking. Which is obviously true for when he delivered the terrific 'gandi naali ke keede' drunken moologue in 'Hum' (1991)."

The hypocrisy over drinking continues to prevail, but Bollywood seems to have changed a bit from when Shekhar was growing up.

"Dilip Kumar in 'Leader' (1964) would gently urge, 'Mujhe duniya wallon, sharaabi na samjho, Mein peeta nahin hoon. Pilayi gayi hai (Oh world, don't mistake me for a drunkard. I don't drink. I've been made to). Cut to a nanga Akshay Kumar gyrating to the Honey Singh song in 'The Shaukeen' (2014), admitting rather boastfully, 'Mein alcoholic hoon. Mein alcoholic hoon. Haan, haan, main alcoholic hoon'," writes Shekhar.

In Hindi cinema a bottle of liquor is almost always loaded with symbolism. Drinking can signify evil, moral depravity or a slide into a personal hell. It can also be used to evoke laughter, since it makes the drinker do funny and stupid things, writes Sidharth Bhatia.

"And if the person lifting the glass is a woman - it is a girl gone astray. Rarely is drinking casual, a lifestyle choice with no subtext or in-your-face moralising."

Bhatia finds "Vicky Donor" the lone exception to the rule. When two ladies - a mother-in-law and daughter-in-law - whose relationship is based on mutual bickering and bitching, become a bit more good natured and friendly in the company of alcohol.

Liquor was a good device to serve up comedy. Remember Amitabh Bachchan? Remember Johnny Walker? No wonder then that Shekhar enjoyed his drunken acts.

Except that the only drunk act he enjoyed in a Bollywood film as an adult was not in the least bit funny.
Woman Who Gave Up
Kanika Gahlaut gave up drinking after 20 years. She is now busy watching birds and butterflies which she didn't seem to notice in her drinking years.
But 20 years of drinking is "qualification enough to land me a piece in this anthology" - even though she is going further and further away from the bottle.
"I drink sometimes...but now the alcohol is coincidental to the friendship, not the other way round."
Gone are the days when she was too busy tripping into the house past midnight, hoping no one would notice the swaying walk or the car parked poorly. Only to wake up with a pounding head, rush to work, swearing never to do this again.
"My feelings towards alcohol are, well, a cocktail. For the most part, it's an exhausting, meaningless and pointless exercise that arises as a coping mechanism to human anxiety, pain, loneliness, insecurities and emotional fear...These are natural reactions to the act of living. Anybody who hasn't felt such emotions acutely enough at some points - is perhaps, less than human," she writes.
While Gehlot has kicked the bottle, the rest of us Indians - especially those of us living in Punjab, Uttarakhand and Kerala - would do anything to enjoy our little drinks.
We would also go to a great length to arrange booze if, god forbid, we live in a land where its sale is banned.
"The three official watering holes for people in Gujarat. People in Surat drive to Daman. Those in Rajkot go to Diu. Those in Ahmedabad head for Mount Abu," writes Soumya Bhattacharya in "Fear and Loathing in Ahmedabad: Drinking in Prohibition Gujarat".
Bhattacharya himself undertook a four-journey to head to a bar in Mout Abu.
In another chapter Jairaj Singh notes that his father's cousins upon drinking could "very easily pull out guns from cabinets, ready to declare war over an argument or a misunderstanding".
That's the India we live in. We take our drinking very seriously.
Aristocrat & Other Stories
The anthology opens with a collection of stories and poems.
"Aristocrat" by Gautam Bhatia - about a boy who started drinking at 11 - is brilliant. His friends had started drinking earlier and he didn't want to be a liquor virgin. So he drank with the boys of Class 7, Section B.
"I saw my body moved to the morgue, then tossed half-burnt into the Jamuna. Relatives talking, 'He was so young', 'such promose,' 'bad influence'. Ma wailing in the back. Horrible thoughts. But I guess some things had to be done," he writes.
The description of his bureaucrat father, who hardly ever spoke, the type who would have rarely checked if the government funds were being utilised well, and who drowned with a bottle in hand is at once touching and real.
Which explains why Mehtrotra in his introduction "Pure Premium Drinking Experience" says, "Our attitude to drinking is the same as it is to sex. We don't do it. But, like sex, we do it all the time. And some states, it seems, do it more than others."
And so we drink whisky because the British gave it to us along with cricket.
"We drank it because Amitabh Bachchan slugged it down in 'Deewar' while he contemplated the curvaceous charms of Parveen Babi. But we mostly drank it because it was there. And as we drank, we found which slot we got into in Whisky's own caste system," writes Sandip Roy in "Whisky Nation".
We've beautifully fit into whisky's caste system depending on how much money we want to spend. So how does it matter if the whisky is a molasses-based product and therefore not whisky at all?
Drinking, as Chaudhuri points out, is a secret rebellion for us. Fortunately, for Chaudhuri he has known other, more powerful pleasures in life and so he doesn't feel left out. But people like Chaudhuri are fast becoming a minority.
The anthology may be seven years late, but it's been worth the wait. Even for a reader who was born with one of the Chaudhuri defects and has learnt to appreciate other pleasures in life.
Also read: The battle between faith and culture isn't new. Here's how Akbar reconciled them