How love, loss & state surveillance haunted Hemingway to his grave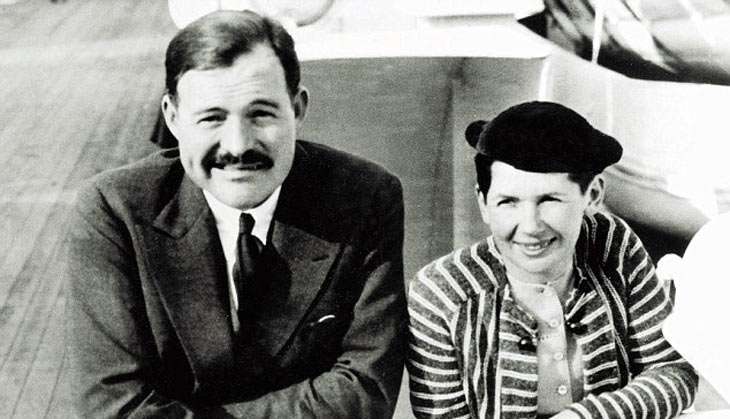 Ernest Hemingway was 61 years old when he put a shotgun barrel in his mouth and pulled the trigger, leaving behind an impressive body of work and a trail of questions about his mental health, his maverick spirit, his women.
Since his death in 1961, countless books have been written about this great Nobel Prize-winning American novelist even if we exclude his own works that were published posthumously. His oldest friend and confidant, AE Hotchner has enriched this list further with Hemingway in Love: His Own Story.
It wasn't an easy decision for Hotchner to write this. Because he looked up to Hemingway as a "Papa" figure. Because the conversations took place more than 50 years ago. Because writing this would hurt the women involved.
Not that Hotchner hasn't written about Hemingway before. His first book Papa Hemingway, a biography, was published five years after Hemingway's death. Hotchner chose not to touch on Hemingway's romantic life in Paris then, because he didn't want to hurt Hemingway's fourth wife Mary, who was alive at the time. Mary was also Hotchner's friend and there was no way he was letting her know which woman Hemingway loved the most.
Hotchner's association with Hemingway lasted 13 years. Hemingway grew fond of Hotchner and would often ask Hotchner to accompany him on his travels, almost always emptying his heart out. When Hemingway was in a garrulous mood, Hotchner would promptly take notes. Or tape the conversations. Of course, the Midgetape recorders disintegrated long ago, but Hotchner claims to have great recall and he has relied mostly on memory to write this book.
Now, at the ripe old age of 96, Hotchner believes that Hemingway confided in him for a reason.
"The story he recounted over the course of our travels was entrusted to me with a purpose. I have held on to that story in trust for these many years, and now I feel it is my fiduciary obligation to Ernest to finally release it from memory."
File Photo
Hemingway & Hotchner
The year was 1948. Hotchner's employer Cosmopolitan, a literary magazine back then, sent him to Havana to ask Hemingway to write an article on "The Future of Literature". Hotchner believed that "no writer knows the future of literature beyond what he'll write the next morning" -- but still gave it a shot to save his job. He asked Hemingway to send him a refusal note.

But Hemingway surprised Hotchner by asking him for a meeting at his favourite Havana bar. Hemingway talked about famous writers, actors, prizefighters, politicians, fish - everything but the future of literature. By the time Hemingway had downed his fifth daiquiri, he left Hotchner with an instruction: to meet him at his boat Pilar at 6 am the next day.

On the boat, he taught Hotchner to catch fish. And then bid him goodbye with - "The fact is, I do not know a damn thing about the future of anything."

Over the following years, Hotchner kept in touch with Hemingway and his wife, Mary. Often Hemingway would relive the agony of his early years in Paris when, married to his first wife Hadley Richardson, he fell in love with Pauline Pfeiffer.
Hemingway's Women
Hemingway met Pauline for the first time at a dinner at Francis Scott Fitzgerald's house. Fitzgerald was a renowned writer then, and Hemingway had yet to make his mark - Pauline had moved to Paris recently to work at Vogue magazine.
"...and she looked like she'd just stepped out of its pages. Up-to-date fashion. Close-cropped hair like a boy's, à la mode back then, short; fringed dress, loops of pearls, costume jewelry, rouged, bright red lips", Hotchner recalls Hemingway describing Pauline to him.
Hemingway didn't think much of Pauline though. Hadley, his wife, was the only woman who mattered to him. Hadley lived her life loving the things Hemingway loved - skiing, bicycle races, fishing, bullfights and hiking.
Pauline, whose family owned "maybe all of Arkansas", started to drop by at Hemingway's workplace and showered him with attention. Hemingway enjoyed that. Fitzgerald warned him that he was being "set up by a femme fatale". That she would do anything to get him. That he should get rid of her immediately.
Hemingway found himself in a peculiar situation. He discovered he was in love with two women simultaneously. Hadley his wife, and Pauline.
"All I see after a really tough day writing, there're two women waiting for me, giving me their attention, caring about me, women both appealing, but in different ways. Told Scott I liked having them around. Stimulating, fires me up."
The 100-day ordeal
Hemingway tried his best to break up with Pauline. He took off on a break with Hadley, but Pauline joined them there. Hadley sensed what was happening and made Hemingway and Pauline sign a note: "If Pauline Pfeiffer and Ernest Hemingway do not see each other for one hundred days, and if at the end of that time Ernest Hemingway tells me that he still loves Pauline Pfeiffer, I will, without further complication, divorce Ernest Hemingway."
For Hemingway, this was "a death note".
Hadley ended up divorcing Hemingway, and Pauline arranged her marriage to Hemingway quickly. But soon after the marriage, Hemingway got a glimpse of the real Pauline, and his gloom intensified when he heard Hadley had remarried.
Hemingway quoted Neitzsche to make his point: "You know what he said about love? Said it's a state where we see things widely different from what they are."
Hemingway missed Hadley and when he accidentally bumped into her several years later, he told her that he thought about her often. He then bid her goodbye.
"I accompanied her to the corner and waited with her for the light to change. I said I remembered those dreams we dreamed with nothing on our table and the wine bottle empty. 'But you believed in me against those tough odds. I want you to know, Hadley, you'll be the true part of any woman I write about. I'll spend the rest of my life looking for you."
Hemingway in Hospital
Year 1961. Hemingway was being treated at St Mary's Hospital in Rochester for depression. This was the second time that he was a patient in the psychiatric ward. He was not allowed to make or receive calls or have visitors and had to undergo a series of electric shocks.
He missed Hadley and dreamt of an afterlife with her.
His phobias had taken the better of him. He thought the FBI had bugged his phones. Nurse Susan was an agent. And that FBI agents trailed him. He often spoke of destroying himself. Once he tried to jump off a plane. On another occasion, he tried to walk into a moving propeller.
Hotchner asked him to get over his craziness. "I speak languages (FBI chief) J Edgar Hoover doesn't understand. My lawyer, my doctor, my banker, all of them in cahoots with him....They can take my life and stick it. Here is my life with a bullet in it. That's what they want? Take it! It's all yours."
Three years after Hemingway's death, his tribute to Hadley and Pauline was published posthumously as A Moveable Feast. And fifty years after his death, the FBI released its Hemingway files and proved him right. President Hoover had placed Hemingway under surveillance, and nurse Susan was perhaps an agent.
Cat's Eye: Hollywood's obsession with felines in 13 rare pictures