From Tryst with Destiny to Bollywood lyrics: Words that shaped India
Catch Team
| Updated on: 14 August 2017, 22:32 IST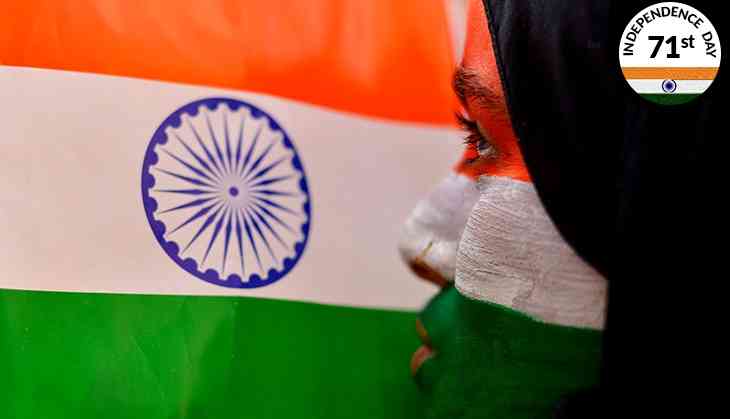 (Photo: Shaukat Ahmed/ Pacific Press/LightRocket via Getty Images)
School essays about India and Independence were all the same. We were expected to write about how beautiful, bountiful, pristine our country was. India was never to be questioned, never to be doubted, and absolutely never to be improved.
And yet, momentous occasions that shaped Indian history were marked by important words. Words that examined the country, were careful of the nation we created, and were anxious for the future.
Seventy years since 15 August 1947, we look at this future our leaders shaped for us, look back at their contribution as well as the contribution of the lesser celebrated, the ordinary, or the disenfranchised. We examine the words that shaped history, words that continue to be relevant, and words that mean India today.
Rabindranath Tagore – Mind Without Fear (1912)
Nobel laureate Rabindranath Tagore's poetry and verse continue to be a main ingredient in the academic life of a literature student today. And with reason.
Our pick, though, from his many works is a poem from his award-winning anthology Gitanjali. The lines shape an idea of India even before it came into existence.
Where the mind is without fear and the head is held high;
Where knowledge is free;
Where the world has not been broken up
into fragments by narrow domestic walls;
Where words come out from the depth of truth;
Where tireless striving stretches its arms towards perfection;
Where the clear stream of reason
has not lost its way into the dreary desert sand of dead habit;
Where the mind is led forward by thee into ever-widening thought and action---
Into that heaven of freedom, my Father, let my country awake.
Jawaharlal Nehru – Tryst with Destiny speech (15 August, 1947)
One cannot list out significant words that shaped Indian history without invoking Nehru's midnight speech that declared our nation independent. It needs to be noted that while recognising the moment for celebration and change, Nehru also put forth a pledge to move the country in the right direction.
Long years ago we made a tryst with destiny, and now the time comes when we shall redeem our pledge, not wholly or in full measure, but very substantially. At the stroke of the midnight hour, when the world sleeps, India will awake to life and freedom.
A moment comes, which comes but rarely in history, when we step out from the old to the new, when an age ends, and when the soul of a nation, long suppressed, finds utterance. It is fitting that at this solemn moment we take the pledge of dedication to the service of India and her people and to the still larger cause of humanity.
An Indian Love Song – Sarojini Naidu
The Nightingale of India, Sarojini Naidu was also well known for her flair for writing, especially poetry. This poem of Naidu's where she paints her interaction with India as a love song, though lesser known, is possibly the best reflection of the unity she desired for the people of our country.
What are the sins of my race, Beloved,
what are my people to thee?
And what are thy shrines, and kine and kindred,
what are thy gods to me?
Love recks not of feuds and bitter follies,
of stranger, comrade or kin,
Alike in his ear sound the temple bells
and the cry of the muezzin.
For Love shall cancel the ancient wrong
and conquer the ancient rage,
Redeem with his tears the memoried sorrow
that sullied a bygone age.
BR Ambedkar's last speech at Constituent Assembly (25 November, 1949)
Ambedkar, one of the most significant leaders to have built India, delivered a speech that showed a lot of foresight about the India we live in today.
Divided along communal, class and caste lines, we are falling into the one trap Ambedkar wished for us to avoid.
Will history repeat itself? It is this thought which fills me with anxiety. This anxiety is deepened by the realization of the fact that in addition to our old enemies in the form of castes and creeds we are going to have many political parties with diverse and opposing political creeds. Will Indians place the country above their creed or will they place creed above country? I do not know. But this much is certain that if the parties place creed above country, our independence will be put in jeopardy a second time and probably be lost for ever. This eventuality we must all resolutely guard against. We must be determined to defend our independence with the last drop of our blood.
On the 26th of January 1950, India would be a democratic country in the sense that India from that day would have a government of the people, by the people and for the people. The same thought comes to my mind. What would happen to her democratic Constitution? Will she be able to maintain it or will she lose it again. This is the second thought that comes to my mind and makes me as anxious as the first.
You can read the full speech here.
Tu Hindu Banega Na Musalman Banega – Dhool Ka Phool (1959)
Important words don't, and shouldn't, stop at poems and speeches though. The idea of India is shaped through its popular culture as well, and while most remember 'deshbhakti geet' on a day like this, this song from Dhool Ka Phool beautifully captures the future a newly Independent India was looking forward to.
Tu Hindu banega na Musalman banega
Insaan ki aulad hai insaan banega
Achha hai abhi tak tera kuch naam nahi hai
Tujhko kisi mazhab se koi kaam nahi hai
Jism ilm ne insaano ko taqseem kiya hai
Uss ilm ka tujhpar koi ilzaam nahi hai
Tu badle hue waqt ki pehchaan banega
Insaan ki aulad hai insaan banega
Ye Tara Woh Tara – Swades (2004)
It is rare for Bollywood to acknowledge the rampant casteism in India. And yet, Swades, in recent years, was a film that not only showed the problem, but also encouraged Indians to set these differences aside.
Of course, it is problematic to have an upper caste Mohan Bhargav tell poor people what to do, but that doesn't change the fact that this particular song in the film is quite indicative of the caste based divisions our society continues to face, 70 years after independence.
Tumne dekhi hai dhanak toh, bolo rang kitne hain
Saat rang kahne ko, phir bhi sang kitne hain
Samjho sabse pahle to, rang hote akele to
Indradhanush banta hi nahin
Ek na hum ho payeh to, anyay se ladne ko
Hogi koi janta hi nahin
Phir na kehna nirbal hai kyon hara