Faraz Alam on his film Nocebo, tales of revenge and shooting in celluloid
Some of the darkest tales mankind has heard emerged from the two World Wars.
Nocebo, a 10-minute short film written and directed by Faraz Alam of Celluloid Drapers, tells one such tale.
Being screened on 6 November at the Delhi Shorts International Film Festival 2016, the story it tells only came to light in 2014 - one woman in occupied Czechoslovakia decided to use a rather unusual weapon to get retribution: syphilis.
Also read -Payal Sethi on her film Leeches, one day brides and working with Mira Nair
The town was Trebon and the year was 1938. The nurse had been put in charge of looking after Nazi wounded and was raped by a soldier. To get her revenge, she reportedly slept with Nazi soldiers in her charge and infected them with the sexually transmitted disease, cursing them to a slow and painful death.
A regional historian spoke with the Daily Mail saying the nurse is "historically unrecognised" though "several people remember her story."
"Some say she was a slut and spread sexually transmitted diseases among German officers; others say she was a real patriot who was raped and infected by the Nazis and she decided to get her revenge," he says.
She was reportedly found out and executed by the Gestapo.
Starring David Diaz as one of her victims who tells the tale through "broken memories" and Eva Larvoire as the infamous nurse who's name has been lost to history, Alam shot the film in what is now the Czech Republic while completing his final year in Masters in Cinematography at the Film and TV School of the Academy of Performing Arts (FAMU) in Prague.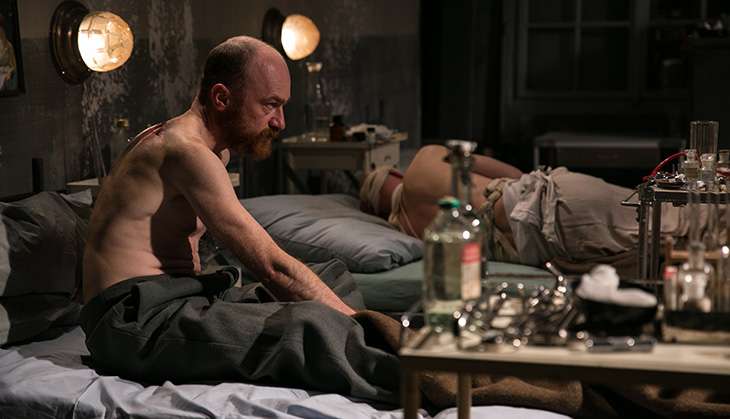 Celluloid Drapers
Alam's previous film Jep2Man won the 48 hours Delhi Film festival 2013, and also snatched up the Audience Choice Award and Best Sound Design.
A photographer and film editor as well, Alam talks about the making of film and the joys of filming in black and white.
What drew you to telling this particular story? It's a difficult subject to tackle - a dark tale of vengeance set in the aftermath of one of the most horrific wars the world has witnessed.
Living in Czech Republic takes you closer to certain historical issues and events that are still quite alive in the memory of the people. I mean, in Europe, there are still survivors (actually, the last few ones) who spent time in Nazi concentration camps and often the reality around you still carries that kind of dramatic and nostalgic flavour.
This episode of the nurse though, is still not known by a majority of people. Yes, many horrific events occurred - but they've generated an everlasting drift in everyone's consciousness.
The nurse is sort of a forgotten hero, one who isn't likely to be remembered from an age where there were thousands of villains and heroes. What was it like trying to reimagine the horrors of her personal war?
She was someone who used the only means she had to take her revenge and she is still quite a controversial character: some believe she should be remembered as a heroine and many still think she was a whore. I found the story interesting that way.
For me, telling the story did not imply taking one position or the other. When I read about it in the newspapers and then brought my research forward, I tried to not be judgmental. I wanted to give an account of what happened after her personal mission got accomplished and I chose to tell the story through the broken memories of a soldier who was one of her victims.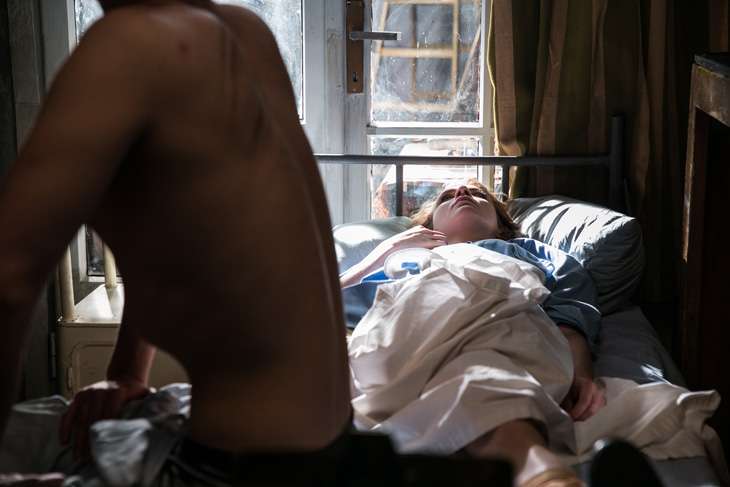 Celluloid Drapers
Was making the film in German and black and white an obvious choice for you?
German was the language that was widely spoken at the time of WWII here in Moravia - hence, the choice.
Nevertheless shooting in celluloid in black and white was the most credible way for me to get closer to that time. The stock I used is Kodak, the only company that still produces B/W celluloid stock.
I believe films shot in film - if I may play with words so simply - still have a lot to say. It's not just a matter of the aesthetic result, but the whole process of shooting in celluloid is a meticulous discipline in itself.
Having said that, it's still quite intuitive in its realisation. The discipline lies mostly in the preparation of what we (don't) see and how we (do not) want to see it. Film (a technology practiced for a hundred years), unlike digital intermediates, gives more clarity of control than just 'cutting coverage'. After all, film is not dead!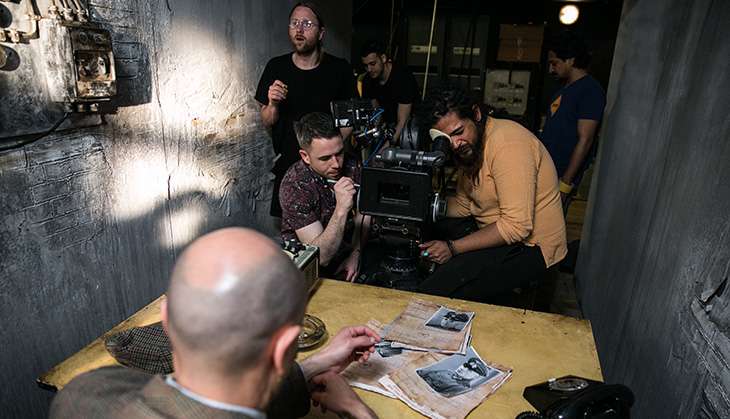 Celluloid Drapers
What sort of challenges have you faced in trying to distribute the film and arrange for screenings?
You are right, distribution is such an important part of the film when it's done.
In the case of Nocebo, we have decided to concentrate more in a systematic and meaningful festival strategy and we are getting interesting feedback and results from many countries. The film is being appreciated and I'm very glad about it.
You're a distinguished photographer who's been published in magazines such as National Geographic and Vogue Italia. What made you turn toward the medium of film?
Filmmaking, like any other art, is a very profound means of human communication. Considering my social reticence, photography and filmmaking represent a comfortable bridge of expression to the world outside.
If I have to draw a line between these two languages though, it is that photography can be performed alone while filmmaking needs a whole "village" to make it happen.
Is there an Indian story on the horizon? What are some other stories you're itching to make?
There are a few Indian stories on the horizon yes, but my next film will be again shot in Europe, this time in Italy. And - just because I want to tickle your curiosity - it's an experimental narrative of a Gypsy fortune-teller and it's set in a small and ancient little town castled on the mountains near Rome.
More in Catch - 7 must see foreign movies at this year's Mumbai Film Festival
Doctor Strange movie review: Marvel wields its magic again