Durga Puja - a time of mourning for Mahishasura's descendants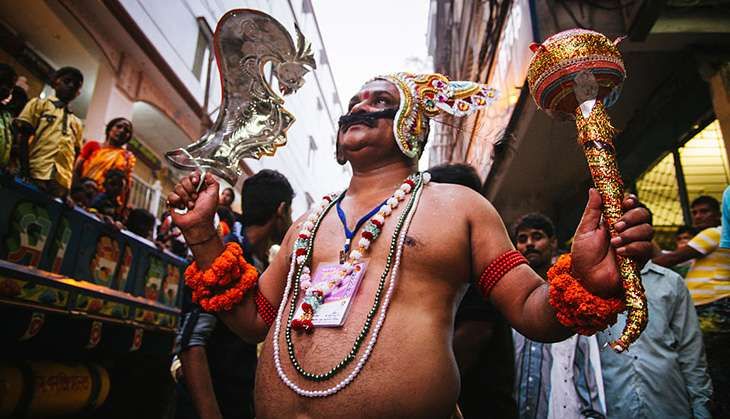 6AM: Rush out of your homes entirely sleep deprived but enthusiastic, unkempt, possibly still in your pyjamas and make it to your nearest community pandal.
7AM: Wind up cutting all the fruits for the morning prayers. Neatly package them in little plastic bags, all the while chattering about lives, loves, leaves. Head home.
9AM: Rush back, this time, all decked up in pretty but nonrestrictive clothes, smelling great, almost unrecognisable from your early morning sleepy glory. Start distributing the fruits and sweets you had earlier toiled over.
12PM: Wind up. Start apologising. Smile a lot. Explain to all the aunties and uncles patiently waiting in line for the morning proshad. "Anjali is over. Please come tomorrow."
12:30PM: Fold those aprons. You'll need them tomorrow. But for now, you can frolic about with your friends soaking in all the Durga Puja festivities. Promise yourself you won't end the day too late. Do it anyway.
I did this for three consecutive years, an admittedly far shorter duration than most of my cousins and friends, but long enough for me to feel a sense of acceptance, belonging, and, most importantly, ownership in the Durga Puja Committee fraternity.
Elaborate and bedecked pandals hosting elaborately bedecked Bengalis made up a huge chunk of my childhood. That I grew up in Delhi's mini Kolkata - CR Park, added to the fervour. But beyond my half-Bengali parentage and an impossibly Bengali colony's enthusiasm to party, I found myself drawn to the form of Goddess Durga; the idol, her lion, and the man she crushed beneath her - Mahishasura.
She, so fair, so perfectly sculpted, with eyes so uniform, they'd never be human. And he, so chiseled, so dark, always sporting the same expression - of unimaginable agony. The goddess' face, though beautiful, remains expressionless, as though her victory has left her hollow. As though, in that last moment when she drives her trishul through Mahishasura's chest, a realisation hits her.
Couldn't be a coincidence, could it?
Photo: Debajyoti Chakraborty/NurPhoto via Getty Images
I'd spend year after year gazing at this female deity's eyes, looking for a hint of emotion. And year after year, I'd find the same hollow gaze everywhere - piercing, but stoic. My friends always wondered why I'd conduct these staring matches with the goddess. They'd often joke that I felt a connection due to our names.
True. But I felt more than a connection. I felt a sense of responsibility.
Also read - Mahalaya: Do you know the story behind Mahishasur Mardini? These illustrations will help
Mahishasura's people
Mahishasura, the man with the pained expression, often ebonised, represented in blue-green colours, has his own story to tell. And a community that call themselves the descendents of Mahishasura bear testimony to this alternate narrative.
The Asurs, who belong to the Particularly Vulnerable Tribal Group (PVTG), inhabit certain districts in Jharkhand, including the Netarhat plateau, Gumla, Latehar, Lohardaga and Palamu. Some of them also live in parts of North Bengal.
The Asurs believe they carry forward their just king, Mahishasura or Hudur-Durga's (as he is called by the Santhals) bloodline. Their reading of the Devi Mahatmya story in the Makandeya Purana, where the gods unite to give birth to Goddess Durga ultimately culminating in her battle with Mahishasura, is that it fails to address their king's version.
The 9 days, counting from Mahalaya, when Goddess Durga is invoked, is a period of jubilation for the upper caste Aryan goddess worshipper. However, for the Dravidian Asurs, this is a period of introspection and mourning.
"We used to block or close the windows and other opening of our homes with woods to keep away the sun light during Navratra. Everything which is essentials is done only after the sunset during this period," Chamru Asur, a resident of Sakhuapani at Netarhat plateau, told Daily Pioneer.
Also read - Dummies guide to Durga puja: a look beyond the prayers
The tradition, according to various sources, apparently comes from a sense of feeling threatened by the 'Devas', or, more realistically, the Brahminical overlords. In a complete contrast to the Durga Puja festivities, the Asurs, fearing a repeat of the massacre their community faced at the hands of the goddess and her posse of devas, enforced a tradition of hiding. An irony, granted their continued lack of visibility in mainstream discourse.
Vandana Tete, who works towards reviving tribal histories, notes that the largest tribal community - the Santhals, also believe in the legend of Mahishasura. But they observe it differently.
"When others celebrate Navratri, the Santhals look for their missing chief, whom they call Hudur Durga. When they cannot find him, they pretend to dismantle a clay model. This is presented through a dance form," Vandana told The Indian Express.
In fact, beyond the tribal tradition, Mahishasura's following extends all the way to Mysuru - or Mahishasurana Ooru (Mahishasura's country). His statue stands tall at the city's Chamundi temple - proud, unafraid, unharmed, and outside of Goddess Durga's shadow.
Photo: IndiaPictures/UIG via Getty Images
Mahishasura, like Ravan, was considered a great ruler. The Asur narrative suggests that his death may have been the result of Deva insecurities. His death couldn't have come at the hands of any man, be it human or divine. So they created a woman, says mythology.
"The God knew that human would stop worshiping them, if the Mahishasura survived for long. So they joined hands and killed him dishonestly", Summit Asur a resident of Asur Line in West Bengal told the Daily Pioneer.
Summit's reading, though simple, marks the entry point to every counter narrative to Hindu mythology out there. Be it Ram-Ravan, Vishnu-Mahabali or Durga-Mahishasura.
Why silence the Asurs
This counterpoint to Durga Puja though is a far less popular discourse than that of Ravan or Mahabali. The latter, thanks to the Malayali festival Onam, enjoys a Christmas Santa-like popularity across Kerala. Though his Dalit and Asura identity isn't sung about in upper caste households, there is an irrefutable acknowledgment of Lord Vishnu's injustice to this popular Malayali king.
However, this year, during Onam, religion reared its ugly head in the form of a magazine article in the Malayalam magazine Kesari. It carried the RSS argument that Onam must be remembered as Vamana (Vishnu avatar) Jayanti, or, basically, Vishnu's Day. Of course, Smriti Irani never questioned this article for its "depraved mentality".
This is a classic example of the dominant caste attempting to reclaim the little visibility lower castes have had historically. The Durga Puja story, unfortunately, is so one sided that it is almost impossible to point out the obvious upper caste hegemony.
If one were to ask where it began, there is possibly no correct answer. However, there is evidence that suggests that the large scale Durga Puja festivities were often funded by the East India Company (EIC) in British-ruled India. These were hosted for the upper caste zamindars, who in turn supported the EIC's rule.
The gentrification of Durga Puja ensured that those living on the fringes -- the tribals -- were further distanced from the mainstream idea of religion. Their voices slowly diminished, their lands lost, and their culture made invisible.Also read - Not just Kolkata: photos of Durga Puja celebrated in other parts of India
"Ravan and Mahishasura are our ancestors and the celebration of their killing by trickery must not continue the way it has for centuries," The Times of India quoted activist Sushma Asur as saying. "The so-called upper caste always had a grip over documentation of Indian mythology and that is the reason why the tribal perspective never got highlighted."
While this was in 2013, this year, Sushma Asur will reportedly inaugurate the Phoolbagan Sarbojonin Puja Committee in Kolkata. This is the first time a member of the Asur community has been invited to do so.Perhaps it is easier to offer token gratitude than admit to erasure of an entire community's history.
File photo
The gender reading
Interestingly, the few assertions the Asur community have been able to make are also rather problematic.
While their reverence for Mahishasura and mourning for his death must be noted, the tropes used against his killer - Goddess Durga - are, of course, quite gendered.
The subaltern view, as noted by Forward Press in a controversial issue, suggests that Durga "had killed Mahisasura, the non-Aryan Asur ( modern day 'Bahujan') king through deceit, using alcohol and sex as an inducement." - Counter Currents
This version's way to showcase Goddess Durga as the scheming villain is to prove her fallen. Because if the goddess can drink alcohol, have sex with a man, etc, she must be worse than the lower caste Asur?
It projects her as a devious woman who entraps a well-meaning man, swayed by her arresting beauty. As if the Harlequin romance narrative weren't enough, the argument is taken further by suggesting that she must be a prostitute to have gone so far. The proof, it seems, is that till date Kolkata's red light area Sonagachi provides soil to complete the goddess' idol.That Durga was sexually liberated, alcohol-loving or self-aware isn't the problem with the argument. The problem is that it is seen as reason enough to believe the Mahishasura narrative.
To project Mahishasura as the true king why must Durga be vilified? Why can there be no greys to this otherwise 'Good vs Evil' narrative?
Also, must a woman always be judged on her sexuality over intent? Turns out, not even goddesses can escape judgment.