Demolition review: for a film about loss and grief, it's a surprisingly fun affair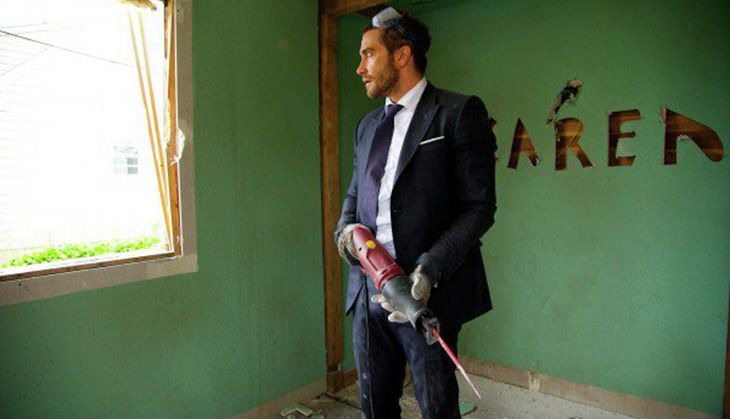 Losing someone you love is one of the hardest things you'll endure. It leaves a heartache that nothing can heal. With loss, we all react in different ways too.
In Demolition, written by Bryan Sipe and directed by Jean-Marc Vallee, Jake Gyllenhaal plays investment banker Mitchell Davis who goes completely off the rails after the sudden death of his wife Julia.
He doesn't even know how to react at first, accepting his wife's death coldly and then freaking out when a bag of M&Ms doesn't fall from the hospital's vending machine. He tries to go back to work at his office as if nothing happened, when his former father-in-law (Chris Cooper) instructs him that now is a good time to take apart his life and re-evaluate things.
Unfortunately, Davis takes that device all too literally and starts smashing and taking things apart at home and at office (refrigerators, furniture and anything that catches his eye) as some form of therapy.
It's not exactly black comedy but there's much dark humour to be found in the way Davis's eyes light up with glee at the destruction he unleashes.
Still, it leaves little room for middle ground; you'll either love it or hate it.
Our window to the guy's soul is a set of letters expressing regrets, ostensibly written to complain about the faulty hospital vending machine mentioned above. These unusually confessional missives reel in Karen (Naomi Watts), the customer service rep on the receiving end.
Quickly and quirkily enough, his life becomes intertwined with Karen and her genderqueer son (Judah Lewis) in ways that are borderline inappropriate, yet might be his path to catharsis.
Is it cloying in some parts? Sure, but at least the film owns up to it: "Everything has become a metaphor," Davis admits.
Much of the film's poignancy comes from Gyllenhaal's haunting portrayal, which uses facial expressions and body language - from his sunken eyes to his deliberate gait.
There's a lot of cool editing trickery that aims to let the viewers poke a feel inside Davis's head.
The film may not have the best possible ending, since that's where it veers the closest to more standard feel-good storytelling, but Sipe's script and Gyllenhaal's willingness to go to extremes make it a surprisingly fun affair.
The verdict
Demolition is first and foremost a movie about grief, and how everyone deals with it in different ways, but it's as unconventional as you can get, with its super dark comic tone that mirrors something like Fight Club or American Psycho.
That means that it probably won't be for everyone, although it never truly becomes quite as dark as either of those movies.
RATING: 3 out of 5