Cheating cheaters: I pretended to be a woman on Ashley Madison for 24 hrs
When the Ashley Madison hack was first announced, I wondered who would even use a site as sketchy as that.
Fast forward a month, I'm now an Ashley Madison user. Well, technically, 'I' am not an Ashley Madison user.
But I'm getting ahead of myself.
Let me start at the beginning.I was doing research for a story on the Ashley Madison hack when I realised why the site had so many users. No, not just because the human race can't keep it in their pants. Well, okay, yes, that too.
But not just that. It's also the ID verification process. Or, more accurately, the lack of one. After reading about fake IDs on the site, I decided to make my own just to see for myself.
1 minute and a host of poor life choices later, I felt like a whole new person. Because, well, I was.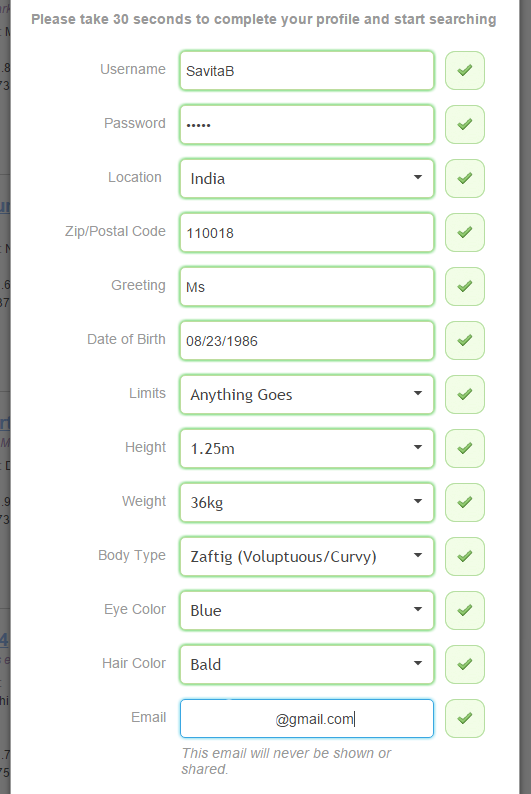 In one fell click I had become, in this order, Savita, a 29-year-old Indian woman, down for pretty much anything. I was afflicted with mild dwarfism, weighed a skeletal 36 kilos (the lowest AM lets users go) with a voluptuous figure somehow and so what if I had no hair, I had redeeming blue eyes.
Oh, and my email ID was fake, with the name of a high profile politician taken for good measure.
With that sort of profile, who could resist me, right? Content in the knowledge that Ashley Madison's ID verification was garbage and that only a moron would hit up Savita, I moved on with my life.
The next day, while filing my story, I was overcome with a morbid curiosity. What had become of poor Savita, cruelly abandoned as quickly as she was born?
Knowing that the office IT guy would throw a fit, I suppressed my curiosity until I got home. There, I logged in.
I had 4 'winks'. That seemed promising enough. I imagine the only winks Savita would draw in real life would be misdirected facial twitches. Not so on Ashley Madison.
Here, Savita was a rare commodity. According to the hackers, 90-95% of the site's users are male. The more generous estimations put this figure at 86%. So, naturally, Savita was a catch.
I was Dr. Frankenstein and Savita was my monster. But now, I wanted to take the experiment further. So, I decided to make her 'hot'. Ashley Madison allows you to tweak your profile as many times as you like.
So, in 30 seconds, Savita grew a full head of black hair, gained 15 kilos and grew by nearly a foot and a half. Cinderella's fairy god mother isn't a patch on Ashley Madison fakery.
Body image issues sorted, the floodgates opened. In under 24 hours I've had 90 winks, more than a few suitors and was introduced to the mad world of Ashley Madison user names:

Short, sweet, hopeful. But 'lets bang all night' is hardly the sort of man Savita would be into. Savita wants a man with a bit more class. Maybe someone into culture or the fine arts. But, while there were men available for erotic tickling, the closest I came to the fine arts was a man with a username from Harry Potter:

Clearly, he was hoping for something magical. He even gave me access to his private photo showcase - which revealed a bespectacled sardar in a striking pink turban.My heart said no, but my love for Harry Potter meant I couldn't resist:

And just like that, love was in the air.
I wasn't sure how to respond. Should I be direct? Should I lead him on? It turns out I didn't need to do either. My brief pause to choose an appropriate response was all it took.Worried messages about my lack of activity quickly filled my inbox. Hardly surprising considering the dearth of women on the site.
Still, needy isn't Savita's type. Sorry Mr Moody, you'll have to cast your mad eye elsewhere.Jilted, after her first failed interaction on the site, Savita decided to proceed with caution.
The next liaison had to be perfect.
So I decided to properly vet the profiles of my suitors. Oh dear god, I should've done this before.
Here are 3 examples, picked from men who messaged Savita.
First up, thestud_muffin, a 42-year-old Delhiite who gave Savita access to his pictures. He wasn't much to look at. But his profile. That was a whole other matter.
He's certainly a man who ticks all the boxes. Well, at least if all the boxes relate to sex. From erotic tickling to bondage. He's also the sort of person who lists politics and card games in the same sentence as 'visiting adult swing clubs', in the list of things he's looking for.
Too adventurous for Savita's liking.
The others weren't an improvement. Fifty Shades of Grey seems to have started a trend of BDSM. LustyCaring, another user treading the line between being pervy or sensitive, wanted to be my slave.
Then there was Soulszmate, whose username sounded like he suffered from a serious lisp. His desire for 'interested ladiess' only added to that perception.
Was Savita doomed to be alone? It certainly seemed like it. What's worse is that I realised the limitations of my charade. Two messages in and there were requests for contact on whatsapp and clandestine meetings at cinemas, none of which could happen. Or could have happened, but I know no woman I'd wish it on.
Besides, the only things they wanted that I could provide were natural breasts and a sense of humour.
Clearly, it was time for Savita to disappear into the Ashley Madison sunset. Despondent at her lack of options, she committed Ashley Madison suicide, disappointing the 150-odd men who'd tried their luck.
What's worse is that when I tried to replicate the experiment with a male profile, I got as far as creating my profile before I was hit with this:

Yeah, if you want to show up anywhere earlier than page 10 of search, you better pay for it. It's the same if you want to message a woman.
Which means all of Savita's admirers were paying for the pleasure of conversation with her. Some when she was still a 36 kilo, bald, dwarf. I get that India's gender ratio isn't great, but that's just sad.All the men I'd encountered had paid to have their profiles appear on page 1.
To chat with a tiny, tiny, bank of women. A bank made even tinier considering I'm almost sure there are more profiles like mine.
What's sadder is that, for all the men I'd spoken to, Savita was the closest they'd gotten to actual interaction. Which means that even their best experience on the site was an utter failure from the start. Unlike the men's profiles which were usually hyper-detailed with all the fields filled in, most of the women's profiles are blank except for the basic details required to make a profile.
A lot of them possibly fake. At least one profile I came across was also made by a man trying to bypass the pay-to-play rule for men. That's in addition to the allegations that Ashley Madison also makes fake female profiles to entice men.
For men, Ashley Madison is as effective as writing your number on the back of a bathroom stall: no one's going to call you and only men are going to see it. Though at least you don't have to pay to get your message out.
For women, Ashley Madison is just another day at the market: there are men all around you, the cheap ones just wink and the others don't mind spending some money to impress you. Ultimately, none succeed.
It might function better in other countries, but in India, Ashley Madison is a digital sausage-fest.