Central Intelligence review: Rock solid with a lot of Hart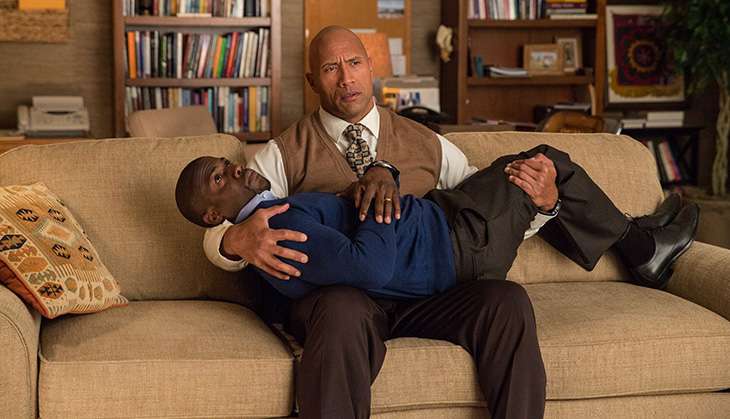 Dwayne 'The Rock' Johnson is damn funny - he's established that in previous films like the Tooth Fairy and Pain and Gain.
But with his new action-comedy Central Intelligence, he really kills it.
So it really isn't surprising he steals the show here - the muscular actor has never quite played a something like Robbie Weirdicht, an overweight kid who spent high school as the main target of every bully in school. His only defender? Calvin Joyner (Kevin Hart), who despite a varsity jacket, student council seat, always treated Robbie nicely.
Also read -Finding Dory review: a worthy sequel that looks beyond the laughs
Twenty years later, Robbie has transformed himself into a CIA super agent. He's now - now played by the hulking Johnson we all know and love - but as one character cruelly notes, "Once a fat kid, always a fat kid."
Robbie then happily involves Calvin in a high-stakes mission involving a race for secret codes, numerous double-crosses, a slighted Aaron Paul, and a bunch of awesome cameos (Melissa McCarthy and Jason Bateman).
The hows and whys of the quest aren't exactly important. Johnson brings a majority of the laughs but Hart also gives his character a heart: Calvin's promising youth has devolved into workaday adulthood, so maybe a little adventure is exactly what he needs.
And that's great because normally Kevin Hart is hit or miss with me. In movies like Ride Along, I have to tune him out. But in Central Intelligence, Hart steps back a bit an lets The Rock have most of the laughs. And that's not to say at all that he isn't funny in this movie, he is, but it was refreshing that he let himself fall into the background a little more than his usual.
Directed by Rawson Marshall Thurber (Dodgeball, We're the Millers), and written by Marshall, Ike Barinholtz (comedian/actor from Neighbors and The Mindy Project) and David Stassen, the script is full of well-timed gags and a tonne of pop culture jokes (at one point, Robbie tells Calvin he looks "like a black Will Smith").
And let's never forget, Honey Badger jokes.
So The Rock wasn't wrong after all:
When you see #CentralIntelligence FRI it'll be THE MOST FUN YOU'LL HAVE AT THE MOVIES ALL SUMMER. I guarantee it. 😂💯https://t.co/kar5VoQzuq

— Dwayne Johnson (@TheRock) June 15, 2016
The verdict
Central Intelligence may be a buddy-comedy, but it's Johnson's movie all the way.
And it's been a while since I've clutched my stomach so hard or have my face hurt thanks to laughing so hard.
So if you want some light-hearted fun while attempting to survive the summer heat, this is it.
RATING: 3.5 out of 5
Also read - The Conjuring 2 review: James Wan hits the horror sweet spot again