Censor & Sensibility: the films likely to offend Pahlaj Nihalani in 2016
Asad Ali
| Updated on: 14 February 2017, 2:23 IST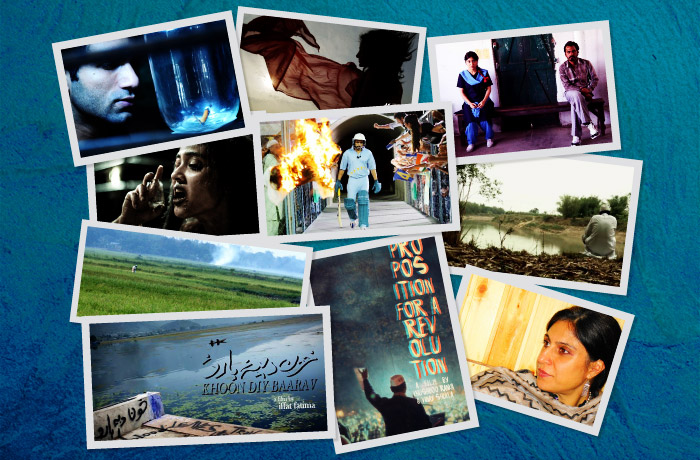 If Asian Sky Shop sold a washing machine to rinse films of all subtext or overtones - social, political, religious, sexual - the Indian moral police would pre-order in bulk.
Sadly, no such product exists.
What does however exist is censor board chief Pahlaj Nihalani and his band of (righteous) brothers who vigorously rinse all films till it's certain no sensibility of any kind can be hurt by their release.
Read- We love the movies: 8 Bollywood films of 2015 you shouldn't have missed
From a kiss (Spectre) to a riot (Muzaffarnagar Baaqi Hai), Nihalani has had a busy year protecting innocent Indians from the evils lurking in movie halls. Unfortunately for him, it looks like 2016's going to stay busy - there's a slew of releases lined up likely to appall his conservative sensibilities even further.
Here's a quick primer:
01
Khoon Diy Baarav (Blood Leaves Its Trail)
Filmmaker: Iffat Fatima
A film that looks at 'forced' disappearances in Kashmir since the 80s and features family members from the Association of Parents of Disappeared Persons. A censor certificate for this film is likely to pose a serious challenge, though it is available on Vimeo in three parts:
On a trail of vanished blood - pt1 from IAWRT on Vimeo.
02
What the Fields Remember
Filmmaker: Subasri Krishnan
This one's about the 'Nellie massacre' - large scale violence against Muslims in Nellie, Assam, in the 80s over rightful citizenship.
The film was screened at IFFI, Goa recently. Likely to upset establishments, so don't count on seeing the film, but here's a trailer:
03
Proposition for a Revolution
Filmmakers: Khushboo Ranka & Vinay Shukla
The now-famous and much anticipated documentary about the rise of Aam Aadmi Party. The trailer is a powerful piece of filmmaking and the film could well do a lot to re-spark flagging interest in the party.
It's supposed to get a proper release in 2016, but precisely because of the influence it could wield on behalf of AAP - even though it's an entirely independent project - it will be interesting to see if it retains the same kind of buzz and what states it manages to release in. Especially since the censor board chief's recent ode to Modi makes it entirely clear where his sympathies lie.
Filmmaker: Rahul Dahiya
Haryana and its honour killings form the core of Dahiya's debut feature film. The opening scene itself is supposedly quite explicit, showing a woman getting molested in a moving vehicle. And since our censor board seems to believe that what you don't see doesn't happen - this film may well receive a limited release or a demand for drastic cuts.
Filmmaker: Qaushiq Mukherjee (Q)
From the maker of the underground cult-ish Bengali film Gandu comes this attempt at horror and gore. About four youngsters who are trapped in a mall and what ensues after darkness falls.
The film was screened at MAMI this year, but most of Q's films end up being labelled controversial, and don't see a theatrical release. We think Mr Nihalani may well reject this film on grounds of the previous film's name alone!
Filmmakers: Jimmy Goldblum, Adam M. Weber
Kathputli Colony has been in the news repeatedly in recent times and for good reason. This utterly unique colony of street artists were being forcefully evicted by the Delhi administration because the land that used to be their home was sold to a corporate house.
This documentary hasn't yet come to India and given the influential institutions it might annoy, we're not going to bet that it will, either.
Who says we're intolerant: 15 times bigotry and idiocy thrived in 2015
Filmmaker: Shlok Sharma
An extramarital affair between a schoolteacher and a 15-year-old female student set in Madhya Pradesh. The subject alone means the Censor Board is likely to examine it with a fine toothcomb, and when you do that - you're always going to encounter something you think shouldn't exist. It premiered at the 15th annual New York Indian Film Festival (NYIFF), and has already been screened at MAMI this year, but that may be its best-case scenario.
Filmmaker: Tony D'Souza
Finally, a film around one of Indian cricket's poster boys-turned-fallen heroes, Mohammad Azharuddin. Emraan Hashmi plays the former Indian skipper.
Given how match-fixing allegations still shroud Azhar, it'll be interesting to see the perspective the film offers - and especially, how it depicts the other 'influential' members of India's cricketing community. If it runs afoul of one of them, we're not sure it will emerge from the Censor Board's hands unscathed.
Filmmaker: Milan Milap Zaveri
A sex comedy starring Sunny Leone in barely there bikinis. 'Nuff said.
It's already been delayed at the censors and is finally set for an early 2016 release. We'll be surprised if it doesn't create a shitstorm post release either - someone, somewhere is bound to be hurt, on behalf of their community or 'Indian culture'.