Banksy just reminded us that Steve Jobs was the son of a Syrian immigrant
Asad Ali
| Updated on: 14 February 2017, 1:16 IST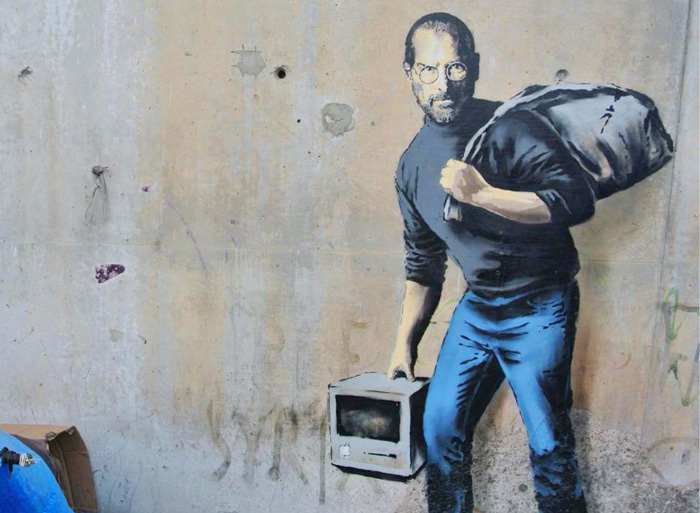 Subversion of art sounds cool doesn't it? It's also incredibly difficult, especially if you're of the underground variety of artists. But Banksy's been there and is still doing that, quite effectively for over two decades. And the enigmatic global grafitti artist whose identity is still unknown for over two decades now has just revealed his latest work - Steve Jobs.
Banksy's portrait of Jobs appeared on a concrete bridge in the Calais migrant camp in France recently. It shows Jobs carrying an old Apple computer in one hand and a sack of belongings on his back - basically, Jobs as a Syrian refugee.
The location assumes significance because Calais, a makeshift town often referred to as the Jungle, is home to more than 7,000 migrants, mostly from recent conflict zones like Syria and Afghanistan.
Independent quotes Banksy as saying, "We're often led to believe migration is a drain on the country's resources, but Steve Jobs was the son of a Syrian migrant. Apple is the world's most profitable company, it pays over $7 billion a year in taxes - and it only exists because they allowed in a young man from Homs."
Jobs wasn't Banksy's only statement in Calais; the artist also created a parody of Theodore Gericault's painting The Raft of the Medusa.
Through Banksy's prism, it's a bunch of immigrants aboard the raft trying to reach out to a passing ship.
Another piece has the image of a kid peering through a telescope with a vulture on top of it. A wall in the vicinity has "Maybe this whole situation will just sort itself out" scrawled over it.
Not everyone has gotten behind Banksy's Jobs depiction though: some say that the potential to create an Apple equivalent isn't the only reason to accept refugees.
That may be missing the point though: the depiction of Jobs quite simply indicates the wealth of possibility in every individual, origin be damned.
Still, this is a rare occasion when the cult of Banksy has faced criticism. On most other occasions though, the artist has been pretty much on the button. Earlier this year, an astonishing Banksy exhibition called Dismaland ran from August till September; it was of course a twisted version of Disneyland and was pegged to be an amusement park "unsuitable for children."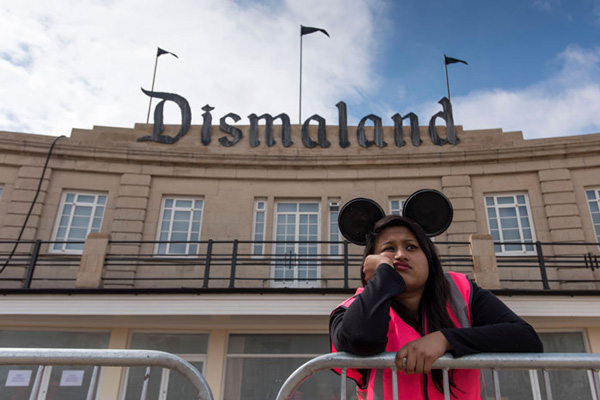 The exhibition was organised within a derelict lido in Weston-Super-Mare in the UK and featured ten new works by Banksy alongside works by 58 other artists including the likes of Damien Hirst and Jimmy Cauty. It was installation art and cultural statement on a rarely seen scale, and one only an artist of Banksy's skill could have kept quiet till it arrived on the scene one morning.
Post the exhibition, Banksy used the leftover infrastructure from Dismaland as aids to Calais refugee camps.
Always highly political, Banksy's art has been finding unusual routes to sharing thanks to the sharp rise in social media outlets.
In 2013, there was another major Banksy phase. The 'residency' titled Better Out Than In saw Banksy literally taking over New York city by announcing the location of one art piece every morning on his website and Instagram account. A hotline was also set up to provide consciously inane descriptions of the artworks, mocking the high-art tone of the city's elite. In what has to count as an epic scale of irony, what followed was a legion of fans trying to get to the 'Banksy' first, some even trying to take pieces down and sell them at a profit.
Popular pieces included a Ronald McDonald statue getting his clown shoe shined and a livestock truck filled with children's stuffed farm animal toys. It was called Sirens of the Lambs.
But perhaps the earliest artwork to get Banksy the kind of attention that's now due any new piece by the artist was a wall mural called The Mild Mild West. It featured a huge, smiling teddy bear with a Molotov cocktail in his paw, facing three policemen holding up riot shields.
The author of an illustrated book called Banksy's Bristol: Home Sweet Home, Steve Wright, told The Telegraph in 2008: "People here are fond of that particular piece. Maybe because it's a kind of comment on an aspect of the Bristolian character - a laid-back cider-drinking hippy who can nevertheless be roused into action. Fluffy but defiant."
And perhaps that's the best description of Banksy the world might ever get.