Angry Indian Goddesses is a movie that can spark a revolution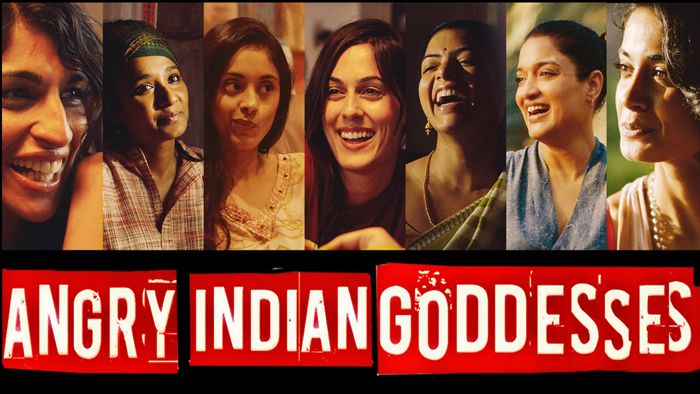 In 509 BC, a woman was raped.
We know about this incongruous woman who existed before many of our gods did. Because her rape sparked a revolution. And the collapse of the Roman Empire.
This is a lesson we've had to learn, forget, and relearn many times over many years because we still haven't figured it out: a system works only as long as those who belong to it, benefit from belonging to it.
The instant you disenfranchise a large enough group, strip away all hope and treat justice like a luxury, all the social threads that make a fabric, come undone.
That's the festering bile Angry Indian Goddesses is tapping into.
It's stripped the curtains from conversations we have with our female friends over glasses of wines in the privacy of our living rooms.
Correction, it's stripped the curtains from conversations we are allowed to have with our female friends over glasses of wines we are allowed to drink in the privacy of our living rooms that we are constantly reminded is a luxury that we are allowed.
These are conversations we have all the time. Where we vent about overbearing mothers-in-law, and then point out that women are our own worst enemy.
Where we dismay about the fact that Hillary Clinton, Indira Gandhi, Margaret Thatcher and Condoleezza Rice had to cut their hair short to be taken seriously.
Where we speak in hushed tones about X's sexual assault, and Y's wife-beating father till it builds into a debilitating frustration that we haven't figured out what to do with.
Angry Indian Goddesses deals with all of this - the injustice of familial patriarchy. Of the misogynistic workplace. Of women being unable to claim public spaces. Of objectification in entertainment industries. Of our obsession with monochrome definitions of beauty and sexuality. And of the unequivocal failure of our justice systems.
And in the film the vehicles of all of these narratives are seven women.
Many reviews have declared this a failure of the film. It's simply dealing with too many issues at once.
But then again, so are we.
Reminder to look around you
I watched the film alone, with a group of girls sitting a few rows ahead. The conversation among them inevitably became about which girl relates to which character. And I began to think back to the women in my own life.
All have been assaulted sexually, in public or in private. Most have suffered from debilitating body issues. One has been raped. Two have been physically abused. One has struggled with her sexual identity for a greater part of her life.
Two have seriously contemplated suicide. One has attempted it. One is constantly battling a family that did not permit her to work because ab ghar ki ladkiyan paison ke liye kaam karengi (now will the women of this house work for money)?
One has been unable to have sex with her boyfriend of three years because of scars left by a man who inserted his fingers inside her privates when she was ten years old. I'm just asexual, she will laugh and say.
Those are just the women I know. The urban, upper-middle class women who have chauffeured cars at their disposal and need never confront 'societal realities' if they choose not to.
And these are just the stories I know. There are also the unspoken ones, confided to only a select few. Or never shared at all.
Which is why it's important to remember that Angry Indian Goddesses isn't some sort of embellished version of reality. It requires no suspension of disbelief. These are not seven characters representing what some of our half a billion women may face.
These are the believable, identifiable stories of any seven.
And one day, things will start to go wrong
These stories aren't the film - they're where the film begins. The crux of what it actually deals with is what happens to all that anger. Given the wrong cocktail of circumstances, what outlet will it find?
The answer isn't pleasant for anyone.
Because we've created a hostile, unforgiving environment when women are constantly left livid, humiliated, and weak. So, rather than wait for the benevolence of the Indian judiciary, some of them are beginning to go after predators themselves.
Vigilante women's groups are sprouting across areas worst plagued by rape and female subjugation. From Malda to Bundelkhand, women are beginning to violate social contracts that have done nothing to protect them.
Because they have nothing to lose.
And that's what makes these Angry Indian women, Goddesses. Seemingly hostile, with a courage born out of anger, and set to create a new world order.
And that is (and here's what Pan Nalin has gotten spot on) precisely the makings of a revolution.
The views expressed here are personal and do not necessarily reflect those of the organisation.
More in Catch:
Talvar is a masterful critique of our weakness for hysteria and slander
Child born out of rape has right over assaulter's property, rules Allahabad HC
Three horrifying accounts of rape, one binding factor: 'Protectors' turn perpetrators