400 years ago, traders came to India not just for spices, but also art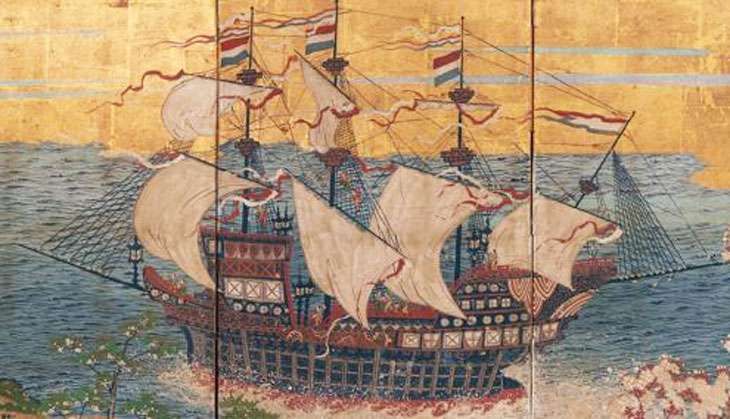 Imagine traversing half the world to put together 300 outstanding and rarely seen works of ceramics, decorative arts, furniture, metalware, paintings, prints, engravings and textiles from both public and private collections to tell a story.
The untold story of Art in the Age of Spices.
The story from 400 years ago when trade was not limited to spices, as we have long believed, but was an exchange of ideas, art and exotic objects too. In many ways a precursor to our modern day globalised trade.
Through a collection of artefacts James Bennett, the curator of Asian art at the Art Gallery of South Australia, tells this story. Titled "Treasure Ships: Art in the Age of Spices" it presents the complex artistic and cultural interactions between Europe and Asia from the 16th to the 19th centuries.
Bennett was in Delhi recently to deliver a lecture at the National Museum. With him, the audiences travelled to Australia, Portugal, Singapore, the United States and various parts of India from where he had curated the pieces.
Bennett spent five years travelling and collecting artefacts to resurrect the world where international trade in spices and other exotic commodities inspired dialogue between Asian and European artists.
This Dilliwallah uses visual art to familiarise Gen X with Faiz, Manto & Paash
Art Gallery of South Australia
The India connection
When Bennett embarked on this project, India was obviously an important stopover.
"Yes, India, and its museums, are always a treasure house. I had previously visited Goa and was aware of India's astonishingly rich Christian heritage. This country is burial place to two among Christendom's greatest saints, St Francis Xavier (Old Goa) and Thomas the Apostle (Chennai)," Bennett tells Catch.
"The so-called 'spice trade' also included huge global exchanges in decorative arts produced in regions such as Gujarat, Mumbai and the Coromandel Coast. The treasures of India, especially the so-called 'mechanical arts' (to use an archaic term), have been fabled in Europe for centuries."
Bennett's expertise lies in Indonesian art while his associate Russell Kelty, who helped him co-curate, in East Asian art.
"It took two years - and a lifetime - to develop the show. It was the type of exhibition which I could only have curated at this stage in my life."
Art Gallery of South Australia
Treasure Troves
James Bennett is a man who has worn many hats.
In a career spanning four decades, he has worked as a puppeteer and puppet maker, theatre designer, textile artist, university lecturer, arts adviser on a remote northern Australian Aboriginal community and museum curator.
He considers his formal qualifications as minor - although he is currently enrolled as a Doctor of Philosophy candidate at the University of Adelaide.
But it is this "unorthodox career path" which he thinks has profoundly enriched his understanding and appreciation of art in a manner not possible through formal academic qualifications.
He got interested in art from the Age of Spices because in recent years there has been a number of major international exhibitions on East-West art that reflect a growing understanding of cultural globalisation in the pre-modern era.
"I thought we, as Australians, had a unique perspective on this history as the occupation of this continent by the English in the late 18th century was a late outcome of the spread of the European diaspora during the age of spices," says Bennett.
"I had worked on cultural exchange projects with Indonesia, the original 'spice islands', over many years and have an abiding passion for its art and history as well as for Indian trade textiles produced for the Southeast Asian market during that era.
"The Art Gallery has an exceptionally large collection of Indian trade textiles, the earliest radio-carbon dated to the 13th century, due to the generous benefaction of the renowned Australian collector, Mr Michael Abbott AO QC. Perhaps these experiences formed the initial 'seeds' for my interest in the project."
James Bennett (File Photo)
Indians as poor archivists
Indians do not have a great reputation when it comes to archiving. Our stories are of neglect - whether it is our film reels or our architecture.
But Bennett doesn't think so. Or at least doesn't want to say so.
"I don't know. I think many of my colleagues in India are well aware of the challenges to the present generation to preserve and enhance appreciation of this country's immensely rich cultural heritage. India ought to become as famous for the way this society preserves cultural heritage, including archives, as for its IT skills.
"Every society needs to take responsibility for preserving the past for the future. It is not enough to say 'our heritage is important' when unimaginatively presented museum displays appear dusty and neglected.
"We personally would never invite guests into our dwellings if our homes were dirty and unkempt. How can we, as museum professionals, expect the public to be interested in our collections if objects are likewise presented looking dishevelled and unloved?"
An exclusive on India?
Bennett speaks of India with much love.
Ask him if he has plans to curate an exhibition in India, he says, "Of course. I would love to curate an exhibition in this country! Any offers? There have been many exhibitions on Mughal and Deccan Islamic art but recently I have become particularly interested in the aesthetic heritage of South Indian Islam.
"The coastal Muslim societies in this part of the world had such far-reaching international links, both with the Middle East and Southeast Asia. These typify India's long history of cosmopolitanism and the symbiotic link between art and commerce".
And he insists that Indians care about their history and historical sites.
"...visit any museum or historical site in India and you are certain to see people from all walks of life as visitors. Look at contemporary Indian movies or even just the graphics seen on local television advertisements, and here there is ample evidence of this nation's astonishing creativity."
However, if Indians do not care about the artefacts in the museum then the blame should be on those in charge, he says.
"If people become bored visiting museums it is the fault of us, as custodians of these institutions, and not the collections themselves or visiting public. We often forget that whoever walks through the door of our museums, has had to make conscious effort to visit, has had to be willing to give up time for other activities to come, has had to pay petrol or public transport costs to get there and has had to pay an admission fee to enter. If the visitors leave disillusioned or bewildered by the experience, then we have to ask ourselves, 'Where did we get it wrong?' Not 'Why don't people like art?'"
The Exhibition
With his lecture, Bennett presented the story of exploration and trade, discovery and shipwrecks, as well as illustrating the astonishing beauty of Chinese porcelain, known as "white gold", and vibrant Indian textiles created for export around the world.
He examined the impact of the Age of Spices on the "discovery" of the Australian continent and the commencement of English occupation in 1788. The colonial art of the period displays the aesthetic reverberations that continued in the Australasian region long after European ships had ceased carrying cargoes of nutmeg and cloves.
In fact, Bennett dispels the myth that Europe's infatuation with pepper, nutmeg and cloves - often explained in terms of the necessity to preserve cooked foods in the days before the invention of refrigeration.
"This is a half truth, which takes little account of the complex reasons the condiments of luxury and status were so avidly sought, often at great expense to human lives," Bennett is quoted as saying in the invite to the exhibition.
"In 1498, Vasco Da Gama's small fleet became the first to reach India, landing with the famous words, 'we come in search of Christians and spices'. Within a decade the Portuguese soldier aristocrat Francisco de Almeida (1450 - 1510) had ruthlessly seized control of the Indian Ocean spice trade and established Portugal's permanent presence in Asia that lasted four hundred years."
Portugal remapped the West's view of the world and created a mercantile spice empire stretching halfway around the globe during the fifteenth sixteenth century.
Other highlights of the exhibition include two works from the personal collection of Queen Adelaide (1792-1849) after whom the city of Adelaide was named in 1836, artefacts retrieved from the Batavia, which sank off the Western Australian coast in the seventeenth century, and a magnificent early 19th century Chinese punchbowl depicting Sydney Cove, that locates Australia within this global history.
The Indian favourites
Bennett's favourite Indian curator is a Roman Catholic priest, Father Warner D'Souza, originally from Goa, who has no museum training.
Father D'Souza established the Mumbai Diocesan Heritage Museum which is a private museum of Indian Christian art, whose astonishing collection is lovingly cared for and beautifully presented, says Bennett.
His gallery borrowed a number of objects for the Art in the age of spices exhibition from there.
"The museum's displays cover a period of four hundred years and is testimony to how the desire to preserve a community's cultural heritage can inspire a great museum collection with just a few hundred or less objects," says Bennett.
Ask him which was the most creative era art-wise and he says, "From Mohenjodaro to the present, South Asia has been a 'winner' in creativity but we can no more measure creativity in a culture than measure love in a person."
Khajuraho temple art meets Indian censorship through Akshita Chandra's work