3D-printed buildings are the future. Dubai just made them the present too
Catch Team
| Updated on: 10 February 2017, 1:47 IST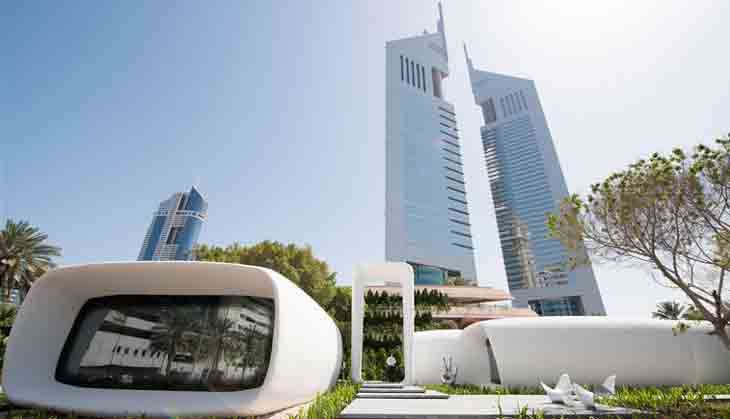 Dubai has pulled off an encore of sorts, architecturally. After the Burj Khalifa, the tallest mega-structure in the world, Dubai has just officially opened the gates to its - and possibly the world's - first 3D printed office building.
Photo: GOVERNMENT OF DUBAI

Called, a tad unimaginatively, 'Office of the Future', the unique 3D-printed building's construction was finished in just 17 days. The large concrete pieces that make up the building were first printed with a 37-meter-long 3D printer located in Shanghai, China. Next, the pieces were shipped to Dubai to be built.

Also Read - My Budget 2016 | What the 3D printing industry in India wants from FM Arun Jaitley
The 3D printing advantage
The advantage of 3D printing such buildings? Yes, it's cool, but, more importantly, going by feedback from architects who headed the project, using the printer - instead of building conventionally on-site - was massively beneficial. The builders managed to save about 80% on construction costs, 60% on labor costs, and 60% on construction waste. For the project, Dubai employed an Austrian office furniture company Bene - they looked into the interior furnishings of the building.
The building, spread over 250-square-metres, was finished in just 17 days and cost approximately US$140,000. According to reports, one person was employed to monitor the 3D printer full time. Seven people took care of the installation of building components on-site and about 10 electricians plus other specialists were in charge of core engineering.
Photo: GOVERNMENT OF DUBAI
The building will house the Dubai Future Foundation, though only temporarily. Moving forward, there are plans to use the space for a range of activities like exhibitions, workshops and other events.
More importantly, the Dubai powers-that-be aren't looking at this project as a one-off. There are plans to incorporate 3D printing for other projects on a consistent basis. In fact, the city-state has already developed rules and regulations for 3D printing in the construction sector. By 2030, Dubai aims to have a quarter of all local buildings constructed using 3D printing. Dubai Electricity and Water Authority (DEWA) has joined the fray and has been working on plans to implement 3D printed laboratories in Dubai's Solar Park.
Photo: GOVERNMENT OF DUBAI
"We implement what we plan and we pursue actions not theories. The rapidly changing world requires us to accelerate our pace of development as history does not recognize plans but achievements," Vice President and Prime Minister of the UAE and Ruler of Dubai His Highness Sheikh Mohammed bin Rashid Al Maktoum said this when he inaugurated the building in May. Clearly, His Highness doesn't just believe in empty rhetoric.
However, the art of harnessing 3D-printing technology to construct buildings isn't new or a secret exactly. A number of countries already across the world have either started on it already or are in the process of finishing. Some countries where there's been news of standout projects in recent times are:
CHINA
Chinese company WinSun created a five-storey apartment building and a 1,100-square metre villa last year, and showcased it at Suzhou Industrial Park. The printer for the project was developed by one Ma Yihe - it's a 6.6-metre-high, 10-metre-wide and 40-metre-long device which prints the parts at WinSun's facility.
SINGAPORE
Authorities in Singapore have recently announced that they're in the process of building residential housing using 3D printing technology. The people behind the project? Singapore Centre for 3D Printing at Nanyang Technological University. Professor Chua Chee Kai, the executive director of the Singapore center, said his team has plans in place to print the key structural components of individual stories of the building, and then to stack them - much like Legos. Only much larger in scale, and hopefully more stable.
AMSTERDAM
Presenting a beautiful canal house, all 3D printed. That's what Amsterdam is busy with right now on the 3D printing front. Their 3D Printed Canal House, located in Amsterdam North, is a three-year publicly accessible 'Research & Design by Doing' project. Officially launched on March 1, 2014, the house is getting printed with KamerMaker - a gigantic 3D printer which can produce elements of 2 x 2 x 3.5 meters.
USA
Uncle Sam can't be far behind on anything high-tech. Chicago-based Urban Architecture Studio has revealed a project that's already underway - a freeform 3D printed house called 'Curve Appeal' which will be fully ready by the first half of 2017.
To be built in Chattanooga, Tennessee, this 800-square-foot single-family home will have a cave-like form wrapping around a glass-paneled structure which will have a kitchen, a bathroom, a living area and a bedroom. The only difference with other 3D printed housing projects is in the technique. Curve Appeal will be made using freeform 3D printing - this process allows materials to be created in open space. It's not a layer-by-layer build process which is typical of traditional 3D printing.

Also Read - Food Ink. - the world's first 3D printed restaurant is almost here!