25 artists. 100 shipping containers. 1 amazing idea. Delhi St+Art festival is back
Asad Ali
| Updated on: 14 February 2017, 5:30 IST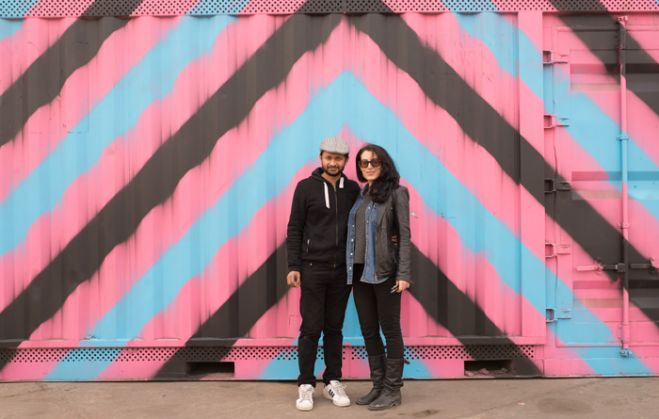 When you hear of hundreds of gigantic shipping containers being used as canvases for art by a motley bunch of artists, painting over the course of a month, you imagine Berlin or Paris as home to these disruptors.
And you'd be wrong.
Over 25 artists are collaborating to paint 100 shipping containers as part of a project called WIP - on the outskirts of Delhi.
Also read - Banksy just reminded us that Steve Jobs was the son of a Syrian immigrant
They're part of the fourth edition of the Delhi St+Art Festival and highlight just how firmly the street art gene has emerged in India.
This is art right off the street, minus the gallery and expensive champagne, and it's part of two main projects the St+Art Festival has taken up this year. The second is the redevelopment of Lodhi Colony into a public art district, but it's WIP - Work in Progress - that is truly unusual. The artists will be working on the containers throughout February, and visitors can experience their ongoing creative process in real time.
The Delhi St+Art Festival is the initiative of an enterprising group of four who set up StartIndia Foundation in 2013. We hunted down Hanif Kureshi, cofounder and one of the stalwarts of the Delhi street art scene, for a chat on the 2016 edition,
So what's happening at this year's festival?
There are two major projects this year. One is at the ICD Tughlakabad called 'WIP', and the other one is at Lodhi, which we are converting into a kind of open air art district where the outdoors becomes the gallery space. Lodhi Colony is ideal because it's centrally located, pedestrian friendly and more residential with symmetrical walls, and each artist that way gets a big canvas to themselves.
What's the idea behind WIP?
We've been wanting to do something with containers for some time now. It's our foundation's attempt to make art more accessible to the audience. So even in a venue as unexpected as a container depot, the aim is to ensure people come in and realise what art can do.
The Chief Manager of Container Corporation of India Ltd (Concor), Sanjay Bajpai, asked us if we were interested in this space. When we saw it, we realised that the place could give a very different perspective to the art and could make a difference not just for visitors but for those who work nearby. There are about 10000 people working in this area but I doubt if even 5% of them access any gallery for art. Giving art to these people would be a worthwhile motivation in itself. People's views about art are often limited to white cube galleries. Even at the India Art Fair you're mostly exploring closed spaces. There's no larger than life immersive experience of art that we are trying to create here.
How many shipping containers are you using for the project?
There are 100 containers that we are using - but they aren't abandoned, they will be here till end-Feb and will then be put into use soon after that with the artwork intact. 24 artists from across the world are participating in this.
Why containers, though?
As a medium they're pretty flexible - and they offer the scale we want as a community of street artists. They're also larger than life and leave an impact. Also, once these containers are painted they will be sent off to different corners of the country. Imagine standing at a random station and watching a container like this on a train. It will be a surprise and will generate some curiosity. So even after the exhibition is over, it will still reach audiences.
How has the festival evolved from the first edition that you organised in 2013?
The first festival happened in a small locality in Shahpur Jat, but it was still low key and had a limited audience. From there to Lodhi Colony has been a seriously positive experience. In the last edition we focussed on different parts of the city, not just one or two - so from Azadpur Mandi to Connaught Place, we covered a fair bit of the city. But we felt there needs to be concerted energy in one or two places to make a bigger impact.
You want to make art accessible, but Lodhi is perceived as an upscale neighbourhood...
I wouldn't say it's upscale, it has a lot of senior government employee residences. And frankly, if you look at the walls of Lodhi Colony they are plastered with political posters and the cement is chipping off. They aren't in great condition. We are working with Swachh Bharat mission director Praveen Prakash, and because we are working with the Ministry of Urban Development we also want to showcase what Clean India can actually be. To this end we are also building low-cost DIY urinals.
Governments and street artists have often not been on the same page. How do you reconcile the fundamental differences in attitude?
It's interesting that the government is partnering with us. I think they are realising the importance of street art in urban spaces... so our aim is to have four more such public art districts in India by 2020. The Lodhi Colony project is like a pilot for us... but yes, with the government on board we'll have to be sensible about the topics we choose.
Doesn't that compromise the artist's vision?
Not really. Our brief to artists is fairly simple. as long there isn't any nudity, religion or political thing involved...
But that's leaving out a chunk of what makes art so powerful...
Not really. There are different forms of expression and ways to express yourself within the set parameters. The streets are free anyway, right? Only as part of the festival are there certain guidelines, otherwise it's a free street, nobody can stop anyone from doing what they want!
But there's a thin contentious line between graffiti and vandalism
Yes, true. But as part of this year's festival there's not much grafitti involved.
Is that because the Ministry is involved?
Yes. The government has an allergy to the word graffiti, even though they don't know what it is!
What do you want people to feel when they encounter this kind of public art?
We just want them to experience what we are doing and the scale at which we are doing it. The purpose is to engage with more people here than in a typical gallery. Because even in the biggest gallery in India you will see the same circle of people wandering around drinking cheap wine and talking to each other about some bullshit. We don't want that same crowd here.
Any particular artist we should look out for?
Hendrick, who painted the Gandhi at ITO, is definitely one to watch. That project was also strategic because we wanted to show what street art could do within a legitimate ambit. In fact Hendrick always paints unknown faces but we requested him to paint Gandhi so people could understand the power of street art. This year, Hendrick is going to come and paint on one of those silos. It will be a portrait of one of the kids who works on the massive Tughlakabad landfill adjacent to the ICD premises. So from Gandhi at a prime spot to an unknown face at the unlikeliest of spots in the city will be an interesting contrast.
More in Catch -
This weekend, this is what Delhi looked like. Inside #DelhiComicCon2015's fantastic Cosplay