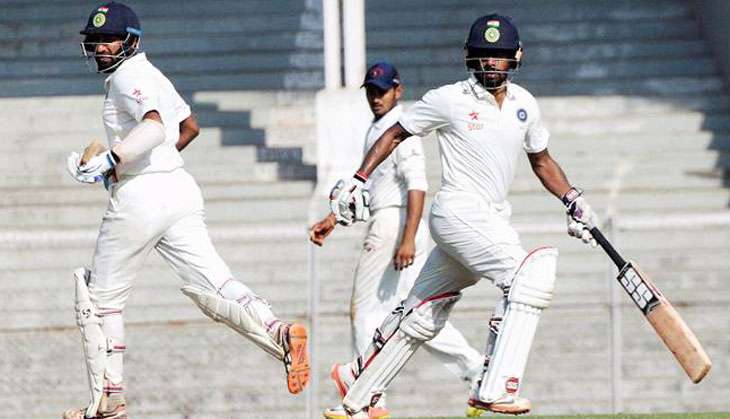 Chairman of selectors MSK Prasad today indicated that Wriddhiman Saha will regain his rightful place in the Indian Test for upcoming matches as he was out owing to injury and the Irani Cup game was "not his trial" but a case of testing his fitness.
"We had made it clear that someone who is coming back from injury, had to play in a domestic game and this was the best opportunity. Right now Saha and Parthiv are the best Nos 1 and 2 that we have. It was only to test fitness that we had Saha play here."
While Parthiv had a good comeback in Tests with two half-centuries followed by Ranji Trophy winning hundred against Mumbai, Wriddhiman played one of the best knocks in Irani Trophy history as his 203 not out enabled the Rest of India to chase down a near 400-run total today.
"Personally, I can say that Wriddiman Saha was out of the team because of injury and not because he was out of form. He was 'Man of the Match' in the Kolkata Test against New Zealand and got a hundred in West Indies," said Prasad.
"I am happy how Parthiv has responded to the call-up. He is a fighter to the core. He single-handedly brought Gujarat from nowhere to being the Ranji Champions. He is in our scheme of things. There is just a minor difference between the two.
When it comes to Test cricket, it is always the man who keeps better who gets the nod," Prasad gave ample hint about what the selectors' decision will be.
Prasad felt the glove work of Parthiv has also improved considerably but Wriddhiman still has better hands.
"Parthiv's glovework has definitely improved. But Saha has got better hands and that's where he scores little more points than Parthiv. With today's batting, Saha showed why he is the number one keeper-batsman in the country. When he came out to bat yesterday the team was struggling at 63-4, and to take the game away from Gujarat, is phenomenal. So it s a healthy competition between the two."
--PTI