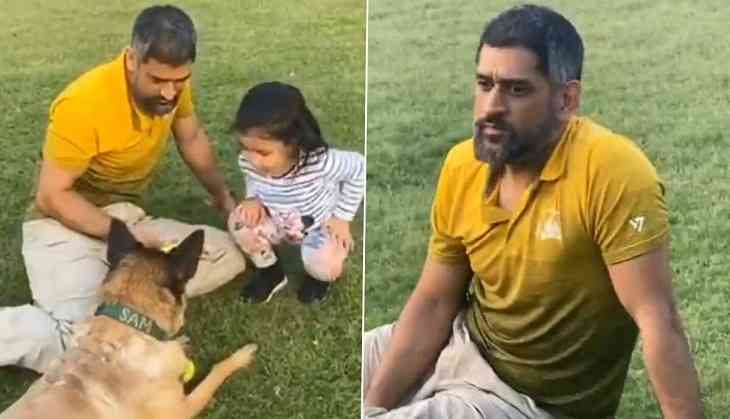 Dhoni fans already know former Indian skipper Mahendra Singh Dhoni's love for bikes and his pets. Several photos and videos have surfaced the Internet which proved that he is extremely fond of his pets. Despite away from the spotlight, MS Dhoni is captivating his fans and followers with his astounding activities. During the lockdown, his fans have seen his different side.
A video has surfaced on the social media where Mahi can be seen cuddling his pet dogs on the sofa while Ziva Dhoni, who is sitting next to them, can be seen using a tablet.
See video:
Bundle of Happiness..💛🦁

Video Credits: @SaakshiSRawat@msdhoni #Thala #Dhoni pic.twitter.com/QIfuF31hqZ

— Whistle Podu Army ® - CSK Fan Club (@CSKFansOfficial) June 4, 2020
The awdorable video has made the day of Thala's fan and also thanked his wife Sakshi, who shared this video on Instagram on Thursday.
Amid COVID-19 lockdown, Dhoni is having family time at his Ranchi residence.
Earlier, he was spotted enjoying a bike ride with his little daughter Ziva at their Ranchi farmhouse. In the video, Ziva was sitting on a fuel tank and the father-daughter duo was enjoying the rainy evening on the two-wheeler.
Sakshi Dhoni had also spilled the beans about Dhoni's love for a bike in a recent interaction with sports presenter Rupa Ramani for Chennai Super Kings.
She revealed how Dhoni has modified his bikes during the lockdown. "Mahi has 9 bikes. He opened them up, he bought parts and assembled them. He was assembling a bike and fully assembled it and he forgot to put one part and the next day he had to open the bike and he had to do it all over again," Sakshi said.
Dhoni's wife also told about why Mahi stays away from social media and why he never does an Insta live?
"Mahi won't come and talk on Insta live. He has had pressure to post videos on Coronavirus and all but he hasn't because if your PM has said something, you jolly well follow it. And nobody is bigger than your PM right now in the country. This is the reason why he hasn't come and stated anything on social media," Sakshi said.
Meanwhile, Dhoni's fans wanted to know whether he is going to say a final goodbye to International Cricket as he didn't speak anything about the rumours on his retirement.
Also Read: Former CSK spinner reveals how MS Dhoni's tactics won Chennai their maiden IPL title