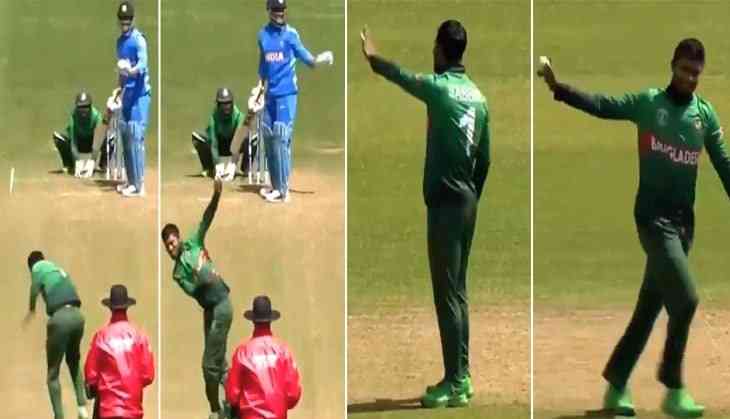 MS Dhoni is arguably one of the best strategists on the field when it comes to modern day cricket. Dhoni's experience and his ability to prejudge the consequences made him the best captain of his time. Dhoni has handed over the reign of captaincy to Virat Kohli since 2014 in Tests and 2016 in ODIs. Dhoni, however, still assists the Indian skipper and set fields for him.
But in a warm-up match between India and Bangladesh on May 28, MS Dhoni did something hilarious that left the bowler embarrassed. During the 40th over when part-time spinner Sabbir Rahman came into bowl, MS Dhoni pointed out a mistake in the field set-up. One of the fielders, who was supposed to stand at short square leg region was out of his position and Dhoni took no time in noticing it.
The Bangladeshi bowler was left red-faced when Dhoni pointed out the mistake and asked his teammate to stand in the position. KL Rahul and umpire on the other end couldn't control their emotions as they burst out in laughter.
RT abhymurarka: In yesterday's warm-up match, Dhoni stopped bowler Sabbir Rahman and advised him to move his fielder from wid-wicket to square leg in the 40th over. The bowler agreed.
That's the level of involvement he brings to his game.#Captain pic.twitter.com/qfIrWns6OK

— 💰Equity Tracker💹 (@moneyzs786) May 29, 2019
MS Dhoni scored an amazing century in the game before he was dismissed by Shakib Al Hasan for 113 runs. Though the match was unofficial, Dhoni scored his fastest century and the first one while playing overseas. Dhoni's century included seven maximums and eight boundaries.
Also read: Good news for fans! Team India will visit Pakistan in 2020 after a gap of 14 long years