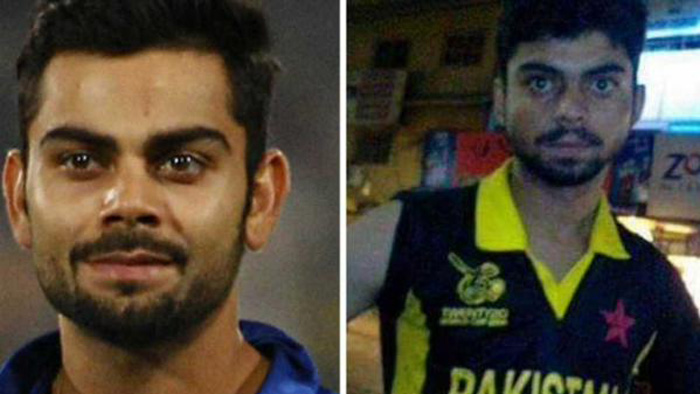 If the uncanny resemblance between Virat Kohli and Pakistani batsman Ahmed Shehzad got the social media buzzing, his recent association with yet another lookalike has once again become the talk of the town.
India's Test captain, who's regarded as one of the biggest stars in international cricket, has once again found a real life doppelganger. A photograph of a Pakistani youth has been doing the rounds on Twitter because of an apparent resemblance to Kohli.
The photograph has been shared by several fans from Pakistan, India and elsewhere on the micro-blogging site. A few fans are also calling it an 'end to Pakistan's search for Kohli'. According to Pakistani media agencies, the man in the photograph has also started receiving TV and advertisement offers.
The man, who's identity is still a mystery, can be seen wearing the national jersey of the Pakistani cricket team. The unnamed youth, who sports a stubble similar to Kohli, might not have much of a facial resemblance to the Delhi lad, but his photo surely has evoked a few laughs on social media.
It's not the first time when Kohli's lookalike has been unearthed in Pakistan. He was earlier associated with Pakistan's popular cricketer Ahmed Shehzad, not just for his facial resemblance, but also for his performance on the cricket field. Shehzad and Kohli were both compared for their consistency to score runs for their respective countries.