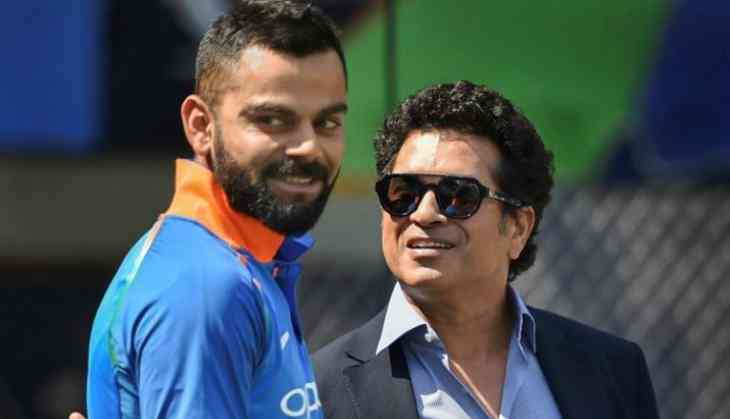 When it comes to breaking records, there is hardly any one we can think of than Virat Kohli, India will face Afghanistan in the World Cup on Saturday, and going into this clash, Virat Kohli who is yet to score a century in the World Cup 2019 is on the verge of breaking another record.
Putting cricket legends Sachin Tendulkar and Brian Lara's joint record under threat. Virat Kohli is only 104 runs away from becoming the fastest batsman to reach the 20,000 runs in International cricket. Virat Kohli has taken only 415 innings to register 19,896 international runs, where as Sachin Tendulkar and Brian Lara achieved the milestone in 453 innings, while former Australia skipper Ricky Ponting took 463 innings to complete 20,000 international runs.
Virat Kohli, who is looked upon as one of the finest batsman in Mordern cricket, started his World Cup 2019 scoring only 18 runs against the Proteas in India's inaugural game, he however lived up to his reputation and scored 82 runs against the defending champions Australia ahead of scoring 77 runs against arch foes Pakistan.
Kohli has already proclaimed the title of becoming the fastest player to score 11,000 ODI runs, smashing Sachin's record in the process. Kohli achieved this benchmark in the match against Pakistan in the World Cup 2019 at Old Trafford cricket ground.
India currently holds number four spot in the World Cup 2019 points table, with hundred percent win record so far.