Rohan Raj
| Updated on: 13 February 2017, 4:55 IST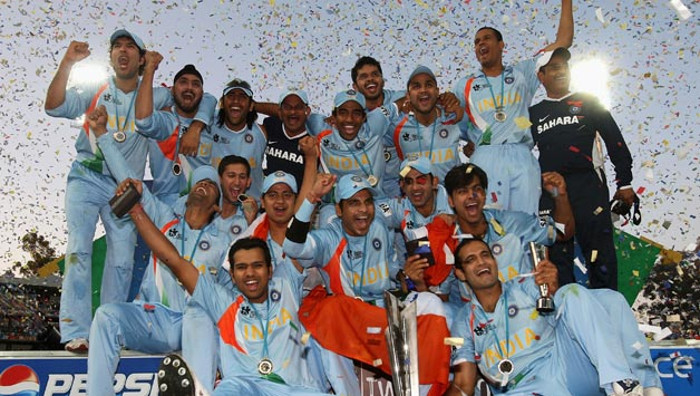 Team India's miserable performance in the 2007 World Cup had attracted a lot of criticism after the Rahul Dravid-led side failed to make it past the group stage of the tournament. As if crashing out of the mega event was not enough, India's loss to minnows Bangladesh in their opening game sent the cricket-frenzy nation into a tizzy.
With their team out of contention for the World title, Indian fans found refuge in Vipul Shah's romantic film Namastey London, released on 23 March, 2007 - the day India lost to Sri Lanka and crashed out of the tournament. The fans, who ideally would have liked to cherish Sachin Tendulkar's masterclass, were left to cheer for Akshay Kumar when he highlighted India's achievements to a stubborn British character in the movie.
So after five months, when MS Dhoni-led India reached South Africa to compete in the inaugural World T20, fans understandably weren't hoping for much from the Men in Blue. However, against the popular perception, the Indian cricket team crushed their opponents to set up the summit clash against arch-rivals Pakistan in the final.
After deciding to bat, India suffered early blows and lost two quick wickets for a mere 40 runs. India needed a partnership and opening batsman Gautam Gambhir (75) stepped up his game to register a 63-run stand with the tournament's hotshot Yuvraj Singh (14).
Yuvraj, in resplendent batting form in previous big games, didn't ever get going and a miscued pull landed straight back down in Umar Gul's hands. With the fielders showing tremendous commitment in the outfield and Gul mixing short-pitched deliveries with perfect yorkers, the batsmen grew increasingly frustrated. The pressure finally told of MS Dhoni (6), whose swipe met only with air as Gul produced another fast-and-straight special.
A late 30-run cameo by Rohit Sharma propelled India to a competitive total of 157 runs against the Shoaib Malik side. Umar Gul was the pick of the bowlers for Pakistan with figures of 3/28 while Mohammad Asif and Sohail Tanvir took one wicket apiece.
In reply, Pakistan's run-chase was rattled by Indian seamer Rudra Pratap Singh after he sent Mohammad Hafeez (1) and Kamran Akmal (0) back in the hut, leaving the opponents reeling at 26/2. However, the budding partnership between Imran Nazir and Younis Khan (24) kept Pakistan ahead of the asking rate, and India desperately needed wickets as they sought to defend a middling total.
The inspiration came from Robin Uthappa, whose unerring throw from mid-off to the keeper's end ended Nazir's blistering 14-ball 33. Joginder Singh's lack of pace provided the next breakthrough, with Younis miscuing one to mid-on, while Irfan Pathan got the better of Shoaib Malik (8) who dragged a long hop to midwicket.
With the scoreboard showing 77/6, the match had seemingly swung inexorably India's way. But Misbah-ul-Haq (43), supported brilliantly by Yasir Arafat (15) and Sohail Tanvir (12), had other ideas. Requiring 54 runs off 24 balls, Misbah thumped Harbhajan Singh for three massive sixes in the 17th over and Tanvir eked out a four-ball 12, as the improbable became possible.
Pakistan needed 13 runs off the final over and Misbah looked in total control to get his team over the line. After a great deal of thought, Dhoni gambled on the inexperienced Joginder Sharma. When he started with a wide, Indian fans groaned, and the situation became even more desperate when Misbah pummelled a full toss miles over long-off for six.
But with victory in his grasp, Misbah's judgement failed him. Moving across his stumps, he went for the scoop down to fine leg. He didn't connect cleanly, and millions on the subcontinent held their breath as Sreesanth came under the ball at short fine leg. When he held it, the stadium erupted and the picture of a gutted Misbah down on his knees, said it all.
On this day, India had managed to overcome all odds to beat their arch-rivals Pakistan by five runs in perhaps the best final ever in a major tournament. The Dhoni-led side clinched the inaugural World T20 title to heal the wounds incurred during the ODI World Cup, earlier that year.