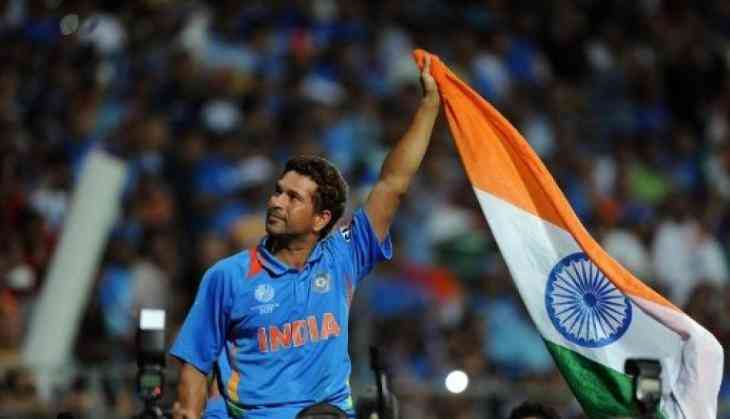 The 'God of Cricket' Sachin Tendulkar has been loved by everyone. Yesterday, Sachin turns 45 and he has received birthday wishes throughout the corners of the world. Everyone has memorized all of his contribution to the country. The 'Master Blaster' has the record of the highest run scorer in test and one-day matches. There are also records in his name that seem to be unachievable for anyone.
Sachin Tendulkar popularity and fan followership are not only in India but also in another country too. This birthday, there is someone who made Sachin's fans very angry.
The Australian cricketer Damien Fleming who was also born on the same date of 'God of Cricket' and he wished Sachin through a video in which he delivered something that made the fans to get annoyed on the player.
The Australian player took to Twitter and wrote, 'Some @bowlologist gold from the man himself - happy birthday, Damien Fleming!
Here's the video that Damien posted for Sachin:
Some @bowlologist gold from the man himself - happy birthday, Damien Fleming! pic.twitter.com/YcoYA8GNOD

— cricket.com.au (@CricketAus) April 24, 2018
This video would not take by India fans easily and Twitterati started trolling the player for his big mistake badly:
Here are some tweets that made the player feel guilty about his shared video:
No matter how many bans, Australians will never change...😁

On Sachin's Birthday you are posting a video how Damien Fleming bowled him. Couldn't you find another batsman instead of Sachin? #HappyBirthdaySachin

— शशांक (@iShhhshank) April 24, 2018
I think you missed this master stroke from our own @sachin_rt against so called Swing King @bowlologist pic.twitter.com/pv5K3bVjIz

— Kalai Selvan🇮🇳 (@kalais036) April 24, 2018
WTF u can post another Footage of Fleming
Today is sachin birthday nd u r posting such type of rubbish video on sachins bd

— Nabneet Nishant (@NishantNabneet) April 24, 2018
Shame on Australia cricket...if u cant respect other player .... Australia cricket is the cheapest cricketer in world n people....like u r very cheap....there r no fault of smith n warner....u gave them tranning of that thats why the did that....

— Nikhil rakhonde (@Nikhilrakhonde1) April 24, 2018
April 24, 2018
King of Cricketer @sachin_rt sir.. king of ball tampering cricket australia👇👇👇 pic.twitter.com/sCcjrmTukb

— Kinkar mandal (@Kinkarmandal10) April 24, 2018
😁😁😁@FandomNishvetha @TrollCinemaOff pic.twitter.com/WhpIn6oYx7

— Cibi Chakaravarthy ! (@c_chakaravarthy) April 24, 2018
Looks like @CricketAus has vowed to demean the game and its great heritage. Posting Sachin getting out bowled on his birthday? @bowlologist gets his day fame and @CricketAus its another day of shame!

This is disrepect to Sachin & his fans.#HappyBirthdaySachin

— Nirav Shah (@TurnOnTheTweet) April 24, 2018
The swing...who tampered that ball?
By the way of Smith's and Warner's birthday, kindly post some of their VDO's for the act they are famous for!!!

— Gaurab Mukherjee (@thumpsup) April 24, 2018
What do you say about this video shared by the Australian player?
Comment below..
Watch Video:
Also read: A six-year-old girl's note to Sachin Tendulkar won the heart of 'God of Cricket'; here's what she said